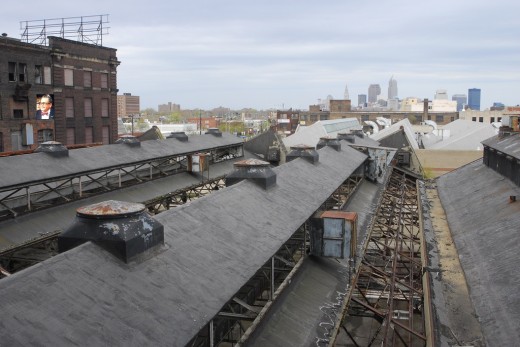 Kicking off Thursday, Marla Ridenour of Ohio.com/The Beacon Journal fills in for the convalescing Jason Lloyd, and asks the same question that everyone who follows the Cavs is asking right now, "Where's Dan Gilbert?"  Gilbert was conspicuously absent from the Cavs Tuesday press conference.  The title of Marla's piece, the "Underlying vibe doesn't bode well for Cavaliers coach Mike Brown," says it all.
Gilbert did not attend Tuesday's gathering. He was off "trying to make us better," Griffin said. That probably means Gilbert is contacting candidates for the roles of coach, general manager and/or president, a new layer he's considering adding. It remains to be seen whether anyone wants to work with the Cavs' collection of misfits and for an impulsive owner who fired General Manager Chris Grant on Feb. 6 without a long-term plan.
I know Tony Rizzo has been asking, "Where's Gilbert?" all week on the Really Big show — well, when he's not talking about Johnny Football and Bernie Kosar. Bill Livingston of the Plain Dealer wondered the same thing, when he questioned Gilbert's Lerner-esque media ducking and lack of accountability, yesterday.
If the GM expects accountability, in turn, where does that leave coach Mike Brown? He seldom used the coach's ultimate weapon, control of playing time…

Griffin's remarks could be interpreted as an indication of dissatisfaction with Brown, for how would it be possible to expect anything else after such a disappointing season?

How far that extends to the owner is unclear, and that is the problem.

The owner is always unaccountable, except to the turnstiles. Presumably, Gilbert will eventually share his thoughts. The seat the owner finally sits in will be a hot one.
Livingston's being a little hard on Gilbert, and I give Rizzo his props.  Rizz always praises Dan's willingness to spend, which, when compared to the Dolans, is not an insignificant thing.  Ultimately, I'd rather have an engaged, possibly sometimes over-meddling owner who spends and cares than a distant owner who views the team merely as a revenue generating asset.
My bet is that the reason we haven't heard a lot about Dan or Mike Brown's fate, is that Mr. Gilbert is waiting for the first round of the playoffs to play out. There have been rumors of Terry Stotts being on the hot seat, and rumors that Frank Vogel is "coaching for his job." Dan would probably go after both of those guys in a heartbeat, because they've done what he wants done: turned mediocre young teams into contenders. And if you don't think Portland is a contender, then you didn't watch LaMarcus Aldridge's moneyball destroying 89 points in the last two games against Daryl Morey's Rockets. Is Dan plotting like Tywin Lanister to go after David Morway?  Morway assembled this Pacers team before Larry Bird canned him. And could Gilbert then go after coach Vogel? Will Tywin Danister leave Bird holding the bag?  I hope so.
—
While you're contemplating all that, sign up for Kyrie Irving's basketball youth camp for kids grades 1-12, in Cleveland, in July. Also check out this piece by CtB's own Patrick Redford at The Classical, entitled, "Watching and not Watching Dirk Nowitzki."
Speaking of the Classical, long time Editor there, Pete Beatty, is returning to Cleveland to be the Editorial Director for Belt Magazine. "Belt is an online magazine devoted to long-form journalism, essay, and commentary with a distinctly Rust Belt sensibility."  Based in Cleveland, they "strive to bring in voices from all over the Rust Belt." Today, Belt's Laura Putre published a fascinating History of Rust Belt Alt-Weeklies, and on Tuesday, Pete Beatty, who grew up in Berea, wrote a beautiful editorial on returning to Cleveland and the Rust Belt called, "Boomerang." I'll leave you with a couple of my favorite paragraphs.
I have to explain what "Cleveland" meant to me then, and what it means now. Like a lot of people from the suburbs, my sense of what, where, and how a city was came from extremely basic data. Big cities were where the tall buildings and pro sports teams were. Cleveland was my designated big city, my regional capital, my great and wonderful Oz, because it had the Indians, Browns, and Cavaliers, plus a modest collection of skyscrapers…

I also didn't know that there are thousands of Clevelands across America and around the globe, little galaxies half-finished and half-undone, the Rust Belt of the world. We rushed to build up these places, and rushed just as fast to empty them out. Every single one of these places has stories and songs. But I didn't know any of that. My idea of Cleveland was an blank spot, surrounded by a desert of tract houses, SUVs that never got dirty, and a lifetime of joyless commercial pilgrimages to malls and big box stores.