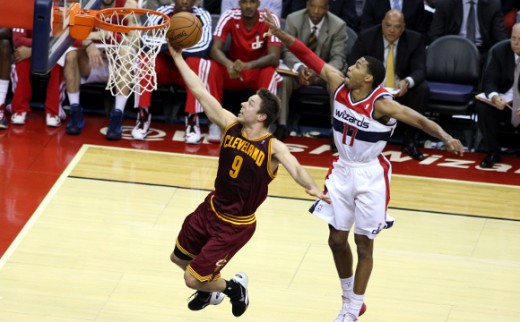 Matthew Dellavedova has been referred to by Cavs: The Bloggers as Delly and Matty SuperDova.  I call him Matty D sometimes.  He's been a little ball of constant effort, and in almost every season review article coming out about the Cavs, he has received high praise.
As of yesterday, the world needs start calling him the Gotbuckets.com Rookie of the Year.  Cavs: The Blog writer Kevin Hetrick crowned Delly with the award.
 Dellavedova did some nice point-guardy things, posting true shooting of 54% with a 3.1 to 1 assist-to-turnover ratio.  More than anything though, he was energy.  On offense, he always pushed the ball.  On defense, he was a nuisance.  The first time the NBA really experienced Matty SuperDova, they weren't ready for his Delly*.  In back to back games against Washington in mid-November with the Cavs looking lethargic and disinterested, in stepped the undrafted rookie.  And he was the sun, a beaming ray of light on the otherwise morose Cavaliers.  To Brad Beal, he was like a fly on flypaper, white on rice, impossible to shake…I think Randy Wittman tried handing Beal a taser during one timeout.  Things started happening when Dellavedova was on the court, good things for the Cavaliers.  In those two games, Cleveland was -39 in the 44 minutes he sat and a glorious +39 in the 57 minutes he played.   And it stayed that way much of the season, with the Cavs being outscored by 7 points per 100 possessions during the 2700 minutes he sat, but torching opponents by 4 pp100p for the 1300 minutes he played.

And for all of that, Matthew Dellavedova, you win the very prestigious, yet largely ignored, inaugural gotbuckets.com Rookie of the Year.  Congratulations!
I hope Anthony Bennet doesn't get too jealous of the flourishing point guard.
–
Dan Gilbert still hasn't come out for a press conference to state whether Mike Brown or David Griffin will be back.  Terry Pluto of The Plain Dealer, however, has come out and stated he is in favor of David Griffin staying.
The reason for the interest in Griffin is that there are few intriguing candidates available to run NBA teams.

Before the Cavs can do anything, they must pick a general manager — and Griffin is the best option.
–
Waiting For Next Year writer, Andrew Schnitkey, has a piece up looking back at this Cavs season.  It's a comprehensive review, but one fact he mentioned stands out above all others.
It's funny how quickly people forget the 2004-05 Los Angeles Lakers. It was the year after Shaq left. Twenty-six-year-old, three-time NBA Champion Kobe Bryant finally got his wish to be the sole leader of his team. He had 25-year-old Lamar Odom and 24-year-old Caron Butler by his side along with veteran like Chucky Atkins and Brian Grant. And that team went 34-48, just one game better than the 2013-14 Cavaliers. Kobe played in 66 games, and the team went 28-38 (.424 win percentage) in them. Kyrie Irving played in 71 games and the team went 28-43 (.394 win percentage) in them.
Information like that makes the Cavs organization look really unappealing for Kyrie.  He needs some help because in the NBA it's impossible to win by yourself.
–
David Zavac of Fear The Sword thinks a lack of continuity is what is sinking the Cavs. It has come up on our blog numerous times too.  He's on to something.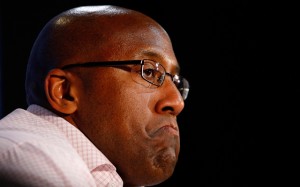 There were no consistent rotations. Guys were in and out of the lineup, guys were in and out of town. Guys played above their heads, then found ways to play themselves out of minutes. Waiters was supposed to be learning to play off of Kyrie, until he wasn't.
Without consistent lineups how can you use playing time to show a player you're disappointed in his play?  Mike Brown needs to realize that.
— Update  by Nate Smith —
Cleveland Jackson of StepienRules.com also came out with his awards for the Cavaliers and the team's media coverage, this past weekend. Our own Robert Attenweiler and Tom Pestak were nominated for the The Hal Lebovitz Award (for the Best Written Cavaliers Article of the Year) for their pieces, #CavsRank #1 Mark Price and Shooting the Breeze with Windy. Extensive awards for players, games, moments, and narratives were also given.
Cavs.com has the top plays of 2014. They've also got this interview of David Griffin by Fred McCloud, after yesterday's press conference. The most notable sound byte?
In terms of addressing fit, if you really accurately assess your talent, sometimes taking a step back in terms of perceived talent to a piece that is a better fit, gets you further ahead than just sort of adding together and aggregating talent. So we want to be really targeted in the pieces we look for.  That's the difference between checkers and Chess.  We want to be about chess now.
WFNY's Jacob Rosen also went in depth about the Cavs season, today. Revelations? The Cavs did improve. Luol Deng helped the Cavs more on offense than defense. RAPM favors Miles, Delly, Andy, and Deng.  And The Cavs three point differential is glaring.
In 2011-12, the Cavs had a differential of -0.12 three-pointers per game. The next season that mark fell to -0.77. This year, it dropped way down to -2.21.

That means that in 2013-14, the Cleveland Cavaliers were out-scored by 6.63 points per game from three-point field goals alone. They were out-scored by only 3.29 points per game, meaning they made up significant ground on two-pointers and free throws. But this shows how teams might've been abusing the Cavs on the wings, not in the paint.
I said it Monday, and I'll say it again, today. The Cavs need wings.
Tags: Mathew Dellavedova