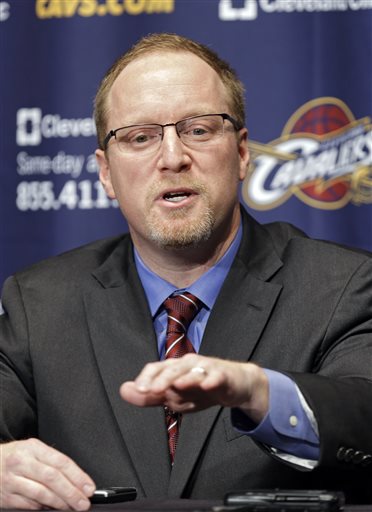 David Griffin is still just the acting General Manager for the Cleveland Cavaliers, but that doesn't mean he doesn't get to do all the fun stuff that real, fully named GMs get to do. One such perk of wearing the GM's hat— right up there with thanklessly working one's self into the ground— is the annual gala known as the end-of-season press conference. Griffin took a seat in front of the Cleveland press today. He was short on definitives (still no word on his long-term job status with the Cavaliers… same for the status of head coach, Mike Brown) but was long on just about everything else you'd want to hear from the man tasked with putting together the players on a professional basketball team. Griffin showed passion and smarts. He tipped his hat to the work of the previous regime (of which, admittedly, he was a part) while staking claim to a very different vision for the ball club going forward. All told, it was the kind of end-of-season presser that could make one hope that this wasn't Griffin's last.
Highlights:
The thrust of Griffin's analysis of the Cavaliers this season was this: "Right now, the collective isn't working." As much as "process" was Mike Brown's buzzword when he was rehired last season, Griffin probably left today's press conference and started hanging inspirational posters around the Q bearing the word "Fit." He talked extensively about how fit will be one of the driving factors in figuring out exactly what the organization will try to do this off-season. We've talked about it here too; the Cavaliers' 2013-14 season was a veritable master class in the importance of fit in building a competitive basketball team. Unfortunately for Cavs fans, it was a negative example.
On whether he has made the case for becoming the team's GM to owner, Dan Gilbert: "I'm not going to campaign for (GM job). I'm not running for mayor." This is the standard answer to this question and, I believe, it's similar to what Griffin said when he got the position on an interim basis back in February. That being said, Griffin exuded the right amount of confidence in his abilities, while not making excuses for the team's struggles ("I didn't get into this for 17-16. That's not what we're about. We need to get better."). Is he confident because, as reported by several sources, his name has come up in connection with the Pistons and Knicks GM openings? Perhaps, but Griffin rejected those claims saying "You're either all the way in or all the way out. I'm all the way in. This is where I want to be."
Asked about his interim job title and Brown's job status, as well, Griffin replied "We are all under review." Fox Sports Ohio's Sam Amico tweeted his read on the press conference: as he reported earlier, it gave the feel that Griffin is staying, "but much less sure on Brown." Griffin and Brown have never seemed like the perfect match. Griffin comes from the Phoenix Suns' "aesthetically pleasing offensive basketball" tree, while Brown carved his defensive chops under Greg Popovich in San Antonio and Rick Carlisle in Indiana. Ask yourself: which system does this current collection of Cavs players more closely resemble? (Okay, okay… I  know I said "aesthetically pleasing" but give me this for argument's sake.)
He distanced himself from Chris Grant's focus on "asset-accumulation" saying that team now needs to be in "acquisition mode." As he has ever since taking over the GM's chair (one wonders if it is actually the same chair Chris Grant used), Griffin has looked at finally using some of CG's "assets" to aid in the team's slow climb toward relevancy. He parted with picks to get Spencer Hawes at the deadline to help spark a playoff push and, whether the team retains Hawes or not, Griffin indicated he would be similarly aggressive in addressing the team's weaknesses, specifically length, shooting and basketball IQ (insert "anything else?" joke here) — all within the context of team fit. His list of team needs is not a surprise for anyone who has watched them play this season. They are a team who struggles to protect the rim, whose two best players are ball dominant guards who like to drive (thus necessitating shooters for them to kick out to) and most of who are still so young they're still learning how hard they need to play to consistently win professional basketball games. So, yeah, Griff, shore all that up.
And, of course, no Cleveland press conference would be complete without "This fan base deserves and demands that we deliver a better product." Congratulations, David Griffin. You officially know your audience.