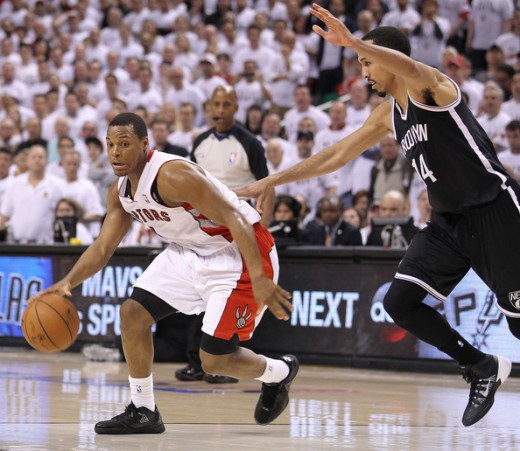 The first round of the NBA playoffs were bananas.  So much overtime, so many game sevens.  The critical question lost in all that spectacular basketball though is, "what does it mean for the Cavs"?  I will briefly look at each series in the Eastern Conference and make one glass half full and one glass half empty conclusion from each first round playoff series.
Eastern Conference
(1) Indiana Pacers vs (8) Atlanta Hawks – Glass Half Full: David West came into Indiana and really helped instill  a winning culture for the young Pacers, as the franchise went from being an upstart, 37-win eighth seed to perennial 50+ win contenders in the summer of 2011.  Certainly Paul George, Roy Hibbert, George Hill, et al would have developed into a fine group without him, but West brought toughness and veteran leadership into a group that sorely needed it.   In the fourth quarter of game six of this series, he put the team on his back and would not allow a loss.  Last summer, the Cavs added Andrew Bynum, which was pretty much the opposite of what I just described.  This summer, the team has another opportunity to make the sort of culture changing pick-up that can rally their young, sometimes disparate parts.
Glass half empty: Having shooters and reasonable floor spacing is important.  Justin Willard recently went deep on this topic at gotbuckets.com.  The Hawks' top eight players in minutes played, hoisted more than 3 threes per 36 minutes in these seven games, leading them to break the NBA record for attempted threes in a series.  It frequently caused fits for the Pacers.  Four of the Pacers top eight players for minutes combined to shoot five total three pointers; their offense can look unbelievably congested and unable to generate any decent looks.  In games five and six, the Pacers gave some of Roy Hibbert's minutes to Chris Copeland.  The shocking result?  Offense got easier.  Removing their center and adding a perimeter player resulted in not only more threes, but more shots close to the basket.  In Copeland's minutes, the Pacers outscored the Hawks by 17 points per 100 possessions.  In addition to increasing their rate of three point attempts by nearly seven per 100 possessions, the Pacers attempted 28 shots per 48 minutes within five feet of the basket, increasing from 26 close shots per 48 minutes when he sat.  Opening up the paint allowed the Pacers perimeter players to make noise inside.
Other than free agent Spencer Hawes, none of the Cavalier big men shoot from deep.  Of the Cavs top nine players in minutes this season, only Kyrie, Dion and Dellavedova shot more than 3.5 threes per 36 minutes.  Outside that group, CJ Miles attempted nearly eight per 36, but he too is a free agent.  Not a revelation, but the Cavs badly need to add shooting range from the three, four, and / or five.
(2) Miami Heat vs (7) Charlotte Bobcats – Glass Half Full: Seeing the relatively young Bobcats leap to 43 wins was somewhat disconcerting.   They are young, with some payroll flexibility and three drafts picks in the next two years (including Detroit's pick, top 8 protected this year, and only top 1 protected next year).  Against the Heat though, they looked nowhere near making a leap.  That makes it easier to envision the Cavs leap-frogging them next year.
Glass Half Empty: To any "Lebron may come home" people, the Heat appear to be prohibitive favorites for a third straight ring.  Lebron isn't leaving that.
(3) Toronto Raptors vs (6) Brooklyn Nets: Glass Half Full: At age 21, Jonas Valanciunas got some playoff experience, nearly averaging a double-double over seven games.  For Cavs fans that like to revel in every failure of the-2011-pick-that-wasn't, JV played like he didn't belong with the varsity in the critical Game Seven: 3 points, 5 rebounds and -23 in 27 minutes.  Tristan Thompson remains the favorite of Cavs fans and Canadians.
Glass Half Empty: The top seven players in the Raptor's rotation are 27 or younger, and all they need to do is re-sign Kyle Lowry to return that group next year.  A group that finished on a 41 and 21 tear (54 win pace), nearly making the second round of the playoffs.  That does not aid hopes for a Cavalier ascent up the East.
(4) Chicago Bulls vs (5) Washington Wizards – Glass Half Full:  In his fourth season, paired with a fellow top-five pick, guard running mate, John Wall made the playoffs.  Next year is Kyrie's fourth season.  Certainly, he and Wall, nor Waiters and Beal are entirely similar, but it is encouraging seeing the leaps that a young, offensive minded back-court can make early in their careers.  In an article earlier this season, I noted that the sweet spot for high volume guard combos was combined 50 – 52% usage.  Wall and Beal were at the upper end of that range.  Kyrie & Dion approached 55%.  If they can both cut out a couple of their dumber shots every night, pass a little more willingly, and Dion continues to show he can hoist four to five threes per night, making those at a 37 – 38% clip, their pairing can really start blossoming next year.  Also like the Wizards, the team should add an excellent three-and-D wing and some veteran big man defensive presence.  What a revolutionary idea.
Glass half empty: Like with Toronto, the Wizards are built around a few young pieces, and they are already a team making noise in the playoffs.  Their performances are sort of what was hoped for from the Cavs this year.  The Wine & Gold are definitely in catch up mode, in both the Eastern Conference and definitely the NBA at large.  If last summer was critical for the team's future and essentially a huge mistake, summer of 2014 is super, hyper, mega critical.  The Cavs front office needs to get some things right.