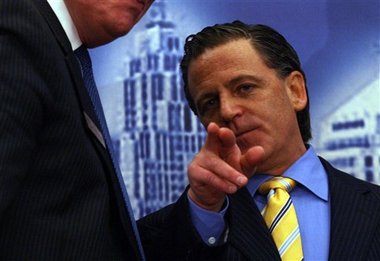 The long disappointing Cavs season is finally over.  People are trying to figure out what went wrong with the team, and one positive thought has emerged.  The team has the same problems as last year and no new ones.  Is Mike Brown the right coach? Can Kyrie Irving and Dion Waiters play together?  Will Tristan Thompson finally become a quality starter?  Can the team stay healthy?
Dan Gilbert's press conference about this season and his plans for the off-season is Tuesday, so he will hopefully answer a lot of those questions then.  Until then, we can look at the news that has come out since the Brooklyn win and be happy that there has been no drama.
The Cavs' two stars, Irving and Waiters, are in favor of Mike Brown returning according to Mary Schmitt Boyer of The Plain Dealer.
"Being under Coach Brown, he's a constant teacher, and I [Kyrie Irving] needed that as a person and a player. I'm truly appreciative of that because it's only going to make me better in the long run."

"I'd like to see Coach come back," Waiters said. "We've been together for a year. The ups and downs, he stuck with us, we stuck with him…"
Even though it's hard to tell how much of a change Brown made for the team, it's good news that the players aren't ready to throw him in a fire.
–
Kyrie and Dion have no problems with each other if you ask Luol Deng.  Bob Finnan of The News-Herald & The Morning Journal reported Deng's quotes along with his own thoughts about the Cavs not playing Irving and Waiters together sooner.
"It's a distraction," [Deng] said. "I mean all this stuff that I hear, but when we're in the locker room with these guys every day, they love each other. I can't say one word or one incident, and when we get on the court, we never think twice about it."
If there is one player on the Cavs that I trust, it would have to be the player who is no longer attached to the team saying positive stuff.
–
Mary Schmitt Boyer put up some questions this morning about what may be answered during Dan Gilbert's press conference tomorrow.  Check it out if you need some things to ponder all day and want to hear Mary's thoughts.
In her "Hey, Mary!" column, the same questions that I mentioned above are covered by her.  She's a Mike Brown supporter, and has no clue about what to do with Kyrie but isn't interested in lottery picks for him.
A team intent on getting better cannot keep changing coaches every year. I think the team improved as the season went on and that's why I would be in favor of Brown's return.

I don't know what's going to happen. I do know — and so should you — that tying hopes to lottery picks is a risky proposition.
–
The report cards for Cavs players are coming out finally.  Bob Finnan has released one with extensive thoughts about each player; Andy and Matty D are his highest rated players.
Rick Noland of The Chronicle Telegram put his ratings out too.  His piece is shorter and more generous as five players earned a B rating.
The commonality between both of the report cards is not surprising.  No players earned an A.
–
Terry Pluto of The Plain Dealer brought up some good points about the Cavs this weekend in his article.
In 2011-12, there were three teams that averaged at least 100 points. In 2012-13, there were 11. In 2013-14, there were 17.

While Irving missed 11 games, eight were started by Waiters. The Cavs were 4-4, beating Indiana, Detroit, Toronto and New York. They lost to Brooklyn, Houston, Oklahoma City and Miami. So they were 2-4 vs. playoff teams, and 2-0 vs. teams missing the playoffs.
–
Bill Livingston of The Plain Dealer put out an emotionally driven piece about his thoughts on the Cavs off-season.  It is definitely angry.  It ends with this, "Whatever happens, it will be a while before Cavs fans go to the ATM and take out the victory parade."
–
Cavs: The Blog's own Robert Attenweiler is continuing to blow up the internet.  He was mentioned in a Grantland "NBA Shootaround" post by Corbon Goble.  Robert's first thought reported was, "I love Dion Waiters."  I'm glad I'm not the only person who does. But could Grantland give us a proper citation already?
–
Former Cav Larry Hughes hasn't made the news with anything basketball related for a long time.  Still, he's making the news in other ways.
Former Knicks player Larry Hughes was walked out of the Trump SoHo hotel in handcuffs Friday after a night of partying at notorious club Greenhouse, which he partly owns.
–
For all you draftniks out there, this is fascinating and pioneering work, Eric Weiss attempts to develop some analytics for using psychological factors to predict NBA success.
This age-old question regarding the balance of Nature vs. Nurture has become a mainstay in sociological research within the corporate world. Companies such as Google are investing in "Behavioral Analytics" to match their best candidates to their ideal work environments.

Research of this type has been more difficult do in the NBA due to limitations in the sample size of quality personality data. Appropriate metrics for quantifying work environments have further muddied the waters. However, things are beginning to change.

Analyzing data collected on 358 of 420 draftees from 2007 to 2013 reveals some promising trends when it comes to understanding some of the factors that lead down the road to the coveted draft day "Steal," as well as the dreaded "Bust".
Heady stuff..
–
Finally, if you're fed up with Tankapalooza 2014, "riggin' for Wiggins," and "playin' sorry for Jabari," there's a movement afoot to fix tanking. The NBArrassing campaign is just getting off the ground, and is being supported by fans, bloggers, and media from around the country. If you'd like to help ensure we don't see another season of general putrid NBA play, you can
sign this petition
.  The goal is to get 10,000 signatures to send to Adam Silver, and stop the NBArrassment.