This week, we're looking back on this bizarre Cavs season, and looking forward to the future.  Five of our writers sat down for some serious pondering on five critical questions.
1. In a word, what's your attitude regarding the Cavs now that this season's over?

David Wood: Ambiguous. Some nights the ball is flying around, Dion and Kyrie are trying to include each other, and players are running around without the ball. Other nights, there are four guys watching Kyrie or Dion, and Matty D runs more than the whole team combined in just a few plays. Who are the Cavs?
Nate Smith: Disappointed. There were so many missed opportunities this year: from the coaching search to the draft to free agency to the way the Cavs just didn't even compete in at least a dozen games. In an alternate universe, Brad Stevens is coaching Paul Millsap, Shaun Livingston, Victor Oladipo, Omri Casspi, and the Cavs "core" in a pending first round upset of the Heat.
Tom Pestak: Passive. The season was a lesson in humility. More or less every prognostication I made turned out to be completely wrong. (With the exception that Earl Clark was indeed bad). Somewhere, around late February (probably after the not-enough-eligible-players Lakers game), I was emotionally exhausted and just tried to enjoy the twists and turns – however ugly they may have been. It became therapeutic to expect the unexpected. #seasonofHuh (h/t Ben Cox)
Robert Attenweiler: Is "beaten into submission" an attitude? This team has just been so little fun to watch and cover and think about. It's the exact opposite of what I thought this season was going to bring. My worst case had the team ending with a record similar to this, but with a strong finish and a clear trajectory going forward. They gave us none of that — and until I see that the players they field next year are different, the Cavs are still that car stuck spinning its wheels in a muddy ditch.
Kevin Hetrick: Curious. Talk is already out about a big shake-up this summer. It is impossible to know what that could mean, the possibilities are numerous. Fire Coach Brown. Trade Dion, Zeller, Andy and draft picks for another "star". Trade Kyrie for a package of talent. Offer Kyrie the supermax contract. Offer Tristan the supermax, in an effort to woo his and Lebron's agent and bring Lebron back. Everything is in play. I am in watch and react mode.
2. The high point of the season for you? The low point? Most emblematic moment?
Robert: High point: Opening game victory over the Nets. All that promise. All that potential. There was the "Andrew Bynum is going to play!!!" surprise. There was a win over a Nets team we didn't realize would be so awful during the first two months of the season. There was Paul Pierce missing big shots at the end. I thought we were onto something. And then 81 more games happened…
Low point: Nationally televised embarrassment against the Knicks. That pair of losses to the Bucks weren't so hot either but, at least, not as many people saw those.
Most emblematic moment: The Dion Waiters injury. The Cavs, riding their pre-All-Star break hot streak and trying to build some momentum from Irving's and Waiters's fine exhibition weekends, see Waiters injure his knee on the same type of rim-rattling dunk that only weeks earlier had capped the team's win against the Grizzlies. Lesson: meet your post-All-Star break Cavs — bad luck is always just one basketball play away. Tom: The high point (other than Z's retirement ceremony) was definitely game one. Many thought the Nets could compete for a title, Andrew Bynum actually played, Anderson Varejao was back on the court, Kyrie Irving was distributing, Tristan Thompson was a full-on beast… The low point for me was 6:36 remaining in the third quarter on November 20th, at home against the (at the time) lowly Wizards. The Cavs trailed 76-48 and this was the moment when I realized something was very very wrong and I began to doubt the entire rebuild. I realized what this roster was capable of. Watching the body language and lack of effort from Kyrie and Bynum and the utter ineffectiveness of Tristan and Dion was jarring. Most emblematic moment was either digesting the Wojnarowski article (#WojBomb) about all the systemic ineptitude that plagued the Cavs franchise (which I found both insightful and disingenuous) or Kyrie Irving lashing out on twitter in response to some blog's interview with ESPN's Brian Windhorst, which confirmed Windy's charge that he (Irving) was immature.
David: The high point for me was when they won against Chicago in November, and Andrew Bynum looked dominant (8-14 for 20 along with five blocks and 10 rebounds). They could have built on that. The low point was when Kyrie went out with the biceps injury and Dion stepped up. Why couldn't he have stepped up sooner? The most emblematic moment was the Friday when the Josh Gordon issue came up, and the Brian Windhorst interview with Robert came out. It's always about personalities when the team is talked about and not about the actual on court progression of the players or positive momentum.
Kevin: High point was the six game winning streak, with the All-Star break sandwiched in between. Dion dominated the Rising Stars Challenge. Kyrie ruled the All-Star game. The team mounted their longest unbeaten run in four years. No need to expand though, that is what all five of us answered, right?
Low point was the 30-point loss on national TV against the Knicks. The story leaked by Luol Deng's friend (? acquaintance? associate?) had just come out, as did the story about the Cavs partying in NY the night before the game. The team had lost five of six, despite trading Bynum and a few draft picks for Luol Deng. That was the moment when the rebuild seemed furthest off the rails, and about to go over a cliff. All five of us said this too, right?
Most emblematic was the west coast trip when the team won three out of five, but one of their losses was by 44 to the Kings. Then they lost four of five on a homestead. It was impossible to predict what would happen next during this roller coaster season.
Nate: The high point was clearly Dion's game winner in Detroit. How did no one else pick this? Cleveland scrapped the entire game, and overcame a bad shooting night to will themselves to a 14 point fourth quarter comeback behind Delly's career high 21, Dion's 18, and Andy's 12 point, 16 board masterpiece. The Cavs didn't get the lead in the fourth until the very last shot. They pushed a win streak to three games, kept their unlikely playoff hopes alive, showed that Mike Brown can design an end-of-game out of bounds play, and announced that Dion is a guy who can take and make big shots.
The low point was the loss at home to the Lakers when Robert Sacre fouled out, and the Lakers had no other players to bring in. The refs invoked an arcane rule where a fouled out player could play, but would be assessed a technical if he committed a foul. No one knew the rule, cause no team had run out of players since the… 50s? The Lakers still won. Ryan Kelly (who?) scored a career high 26. This team of scrubs broke the Lakers team record for threes in a game: 18.  And the horrid Cavs effort stretched a losing streak to six.
The most emblematic moment? The legendary practice that got Andrew Bynum kicked off the team, and cost the big man $5.5 million dollars. Reportedly, Bynum shot "from whatever remote part of the court he had caught the ball," every time he touched it. This shot chart symbolizes a season that now seems like one giant "Bad Idea Jeans" commercial.
3. This team doesn't seem like it deserves an MVP. Who was your MFP (most favorite player)? LFP? (and you can't say Bynum)
Kevin: Any time anything negative is uttered about Dion, we are assailed, so frequently I feel like I must not like him…but I always have and am encouraged by his recent play. I like his toughness, his swagger, and his SWAgR. Also, Andy, but duh. For least favorite, I mean, Scotty Hopson doesn't do much for me. More seriously, probably Alonzo Gee. It's not that I dislike him, but am just over him. I don't want to watch him dribble any more, or shoot any more, or do anything else.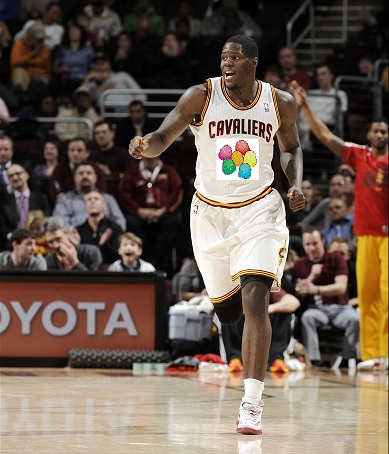 Nate: I'll start with my LFP. It's no secret that I thought the Anthony Bennett draft pick might be the franchise's biggest mistake since the Ted Stepien era.  Bennett lowered the competence bar for number one draft picks to a subterranean low that may never be duplicated. Bennett's PER didn't go much over one till almost February. It was painful to watch him. MFP? The same player. Something funny happened during the holidays when reader, Ross, dubbed Bennett with the beloved moniker, "Gum Drop Bear."
AB15 not only looks like a Care Bear, his frame also resembles the shape of a Gum Drop… I like him so much more now. Imagine the excitement anytime Gum Drop Bear makes a shot in the NBA. I've deleted the part of my brain that used to remember he was the first…wait, I don't remember. Gum Drop Bear!
Suddenly, Gum Drop's blunders became delightful moments of physical comedy. His insane penchant for 22-foot clankers would elicit a cry of, "Gum Drop Brick!" and hearty laughter. But little by little, Bennett played better and better.  In February, he started to resemble an NBA player, and even had a couple double-doubles, during the heart of the season's longest winning streak. "Gum Drop!" Became a shout of joy. I was reminded of this in the final game when Bennett crushed two dunks and I lept off my couch to yell, "G-D-B!" and fly around the room.
Robert: MFP: Dion Waiters. Waiters fought through a difficult year in which he was "demoted" to sixth man, widely talked about in trade rumors, fingered as the team's personal locker room cancer and then made to stand in front of reporters and defend his personal relationship with his newly reunited backcourt mate. He responded with an improved (and still improving) game and an on-court maturity that was decidedly missing early on. Waiters has shown that he can take criticism – he can take coaching. Since the All-Star break, Waiters averaged 19.3 points on 45.6% shooting first as a sub then, later, as a starter. Sure, much of that production was done with Irving sidelined, making Waiters the team's primary scoring option. And he still needs to get better at finishing at the rim, rebounding and consistently getting his teammates involved. But what I saw from Waiters was the type of legitimate improvement that we have not seen in the team's other high picks. Which brings me to…\
LFP: Tristan Thompson. I feel bad putting him here. Thompson is not really my least favorite player (maybe Earl Clark is a better fit for that) but he is my MUP (Most Underwhelming Player) for the 2013-14 season. I suppose it's a big deal that Thompson switched his primary shooting hand before the season and was able to basically replicate his previous year's stats, but that doesn't explain his similar stagnancy as a defender and rebounder. If I thought we had a Rodman 2.0 in Thompson, I wouldn't be as hesitant about whether or not he has a place on this team going forward. But, as it stands now, I'm not sure where he fits. He's a bench big who has played enough minutes to achieve a level of production that will warrant he be payed like a starting-caliber big. That's not Thompson's fault — it just is what it is — but I foresee him feeling "disrespected" by how the team chooses to deal with extension-eligible status this summer and don't know that the team can get much real value back for him.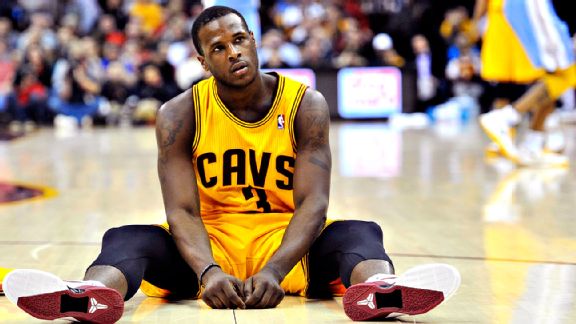 Tom: Varejao is the MVP. Highest SWAgR. #nevertradeAndy Dellavedova and Waiters were my MFPs, and Jarrett Jack (he's looked much better the last few months) was my least favorite player. I'm really hoping he was playing through a groin injury (as Brian Windhorst alluded to in a podcast way back in the winter).  I really enjoyed watching Delly this season – I just love his game.  Anytime an energy guy that like moves the ball AND sticks spot 3s?  It's like pouring gravy on top of gravy.  SO MUCH GRAVY.  And nothing gets twitter in a storm-the-court-like frenzy like The Dion Waiters Zone.
David: My MFP is Dion. He looks interested in defending, and I love when he talks aggressively towards his own team when things aren't working right. He doesn't check out anymore. My LFP is Jarret Jack. I have terrible flashbacks to earlier in the season when he would catch the ball for an open three, then pump fake, dribble in four steps, and launch a contested floater.
4. What is the Cavs biggest on-court deficiency that needs to be addressed going into the summer?
Tom: RIM PROTECTION. Everything else could fall into place if this is properly addressed. It's not easy to do – effective rim-protecting bigs don't grow on trees and cost a ton. But the Cavs have passed on at least one legit Center in every single draft. It's haunting them now.
Nate: I'd love to say shot-blocking, but Deng, Miles, and Gee are free agents, with the odds on their returns looking slim. The Cavs only remaining wings are Sergey Karasev and Carrick Felix. Cleveland desperately needs wings that can score and defend. They can't improve if they're spending huge portions of games running 6-foot, 4-inch guards against the Paul Georges of the world.
Kevin: I'll say shooting. They have to add a small forward that is a legitimate knock-down shooter. And a front-court player like that, too, especially if Hawes leaves.
David: I like Tristan, but he is just out of place. Dion and Kyrie both need space in the paint, which Tristan can't give them. He hangs around the high post area, but that doesn't pull his defender out of the paint because he doesn't sink those open jumpers yet.
Robert: Either in personnel or scheme, this team has just got to get better protecting the rim and the paint in general. Their collection of bigs are nice — and more than serviceable — but when your lead guards are still trying to figure out how to keep the man they're guarding in front of them, you can't consistently stop a team if, when they get close to the rim, good stuff will pretty much always happen.
5. Can this core of players, coaches, and management "work" and make the Cavs a winning team, or is it wrecking ball time?
Nate: Cleveland is heading into the scariest off-season since LeBronageddon.  They need to bring in a brain with a track record: George Karl, Mike Zarren, David Morway, Kevin Hetrick… One of these guys needs to make the decision on whether Kyrie is a guy you can build on long term, or whether he's fundamentally flawed. OK, maybe, he's somewhere in the middle, but… What am I saying? Blow it up. Wait for the Lakers to get the top pick, and go get Wiggins, picks, and a solid vet or three.
Robert: That depends. At the time, did we consider it "wrecking ball time" when Sam Presti traded James Harden? Or, prior to that, when he traded Jeff Green? I hate to keep beating a dead "Thunder model" horse, but it's our most high profile example of some of the decisions teams make as they try to get good by accumulating young, talented players, as the Cavs have also tried to do. There has always been that looming time that the team is going to have to figure out what direction they're going to go in and use some of their young players as ways to shape a team that (hopefully) goes there. Yes, I think we're probably at that point. There's a chance that the team, if Irving re-signs, makes one last gasp at shoehorning in a future that revolves around him and Waiters, but I might be more surprised if that happens over some changes to make either a team with Irving or a team with Waiters make more sense.
Kevin: In part, this comes down to the $80 – $100 million question. What is Kyrie Irving in his prime? An elite, top three NBA player, with good health? Or something less than that? If Kyrie starts on the All-Star team next year, his contract could start at 30% of the salary cap. That is a huge amount to devote to one player. Sixteen guys made 30% of the cap in the NBA this year. How many of them are on top-four seeded teams in the NBA playoffs? Six; the three Heatles, Kevin Durant, Dwight Howard and Chris Paul (ok, it's seven if you count Derrick Rose…who unfortunately is a totally different reason to be wary of $100 million contracts). Arguably, Lebron, Durant and Paul are the only players in the league worth 30% (or more) of the salary cap. Kyrie's ceiling is being as effective as Chris Paul, right? No one has ambitions for him higher than that? And Kyrie has never played more than 90% of his games in four straight seasons. So, best case, at a Chris Paul level of production and reasonably healthy, he provides value exceeding the worth of his contract. In all the other scenarios, that deal ends up being somewhere between marginally cruddy to very craptacular value for the Cavs. I am cautiously optimistic, but also wary of it and nervous for what it could mean for the future.
David: This core can work, but not for a few more years. They need to figure out the small forward and power forward position for the team. Tyler Zeller is a good fit at center. At guard, Mike Brown changed Dion's attitude, but Kyrie has been a frustrating player all season. Management and Brown need to figure out how to make Kyrie as a contract and player succeed (even if it means trading him), and signing new role players to do that is going to cause another period of adjustment. They are still probably another year away from the playoffs.
Tom: It's definitely time for some changes. They are going to be more desperate than ever this off-season. The status quo is not going to get the job done. The Cavs need to take chemistry and fit into consideration and NOT draft a player that plays a position they already have filled. They need to find a solid if unspectacular player in the draft, execute some savvy free agent signings, and they need to plant their flag firmly in the mediocre echelon of the league so they can finally take an accurate, not-warped-by-LBJ-lust look at what they really have to work with.  They should use www.gotbuckets.com's SWAg and SWAgR when scouring for free agents.  Less Earl Clark more Demarre Carroll.