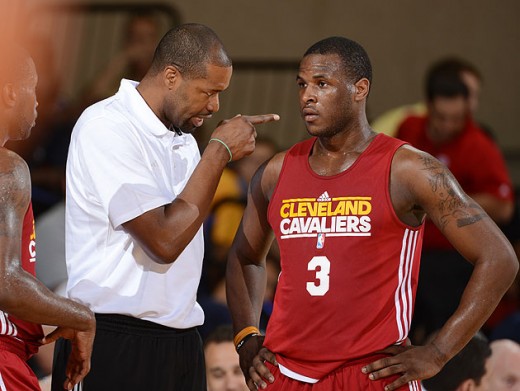 Momentum: the greased-up pig of professional sports. It's the one thing losing teams can look to for signs that next year might turn out better. It's the one thing the Cavaliers have had to play for since being eliminated from the playoff race last week. And it's the one thing that has, with every swipe, slipped through the Cavs fingers.
Looking past overall team success, though (and, really, why would that matter in a team sport), there are some bright spots – bright, forward-moving, momentum-fueled spots on this roster that should give the team and its fans some crumbles of hope heading into a fourth straight off-season of lose … lottery… repeat.
So, who in this organization is good at putting one foot firmly in front of the other and who is standing in place?
Let's start with the good.
MIGHT BE ONTO SOMETHING HERE
-Dion Waiters: In the 10 games leading up to Saturday's Boston game, Waiters was playing his best basketball of the season, scoring over 21 points per game on 46.3% from the field and 39.6% from deep (good for 54.8% True Shooting!) while adding just under four assists. Still not exactly a darling of the advanced metrics (he sports just a 13.9 PER and a 9.1% PIE for the season), Dion's biggest accomplishment this season was his growing up. It still amazes me that Waiters has gone from the team's hot head, alpha-dog wannabe to one of the team's more consistent players in terms of effort and production and he's done that while noticeably changing his demeanor. He's now cited as one of the team's more steady, calming influences! Both Waiters and Kyrie Irving saw a good deal of grenades lobbed in their direction this season. The way Waiters handled himself – actually allowing himself to be criticized and responding by improving his game both on and off the court – should make Cavs fans very hopeful about where Waiters goes from here.
-Matthew Dellavedova: As an undrafted free agent, you can't write this script much better. Just make a team? Check. Ingratiate yourself to team's defensive minded head coach by playing the only noticeably physical and disrupting defense on the team? Check. Ingratiate yourself to team's fan base by doing the same? Check. Develop noticeable chemistry with team's second best player as you lead an effective second unit? Check. Start hitting threes at a 44.6% clip over the team's final 20 games? Check and check. I watched Dellavedova play in Summer League and would never have predicted he'd have a season like this one (well, except for that one stretch when he was awful … I totally called that). He looked athletically over-matched, too slow – all of the things you'd still probably say in trying to pick Delly's game apart. Those limitations are absolutely there, but the league has a sterling history of underwhelmingly athletic point guards who just help their teams win, especially if they can hit their threes at an above-average clip (Derek Fisher and Stever Kerr, come on down!). Do I hope that at this time next year Delly isn't still the team's best rookie from 2013-14? Absolutely, I do. But have I already fallen in love with any lineup that features Dellevadova, Waiters and Anderson Varejao? Check and check and check.
-Tyler Zeller: Last season's lightning rod for criticism, Tyler Zeller has proven himself to be the type of solid big man prospect that most fans and prognosticators believed he would be when the Cavs took him with the 17th pick in the 2012 NBA draft. This season, whether due to the failed Andrew Bynum experiment, Varejao's injuries or the team's deadline deal for Spencer Hawes, Zeller has seen his spot in the team's rotation fluctuate. But, in nearly 15 minutes a game in the 69 games he has played with one to go, Zeller has contributed a steady 5.5 points on 52.7% shooting and 3.9 rebounds a game. While not exactly the salve to the team's rim protection woes, with Zeller on the floor, the Cavs played just about even basketball. That's right, just roll Zeller out on the court and you'll be playing an infinite number of overtimes. For this team, even basketball is a step in the right direction. Your 2013-14 Cleveland Cavaliers: we even make even look good.
LOOKING FOR THE JUMPER CABLES
-Kyrie Irving: Irving's hurdles during this, his third pro season, have been duly and exhaustively noted. But when you're supposed to be "the guy," there's really no such thing as due or exhaustive enough, so here goes… Iriving averaged 20.9 points, 3.7 rebounds and 6.1 assists this year. The assists were up (very marginally from 5.9), turnovers were down buy about half a TOV per game and he continues to rebound extremely well for his position (his season average of 3.7 boards obscures the fact that in the last 10 games, Irving's had games of nine, eight, seven twice, six and five rebounds). The real drop off came in Irving's efficiency, where his field goal percentage fell for the third straight year (42.9% after 45.2% in 2012-13 and 46.9% in his rookie year – all on roughly the same number of attempts per game). Irving missed 12 games, mostly from a strained bicep he suffered against the Clippers in mid-March, which, while not Iron Manly, isn't the type of season you'd call "injury marred" either. Coming into the season, Irving put a lot of weight on this year, his third, as the year that the truly elite players make "the leap" (an idea that has equal parts evidence and exception) and that just did not happen. It's never been a question of talent with Irving, but his performance and demeanor this season have raised huge doubts on whether or not he is the type of player who is so good as to single handedly make his team even a handful of games better. If he is a Cavalier next year (and, although I think he will be, the chance that he isn't has increased over the second half of this season) and he is serious about being a leader to this team going forward, he can't keep saying all the right things when his effort on the floor can so highly questionable.
-Mike Brown: It probably goes without saying that if Brown didn't have the years and the money left on his deal – if it was not just his first year on this second round of his job – that he would be let go at the end of the season. His team did improve somewhat over the 2012-13 Byron Scott version. They are actually allowing half a point more than their 25th ranked 2013 defense, but that was still good enough to move them up to 16th in the league. Opposing teams are shooting slightly less well against the Cavs this year, but not staggeringly so. When the team has held their opponent under 45% shooting, they have won more than half their games. This should add credibility to Brown's "defense first" approach, but there have been real concerns raised this year (notably by John in our last podcast) about whether Brown's defensive schemes have kept up with the evolution of NBA offenses and any head coach who presides over a team that so frequently played with little discernable effort has to be, at least, taken to task. Things got cloudier for Brown with Chris Grant's dismissal as acting GM, David Griffin, immediately traded for an offensive center whose defense seems to actually increase the opposing team's chances of scoring. Brown was steady during a season that teetered on the brink of collapse for … well, for most of the year. You hope that such steadiness is rewarded with his team respecting him and playing hard for them as they begin to figure out how to win, but Brown must also bend to the team he has (as he did this year in tweaking how the Cavs defend the pick-and-roll) discover the winning formula for this collection of players. I, for one, am not so optimistic.
-Dan Gilbert: If Irving truly does not have a "camp" of people advising him, maybe he and Gilbert could go camp shopping together this summer. When Gilbert errs, it is usually in letting his excitement get the better of him. In this way, you could argue that the Cavs' owner is simply "passionate" and that's what so many Cavs fans like about him. But, when two of his more easily recalled moments of "passion" are his post-Decision LeBron-skewering letter and his defiant proclamation at last year's draft lottery that the Cavs would clearly be skipping the league's 2014 installment – that the Cavaliers were back, baby! – you have an owner who, however unintentionally, makes things more difficult for his coaches and players. This team, we have learned, was not built to come through on guarantees and Gilbert's statements last year only served to fuel a local and national blame game that this team had real difficulties handling. I don't think Gilbert is, as he is often portrayed, a fool or a meddler. And there is nothing wrong with demanding the best from your employees. Still, there has to be concern from an owner who doesn't understand (or refuses to admit to) the personalities of the key members of his team and how to best motivate them to achieve the success he – and all Cavs fans – want to see on the court.