Well, that was ugly. The Cavs and Bucks played one of the most aesthetically unpleasing games of season: a game marked by YMCA style defense, strange bounces of the ball, steals, run-outs, phrenetically incompetent play, and lots of barely contested dunks.  The Cavs were without Luol Deng who sat out with a bad back, and they missed him badly. Alonzo Gee started in his stead and played 23 minutes, finishing with 9 points and four rebounds and was -17 for the game. The other 25 minutes, Cleveland played three guard lineups and fared better, but had no answers for a team with two real small forwards.  6-foot, 8-inch Khris Middleton and his backup, 6-foot, 9-inch Chris Wright, combined to score 31 points on 14-20 shooting for the worst team in the league.
The Rundown: This game was unattractive out of the chute.  The Bucks won a 37-32 first quarter, in which Milwaukee got 26 points in the paint. Chris Wright and John Henson came off the bench and scored at will around the basket.  Wright joined a long line of athletic threes like Mike Scott who the Cavs decided they were going to leave in order double team. Like Scott before him, Wright (a D-League call-up)  got a series of uncontested dunks and layups around the basket, and finished with 14 points on 7-9 shooting in the game.
Tristan and Jarrett Jack had a nice quarter for the Cavs, scoring in transition and in the two man game, but the defense was bad bad bad.
In the second, the Dion and Delly show took over. Dion notched 13 in the quarter off a series of drives, pull-ups, and buckets in transition.  TT continued a nice night with consistent effort running the floor, cutting hard on the pick and roll, rebounding, and getting to the line.  Cleveland was up by 13 at one point, but let Milwaukee back in it, to close the quarter up 69-62.  Delly had a nice period, setting up the offense, moving the ball, and getting good looks for his teammates, while posting a typically unimpressive box score.
The third was a flaming dumpster fire. Dion dunked on a steal and run-out, then set up Thompson and Spencer Hawes for layups . But Jeff Adrien (who?) scored six straight for the Bucks. After Dion splashed a 19-foot pull-up, and Kyrie hit a layup to put Cleveland up 7, with 7:28 left in the quarter, the Cavs didn't make a field goal for the rest of the third. Brandon Knight started lighting up Kyrie and Delly, and the Cavs obliged the run with an horrific series of turnovers and wasted possessions. Milwaukee finished the quarter up, 92-87.
The fourth? Oy.  Cleveland scored the first nine to put them back up by four, keyed by nice activity by Zeller, Waiters, and Jack, and by pushing the ball.  But Milwaukee pushed right back when Razor Ramon hit a 19-footer, then got to the line on two possessions in a row where I went, "HUH!?  How was that a shooting foul?" I swear, Ramon just walked toward the basket and went to the line, and fooled the refs into thinking they were shooting fouls (you be the judge, here and here).  Of course, Ramon hit all four freebies.  Brandon Knight continued to light up Kyrie with a three and Zaza Pachulia played fantastically for Milwaukee.  He finished with six points and four rebounds (including two huge o-boards, in the fourth. Of course, I think Brad Lohaus could have come out of retirement and finished that line given the non-existent defense Spencer Hawes was playing.
Khris Middleton ran Dion around screen after off-ball screen, and Dion didn't have the pursuit capability or size to keep Khris from hitting two big mid-rangers at 3:16 and 2:16.  In between those two, Spencer executed what I like to call "dancing doofus defense" when he tried to kick a ball and tried out for the Rockettes during a pick and roll sequence, which led to this too easy Pachulia lay-up.
Kyrie emerged from his strangely subdued slumber, (he had only four points and one dish in the first three quarters), and tried to will Cleveland to a victory, but had a couple of mind numbingly dumb shots.  The first came at 5:18, Cavs up 104-103, when he mist a 9-foot pull-up, which was fine, but then he got his own rebound, ran out to the right corner and launched a prayer with two Bucks draped all over him (video here).  Kyrie did make a great layup to cut it to three with 1:37 left, but then Tyler Zeller committed a boneheaded, comeback killing foul 30 feet from the basket when he showed on a pick-and-roll and sent Sessions to the line.  Kyrie's second "wow, that was stupid" shot came with 1:08 remaining, with the Cavs down 112-116. 11 seconds into the shot clock, Kyrie chucked up a 28-foot hero-ball that clanked. Jeff Adrien got the rebound, and I said, "well, that's the ball-game." And it was.
Well, sort of, because MB Brown is either incompetent or he tanked this game. I had an argument with Tom over this, who says Mike Brown would never tank, but if the other team has the ball, you're down four with 34 seconds left, and you decide not to foul? You're either tanking or an incompetent coach.
Conclusions: I apologize for not having a better recollection of the X's and O's in this one. It was just so bad, though.  I can't watch any of it again. Many parts of the game were like watching tennis, as the ball fired back and fourth between the two halves of the court, as teams kept chucking and then throwing the rebounds ahead, or throwing them back to the other team. And on that goofy court design Milwaukee has, that's painful on the eyes.
Kyrie seemed a lot like Kobe tonight, when Kobe decides to play "pout ball," and he just mindlessly passes and doesn't try to assert himself (until he does).  I'm probably just over-thinking this. Kyrie deferred to a team that was playing well on offense most of the game, and then tried to shoot himself into a rhythm, but took some bad shots doing it.
Tristan Thompson: Played a really complete game. He was -3 for the game, but definitely one of the better starters. He was beastly on the boards, especially, and finished with five o-boards and five d-boards. He was 8-10 from the line, 5-8 from the field, for 18 points, plus two dimes and a block.  But he had real problems keeping Jeff Adrien off the boards for Milwaukee in the fourth.  He's doing a much better job of not forcing shots around the basket and either hitting the layup/dunk, passing out, or getting to the line when he gets the ball around the basket. He even had a one handed slam (like the only one I've ever seen from him. Here's the video — third one down.).
Dion Waiters: Definitely understated how well Dion played in the rest of this recap. He was definitely the superior starter in this one, finishing with 23 points, four dimes, and five steals on 62% true shooting. He attacked in transition, harassed the ball handlers, chased loose balls, and got a lot of uncontested run-outs. But his jumper also looked buttery. This was my favorite: Dion's "jump to the left" pet shot from the left baseline. Unfortunately Dion was outsized on defense most of the night playing at small forward. Still, Dion is becoming the best player in this team.
Jarrett Jack: Came off the binch and hit about a dozen runners in the lane and had 21 points on 69% true shooting.  I'm convinced, now, that he must have been secretly injured most of the year. I hope he continues his good play into next season.
Alonzo Gee: If you're a Gee fan, enjoy the next couple games.  I'm betting they're Gee's last in a Cavs uniform.  Gee was terrible on defense, put up some head scratching thoughts, and looks about 15 pounds heavier than I've ever seen him. This airball from the left corner sums up his game. The Cavs are in desperate desperate need of more athletic wings. I can't believe Sergey "DNP" Karasev would have fared worse than -17 in 23 minutes.
Spencer Hawes: Showing why Philly found him expendable, Spencer for Hire got owned by Zaza Pachulia. Spencer is a guard in a center's body, and plays defense like it too. For all of Hawes' skills, his quarter-assed defense is a huge liability. Zaza, by the way, just accepted the role of Sloth in the Turkish remake of Goonies coming out next summer. He tops the list of players that would scare the crap out of me if I got between them and their Baby Ruth. I think he was born with five-o-clock shadow. I could talk about Zaza all night. Anyway, Spencer fouled out, and had 15 points, and 6 boards in 25 minutes and was -18 for the game. The salary number he would be acceptable to me, just dropped to $6 million. And honestly? I'd rather Cleveland trade for Zaza.
Anderson Varejao: Going through the motions….  He wasn't bad (six boards in 17 minutes), but he was barely noticeable. I'm sure he's got his travel agent on speed dial right now. Strangely, the NBA just booked a pre-season game with the Cavs and the Heat for next fall in Brazil. I guess they know Andy will be on one of those two teams.
Tyler Zeller: Played 19 minutes and should have played 36. He was dominant: 11 points and 6 boards, with a bevy of nifty finishes around the basket. That's what you need a center to do: get rebounds, and convert looks around the basket. Cleveland would have won if he got 12 of Spencer's minutes.  Of course that foul Zeller had 30 feet from the bucket in crunch time shows why he didn't.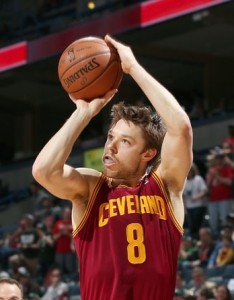 Matthew Dellavadova: OK, I'll admit it. I thought he seemed over-matched, but when I checked the box score, he had a +/- of four, four dimes, and no turnovers. Delly just doesn't do stupid things on the court that cause your team to lose.  He can't score inside, and desperately needs to work on his drive finishes, but I'd let him run my basketball team.
Kyrie Irving: I don't know what to make of him. Dion is the kind of head case you can deal with: an over-competitive hothead, who makes dumb decisions sometimes because he's 23 and we all know everyone under 25 is a moron (Until I turn 40.  Then I'll realize everyone under 30 is a moron). But Kyrie goes into these weird sulking funks that just leave you scratching your head. Irving was badly outplayed by Brandon Knight, who Irving usually embarrasses.  Knight finished with 24/4/4 and was 3-6 from behind the line. Kyrie had another game where he was magnetically stuck to screen-setters, leaving Knight open for Js and attacks. Irving's three quarter disappearing act was tough to watch when it was followed by his "I'm going to take this game over in a really ineffective way" fourth quarter emergence. Irving finished with 12 points on 4-12 shooting, and 0-5 from three, and was -11 for the game. Games like this (and yeah, I know it's meaningless), make me wonder if he has the competitive makeup to be a winner.  I stand by my "trade him" opinion, and it breaks my heart.
Jeff Adrien: Is built like an all-pro defensive lineman (6-foot, 7-inch, 245) and was throwing Cavaliers around throughout the night. He's 28, is an unrestricted free agent this summer, and is posting a PER of 18.  Over the last five games, he's average 15.2, 10.8 rebounds, and 1.4 blocks in 35 minutes, including a 17 rebound performance in an almost-win versus Indy. I also love his haircut. He should be on the Cavs radar.
Mike Brown: Had a lavender shirt and tie on under his gray suit jacket. Pastels make Brown look like an Easter egg.  I'm just saying. The defense he coached was pretty darned undisciplined. The double teams, while they produced some steals, produced a lot of wide open looks. They were haphazard and sometimes there were three Cavs flying at shooters, and Milwaukee was adept at swinging the ball and getting easy buckets. Look for a piece, next week, on Brown's defensive shortcomings, because the NBA has moved past Brown's "help and recover" and "pack the paint" philosophies. I heard a rumor that Brown doesn't believe in analytics, has no problem with all the long twos the Cavs shoot, and also that he and Griffin are both worried about their jobs.  I believe those rumors.
Two games left in a season that seems like it just started, and yet seems like it's been the longest season I can remember. I'll miss this incarnation of the Cavs, and I won't.