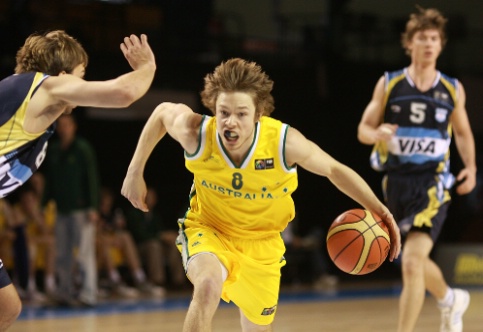 The Cavs playoff chances are over now, since the Boston Celtics couldn't hold off the Atlanta Hawks in the fourth quarter.  Yet, I haven't been happier about the team in a long time.  I was working during the game and watched it after I got off, but I was checking in on the score periodically my whole shift.
On a normal Cavs' game day, I talk myself into the Cavs winning and share those thoughts with my coworkers who are Bulls fans (I live in Chicago).  A lot of days, by halftime, they're laughing at me. That was not the case tonight as the Cavs led by 32 at the half and finished the game up by 22.  Matthew Dellevadova scored 14 points to go with 12 assists to compliment Dion Waiters' 22 points and eight assists.
First Quarter: The game opened up with both teams trading reasonably good shots.  Kyrie Irving found a cutting Luol Deng for an easy banker, and Brandon Jennings followed that up by finding Andre Drummond under the hoop for an even easier layup. That's where the comparisons between Irving and Jennings stop.  Jennings fumbled the ball his next possession then missed his next ten shots, and the Cavs ran with that.  The team played extremely solid defense.  Whenever Detroit got the ball down low, it was as if the whole team had ear monitors on just saying "hands up, box out" on repeat.  Cleveland's only hiccup was Rodney Stuckey.  He kept getting to the free throw line by driving in and getting contact no matter what the defense did.  Stuckey shot five free throws.
Offensively, the ball moved like it was going to explode at any moment.  Kyrie had five assists, and the team as a whole took no poor shots.  Spencer Hawes was the biggest lover of the movement; he just kept draining every assisted shot he took to finish with 13 points.  The Cavs finished the quarter with 14 assists on 14 field goals and were up 31-18.  They could have easily been up by 12 more points if Luol Deng and Dion Waiters made their open threes.
Second Quarter: This was easily the best quarter of Cavs basketball played this season.  At one point, they scored on eight out of 10 possessions.  The only possessions they didn't score on during that stretch were the ones where they turned it over.  The quarter opened with Dion driving and dishing to Delly for a three.  Dion then stole the ball and missed a layup, but Tyler Zeller finished it for him.  Andy followed up another Detroit miss by scoring a spinning hook shot to put the Cavs up by 19, thus punching the Detroit "timeout" button.
The timeout did nothing though as the brothers D, Dion and Delly, came out and started sinking shots every time they touched the ball.  Dion even had a monster dunk after blowing past Jonas Jerebko and then staring down Greg Monroe in a way that got him to not even contest the shot.  Tristan Thompson and Tyler Zeller both had monster blocks during the quarter that kept the defense going strong.  Detroit managed just 19 points.
Matty D finished with five assists and 11 points while making the ball handlers on Detroit thoroughly annoyed.
Third Quarter: The Cavs lost some power in the third quarter.  Kyrie turned it over on the first possession, but ran down the court to stop the ball with a foul.  The ball seemed to be covered in grease because Cleveland turned it over again for a Stuckey two-pointer.  After a quick timeout, the team righted their train of success with some better play and  with help from the man named Greg Monroe who failed to convert several shots at the rim.  Brandon Jennings helped too as he shot the ball whenever he touched it.
Detroit made a run behind three pointers and consistently getting the ball inside, but they were only able to get within 20.  There was a sequence where Drummond missed a second free throw and Monroe got the offensive board back. Drummond then finished with a layup and-1.  The Cavs stayed strong and Dion said, "no and-1 scares me" before making a three the next possession.
Andy and Dion both scored 8 for the quarter.
Fourth Quarter: The Cavs entered the quarter up by 28.  The teams traded baskets for the first five minutes to keep the score apart by 28, while Dion made all three of his shots.  The subs started to come in with 9 minutes left.  Kyrie didn't even play and Jennings was the first man out.  Sergey, AG33, and Scotty Hopson played garbage time and did nothing to show they deserved non garbage time.  Tyler stayed in and had 10 points.  He looked like a Doberman among Yorkies.
My Thoughts:
-Holy shooting differential, Cavs fans.  The Cavs managed to shoot 57% for the game compared to Detroit's 35.4%.  The Cavs even kept them to 38 points in the paint.  They average 52 a game.
-Kyrie was effective without scoring, which was awesome to see.  In the first quarter, he dove for a ball, and he locked into defense the whole game.  He chased his man around screens, and there was no shoulder shrugging. Irving finished with only eight points and five dimes in 23 minutes, but added three steals and played winning basketball.
-Dion kept calm even when his shot wasn't falling during the first quarter.  He looked for the open man and made a difference by helping the team get easy shots. But his shot was pure when he did shoot, and he finished 4-8 from behind the arc.
-Matty D is going to be in the league for a long time if he can shoot spot up threes like he did tonight.  It was a thing of beauty to see him recognize his man was drifting to help in the lane and then he would subtly shift over four feet to become even more open for a three.
-Tyler Zeller is building some great chemistry with Matty on the pick and roll. TZ was 9-11 and finished with 18 points and six boards in 24 minutes.
-Cleveland set the team record for assists in a half with 24 in the first 24 minutes, and finished with 41 for the game — just four shy of the franchise record.
-All of the passing and team play tonight is making me very excited for next year.  Tyler Zeller is a real center now and Matty D could be a wonderful sixth man if Dion stays in the starting line up.
-I complain a lot about Dion jacking shots, but Brandon Jennings is on a different level of shot jacking.  Watching him is unbearable.  He seems like he decides if he will pass or shoot without taking into account anything going on around him before he even hits half court.  His defense is also a weird form of always chasing but making sure he is never in position to contest anything.
-How much more would the Pistons have lost by if Josh Smith was playing?
Tags: dion waiters, Matty D, Tyler Zeller