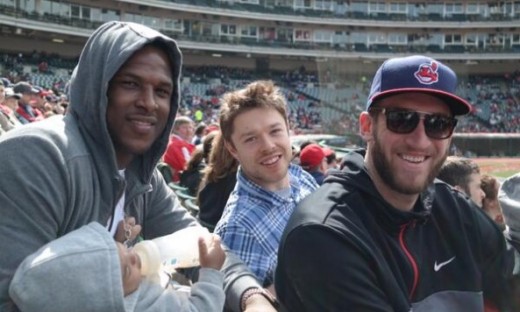 One of the the hardest things to deal with in life is someone saying something about your feelings that you know is absolutely wrong.  Kyrie Irving and Dion Waiters are dealing with that type of situation right now.  During an interview on ESPN's "First Take," Josh Gordon let it be known that he thought Kyrie and Dion were not overly friendly with each other.
"[Dion Waiters is] my neighbor in my building, so we hang out all the time. I'm aware of the rift in the locker room. That's just alpha males and supreme athletes trying to share the spotlight.".
A few days later Cavs: The Blog's own writer Robert Attenweiler interviewed Brian Windhorst.  Windhorst said Kyrie wanted out of Cleveland and wasn't close with LeBron James anymore.  Kyrie probably wishes there was a machine that could take a text based picture of his thoughts to prove he is best buds with Dion and wants to be in Cleveland forever.  Unfortunately for him, he had to settle for a press conference with Dion to try and show everyone they don't know what he is thinking.
Mary Schmitt Boyer of The Plain Dealer captured everything about the Irving, Waiters,  and Gordon saga that led to a press conference with her article yesterday.  She pulled the most salient conference quotes just in case you don't want to watch the actual video.  If you thought Dion and Kyrie were faking friendship, Dion's statements are so stream of conscious you will think otherwise (the video gets the realness across much better than the quote alone).
"Yeah, we still need to learn certain things. But I think at the end of the day, we're genuinely friends. I love him as a friend, teammate, everything. I just want everybody to know that. I don't hate this guy. I'm pretty sure he don't hate me. I know he don't hate me. I hope he don't hate me. Rome wasn't built in one day. We're still young. We're still planning to stay together. We're still working. As long as we've got great communication down, it's fine."
–
Last night, Kevin Ollie, a former Cavalier won the NCAA mens basketball tournament.  Boyer offered a praise filled article for Ollie that mentions how much of an influence on LeBron James he was.
Ollie's arrival coincided with that of rookie LeBron James, and Ollie became a mentor to the young James, who tweeted his support last week: "Wanna send a HUGE S/O to my former teammate Kevin Ollie and UCONN on advancing to the Elite 8. Keep it going K.O."
Zydrunas Ilgauskas loved him too.
"When he first got here, we didn't have real stable veteran leadership," Ilgauskas said. "We didn't have a winning culture. Having Kevin around helped us. He was part of what started that good run we had. It had to start somewhere, and he was there at the beginning."
The piece left me thinking about the current Cavs.  Who is the Kevin Ollie for Kyrie Irving?  Who is making a winning culture with the Cavs?  I thought it was going to be Luol Deng, but it seems like he is not someone the team will give a new contract to.
–
On Friday, the Cavs got a mention in Bill Simmons' mailbag when people compared Kyrie's stats to those of Stephon Marbury, Steve Francis, and Isiah Thomas.  The Sports Guy had some fun with a comparison of his own.
SG: My counter to Kyle and Aamir …

Player A: 21.1 ppg, 6.3 apg, 3.6 rpg, 43.1 FG%, 36.6 3FG%, 20.1 PER
Player B: 21.3 ppg, 6.9 apg, 3.3 rpg, 43.8 FG%, 29.1 3FG%, 21.6 PER

Player A? Kyrie. Player B? Devin Harris in 2009.

(YES! I just won the "Who Could Freak Cleveland Fans Out The Most With a Blind Player Comparison To Kyrie Irving" Contest!!!)
I'm not too insulted because it could be worse a player comparison.  Devin Harris is probably going to be in the playoffs with Dallas this season.
–
Numbers aren't another person, but at least numbers don't lie.  Cavs: The Blog's Kevin Hetrick has a quick read about Tristan Thompson on gotbuckets.com.  Kevin has been doing a review of his 2011 pre-draft predictions and Tristan came up as the #11 guy.
Seth Partnow of whereoffensehappens.com created a Rim Protection Points Saved stat using the player tracking SportVU data. According to his stats, Tristan ranks 147th in shot contests per 36 minutes and 159th in points saved per 36 minutes due to rim protection; comparable big men include Carlos Boozer and Brandon Bass.
The numbers are not friendly to Tristan at all.
–
Numbers may not lie, but they also make no sense at times when looked at next to each other.  Cavs.com has a piece up about different Cavs stats numbers right now.  Did you know the Cavs have had 17 straight games where opponents have scored under 45 in the paint?  That leads the league. Tristan must be doing something right.
Tags: Advanced Stats, dion waiters, Kevin Ollie, Kyrie Irving