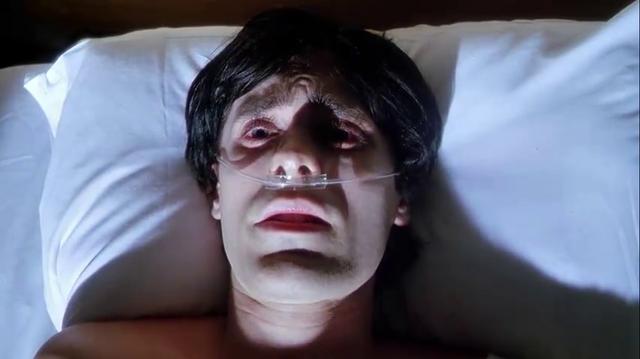 This was a depressing one, Cavalier faithful. For the Cavs playoff hopes, this game could only be described as a "must win." Unfortunately, Cleveland came out flat and failed to match the energy and focus of the Atlanta Hawks. As a result, Cleveland was dominated on offense and defense by the Hawks, who won in a rout. Cleveland shot 39.6% while Atlanta shot 58.5%, and 48% from three. While the Cavs are mathematically alive for the playoffs, they trail Atlanta by four games in the loss column. This means that even if the Cavs go 5-0 over their final five, Atlanta only has to has to go 3-4 to make the the playoffs, as they own the tiebreakers. As Campy Russell said, "It wasn't the loss that hurt so much as the way they lost." Cleveland's body language was subdued all night, they lacked energy and fire, and their communication and execution on offense and defense seemed non-existent.  For the umpteenth time this season, Cleveland failed to compete.
First Quarter: Paul Millsap scored five of out of the gate and Cleveland's first two attempts were long jump shots with zero ball movement. Dion tried to bring some energy with five quick ones himself, but three-and-a-half minutes in, Atlanta led 13-7. Cleveland went through the motions on offense, but they were slow on defense. Waiters and Kyrie got blown by consistently, and they failed to communicate properly with their bigs on pick-and-roll defense. Cleveland's defensive bugaboo, three point shooting, was on display when Lou Williams and Jeff Teague would drive and kick to Millsap, Pero Antic, DeMarre Carroll, and Kyle Korver as far too many Cavs collapsed. (At one point I noticed four Cavs defenders around two offensive players). I think even John Koncak came in and made a three this quarter.
For the 50th game since the all-star break, Tristan Thompson got owned by a stretch four. TT just refused to stay with Millsap beyond 15 feet from the basket. Atlanta poured it on and everyone got in on the act. Millsap had 10 in the quarter, and six different Hawks hit threes to smoke the Cavs 39-23.
Second Quarter: Mike Scott scored the first five points of the quarter. Cleveland decided that Scott was the player they were going to cheat off of and he made them pay to the tune of 26 points for the game on 12-13 shooting. Everyone on the Cavs defense ignored Scott, and left him to help on everyone else. Scott had his pick of uncontested jump shots and layups….
Delly set up Andy for an automatic elbow jumper to notch the seconds period's first Cavalier points, but even Delly's spirit seemed diminished in this one.  The drive and kick game was in full effect for the Hawks and by 16 minutes in, Atlanta was up by 23. Finally, in the late second Dion and Kyrie started hitting some shots, including this Kyrie to Dion feed for a thundering dunk. The Cavs showed some life after this, and Kyrie started pressuring the ball and actually managed to collect some steals. A Hawes 3 and a Deng layup off a Hawes feed actually cut the deficit to 14, and Cleveland turned up the defensive pressure a bit to close the period down 61-49.
Third Quarter: The play coming out of halftime? A 22-foot brick by Uncle Drew off a left baseline curl screen. Deng bricked a 15-footer from the right side on the next play. Mike Brown cannot have been happy with that shot selection. Cleveland spotted Atlanta another five points, and after a Carroll three, were suddenly down 19. Spencer for hire exploded for seven points off  a couple jumpers and a couple free-throws in the space of a minute to cut it back to 12. Kyrie then got lit up by Jeff Teague on three consecutive possessions. Kyrie's nickname should be "flying toasters," because he is always stuck to a screen. Millsap scored next with a filthy right side runner set up by yet another Teague penetration. Spencer fought valiantly, dropping 13 in the quarter. But the season was slipping away… Cleveland just could not get stops. After four straight Atlanta field goals, the deficit stretched to 19.  Spencer cut it to 15 when he hit a 14-foot jumper with 14 seconds left, and I thought, "maybe they have a chance." Then, Jeff Teague sliced through for a layup as the clock expired to extend the Atlanta lead 90-73. I dished up some pralines and sadness flavored ice cream.
Fourth Quarter: Sweet Lou Williams put the nails in the coffin when he scored or assisted on 9 of the first 11 Atlanta points, which they scored in less that four minutes. The Cavs were scoring, but they couldn't have stopped a butterfly with a Buick, tonight. Atlanta didn't play stupidly, and burned clock. Cleveland was content to trade baskets and let the 2014 season fade into Bolivian. Millsap, DeMarre, Teague all scored in garbage time for Atlanta while Deng, Waiters, and KI padded their box scores. DeMarre canned a 25 point "eff you" triple with eight seconds left for a "flawless victory" finishing move. Oh well. We'll always have Detroit.
Eulogies…
Kyrie Irving: This was the "Kyrie returns" game I was worried about. If he wants to be considered a "superstar," he can't play this poorly, and he can't let his team play this listlessly. Something's going on with this team. The chemistry and body language problems were palpable. And it's at this point that I address the elephant in the room. Robert's interview with Brian Windhorst hit HoopsHype at about 5:30 this afternoon. I'm not going to speculate that it had an effect on Irving, but this was KI's twitter page after the game.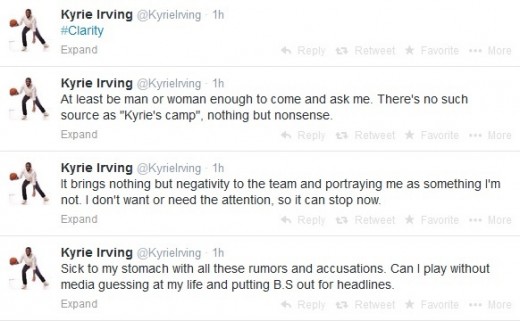 As a "journalist", I never want to be a part of the story, and I'd bet that Robert and Windhorst feel the same way. I hope this didn't effect Kyrie's play, but as Tom Pestak commented to me, "a sign your team is in trouble: they blame the media instead of letting the fans do it for them." If Kyrie let some Windhorst riffing effect his play, then he's as immature as Windy said he was. And in L.A., New York, or Chicago? He'd be eaten alive.
In the game, Irving's defense was bad at times (that stretch by Teague was really a back-breaker), and his shot selection wasn't great: he often settled for isolation jumpers. But Irving did collect six steals with some opportunistic double teams and some decent on ball D (in stretches). Teague finished with 20 points and 12 boards, and a lot of that was because KI seemed completely disengaged when he wasn't going for steals. Cleveland needed everyone's "A" game, tonight, and when your best player doesn't bring it, it's hard for the rest of the team to follow. I hope he bounces back tomorrow. Get a good night's sleep, Mr. Irving.
Luol Deng: The 13 points were needed. -13 and 0-3 from 3 were not needed. Deng was one of many Cavs who shot poorly. The defense on Mike Scott (not all Luol's fault) was a major factor in the loss.
Tristan Thompson: Foul problems led to a disappearing act. TT finished with 8 points and 3 boards in 25 minutes. He continued his perfect streak from the line, going 4-4, but I didn't even notice him on the boards. Cleveland desperately needed some heady and physical play from Tristan and they didn't get it. Paul Millsap had 16 points, 11 boards, and 6 assists on 7-10 shooting. TT's bad game hurt Cleveland as much as anyone's.
Spencer Hawes: 16 points, 10 boards, four assists, six steals, two blocks, and only one turnover. Spencer was one of the few bright spots, but he's not a rim protector Cleveland needed one with all the penetration. Spencer is making more money every game.
Dion Waiters: Started the game at the two with Kyrie, and finished with 23 on 8-19 shooting. He played a decent game, but he was as culpable on defense as anyone. Still he had a little fire, which was a lot more than some people had.
Matterson Varedova: Andy Came back and had a couple nice moments, but he's clearly still recovering from injury. Delly had no magic, tonight, and looked like a rookie again.
Mike Brown: Did nothing to dispel the notion that he struggles when he has more options instead of less. I'm kind of at a loss as to why we didn't see any Tyler Zeller when Tristan struggled so badly, but this one wasn't on Brown. He can't make guys play hard.
In Memorium: The Cavs cling to a sliver of a playoff chance, but it's probably time for Kevin to start assigning draft profiles, and for me to figure out how to trade Kyrie Irving for  Kentucky's starting lineup, the rights to Starbury from the Beijing Ducks, and a Boggle-playing chicken. Still, until it's officially over… #Believeland