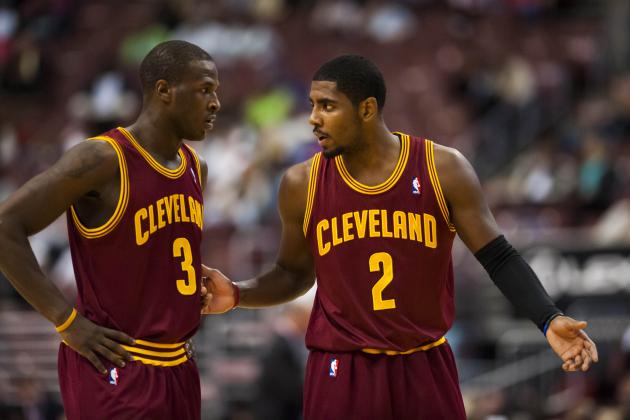 On a cool, but sunny, spring, afternoon, I grabbed a couple of steaming hot beverages and sat along New York's Bryant Park with longtime Cavaliers pulse-feeler, Brian Windhorst. Brian, as most of you know, covers the NBA for ESPN and is one of the more insightful and thoughtful writers covering the NBA today (and has been so for a while). We talked Cavs playoff chances, Kyrie and Dion, extending Tristan Thompson and exactly why people need to write about Cleveland star players wanting out.
CtB: How much of Tuesday's win against the Magic shows how far the team has come and how much of it was how little the Magic have to play for at this particular point in time? 
BW: They've owned the Magic all year. Even when they were playing [poorly] they beat them. To me, the season can be defined by the two games in New York. I think it was the Cavs only TNT game and the Knicks were horrible at the time. The effort level that the Cavs put forth in that game was as bad as any I've seen in my 12 years covering the NBA. To play like that when you're on national television – even if you hate your teammates, even it you hate your coach – have some pride not to get ripped by Charles Barkely. Have some pride. The effort they put forth in that game was an absolute abomination. I was in the locker room after the game in disgust. I ended up ripping Kyrie that night because I'm like, "Who are you? Are you a superstar? Start acting like it."
Then when they come and they play New York later, New York is on an eight-game win streak, they'd won eight or nine in a row at home too – hugely important game for the Knicks – the Cavs come in and win playing with ten times more effort. And I'm not generalizing. It was ten times more effort.
And, to me, that's the Cavs season: the one team that didn't [care] and the one team that came back to New York when the game really mattered and they won.
What's so frustrating to me about this season: the table was set beautifully for them this year. There was going to be an Eastern Conference team this year that was going to make an enormous leap, take advantage of [a down Eastern Conference] and the table was set for them to do it. It turned out, the Raptors were the team to do it. The Raptors are going to get the three seed with something like 44 wins. That could have been the Cavs. They have enough talent to win 44 games in the East this year. And to have them end up with 34 or 35 or 36 when they totally [threw away] at least 10 games just because of effort is ridiculous.
Now, the positive is that they're figuring it out at the end and they can use it as a base and get some traction for next year… and that's all good. But act like a professional. They should have been getting traction at the start of the season.
CtB: It's like what the Wizards did last year. They ended strong and they came back for a respectable season this year. Whether the Cavs make the playoffs or not, you have to hope that, at least, is the direction you're headed.
BW: I've long been a Mike Brown defender. I'll say that, obviously, he's not a good offensive coach, but his history is that his teams have always gotten better. Even the year they went to the finals they were above .500 but they weren't very good. They won 50 games, but his teams have always gotten better as the season has gone along. And this team has. He's getting some traction. His Lakers team was the same way. He took them to the second round. They got better as the season went along. To fire Mike Brown five games into the season or to judge him and say "He can't coach anymore" in December… I mean, that's not who he is. He gets better at the end. And if the team had given [more effort] and not played like a bunch of babies for so long, they'd be in the playoffs and I wouldn't be surprised if they scared the hell out of someone.
Wizards are a good comparison but, I think, the Cavs… The Cavs have a lot of talent.
CtB: If they make it, is there still the chance that they scare the hell out of someone?
BW: I'd love to see them play the Heat. I'd love to see LeBron play in a playoff game in Cleveland. They're not going to beat them. The Pacers are a team that can't score, so whenever you have a team that can't play on one end of the floor you have a chance. Yeah. I think they could beat the Pacers once or twice. It'd be great if they could just get in.
I don't think they're going to get in, by the way. They win against Orlando and everyone's like "Oh, they're two games back" and I'm like "Well, they're more like four games back because they're three games back in the loss column." And that's the only thing I care about because, at the end of the day, everybody's going to have the same number of games and they lost the tiebreaker. They need the Hawks to lose four times, so I don't think it's going to happen.
But, if they're able to get in, even if they get blasted out, I think it's huge for them. Remember the year when the Cavs played the Bulls and it was a 1-8 matchup. The Cavs beat them 4-1, but it was a competitive 4-1. The Bulls win 60 games the next year. The next year after that, the Pacers get in as the eighth seed, they lose 4-1, they go six and seven games against the Heat the two years after that. Just getting in is so important for their development.
But, ultimately, I'd like to see Kyrie and Dion realize that their best opportunity to be successful is to play with each other instead of trying to subvert [one another]. That would be nice if they're going to want to maximize their potential.
CtB: That's the thing: are we seeing the start of that now? Or is this Kyrie/Dion honeymoon just in its untested new glow right now?
BW: In my opinion, Kyrie is an immature 21. And Dion is an immature 22. I'm really disappointed at how little growth Kyrie has shown emotionally.
The thing about Kyrie: his talent is amazing, but he's so defeatist. He gets defeated way too easily. You'll see something bad happen to him and his head just goes down. And Dion has this thing where he sees himself in competition with Kyrie. He's like "I'm better than him." Well, here's the thing: what you really want is for the two of you to play together for, like, 10 years and you both get paid a heck of a lot of money. Manu Ginobli and Tony Parker figured out how to play together. Dwyane Wade and LeBron James figured out how to play together and they all benefited from it. So, instead of being so headstrong, you hope they realize, "Hey, maybe I do a little bit of this. He does a little bit of that. He'll get his max contract and I'll get my $50 million contract and we'll win." But it's hard to sell that to a 21 or 22 year old. That's why personalities are so important and obviously the Cavs erred when personality matching these two guys.
But it's dangerous to give up on one of them because I do feel that they're really talented. For a while, people hammered the Cavs on Harrison Barnes versus Dion Waiters… or even Andre Drummond. I think, ideally, Andre Drummond is your third best player on a good team. I think Dion could potentially be your second best player on a good team. So, I think the pick was good. I just think the personality match was bad.
CtB: Do you think the Cavs will extend Tristan Thompson and what do you think his market value is?
BW: I think what could happen there is very dangerous. I almost think they should absolutely not extend him. They should let it play out. I think he is what he is. On a good team, he's not your starter. I think, he's you first big off the bench. Maybe you finish games with him. I kind of feel the same way about Spencer Hawes, to be honest with you. It's really dangerous. What do you do there?
I know Tristan has dreams of getting what Derrick Favors got [four years, $49 million]. I think that's insane money for him. I think Tristan's much better off getting paid $6 or $7 million a year, but he's never going to agree to that. And if you agree to $10 million a year for him, you could really get burned. It's going to be difficult when it comes to that, especially because he's represented by the same people who represent LeBron. Now, if you know you're getting LeBron, you're like "I'll give you $12 million a year. Hey, take $14 million a year. Whatever."
Generally, I'm in favor of extending guys because I think that when guys hit the open market, that's when the big overpays happen. But I think it would be really dangerous to extend Tristan. Really dangerous.
CtB: Do you think Spencer Hawes has a future with the Cavs?
BW: I think Spencer Hawes has a future with the Cavs if he's willing to take a salary about what he has now. $6-$7 million is really good money for a guy like him. But, when it comes to Cleveland and unrestricted free agents, you're going to have to overpay and the Cavs cannot afford to get into a salary cap situation where they're stuck. Luol Deng, Tristan Thompson, Spencer Hawes: dangerous situation.
CtB: How much do you think the team's current play has been influenced by Luol Deng's leadership?
BW: It's hard to say. I don't think Luol Deng's been good, at all. It was a good trade and it helped them. They used creative cap management and, to me, that was excellent general managing. But it hasn't been a terrific home run.
The Bulls offered him $10 million a year and he said no. I think that's about what he should be getting. But I know that to stay in Cleveland he's going to want more than that.
I just think there are better ways to go than that.
CtB: Do you think David Griffin stays on as General Manager?
BW: I'm not feeling really good about it. If the Cavs want to hire a guy who's never been a GM before, they couldn't do better. He's really got a nice resume. It would be a totally different atmosphere. He'd look to get more offense, play a more appealing style of basketball. But Dan Gilbert swings for the moon and I think he may go out and try to make a big time hire.
CtB: Is whatever the Cleveland version of Phil Jackson out there?
BW: Isiah Thomas wants the job really bad. He's pretty much out in New York. His influence is over. He's met with Gilbert a couple of times – they had lunch or dinner together – and he really wants it. I think Gilbert is charmed by him, as everyone else is.
CtB: Pause for us all to light ourselves on fire.
BW: I don't think Dan's going to go that route. Dan is interested in Chauncey Billups, but I don't think you can turn the team over to a guy [with no experience]. GM is job that you have to be groomed for. But I think he'd like a guy who could bring a fresh perspective and has some clout like that. David Griffin doesn't.
CtB: Last question: so there's been a lot written this year about Kyrie being unhappy in Cleveland – that he wants to leave as soon as possible. A lot of people in Cleveland particularly have criticized that line of story for being the equivalent of picking at a scab, at the very best, to just plain not being newsworthy when the team has control over him for as long as they do. What's your response to that criticism?
BW: 2010 taught me a lot of lessons and I'm applying them the way I'm covering the LeBron free agency. I've written a lot of stuff this year that in 2010 I'd have been like, "What's the point of writing that? It's not going to happen." Well…
And, as far as Kyrie, rumblings and stuff, with LeBron I would have let it go. Well I'm not going to let it go [now]. I'm going to talk about it and here's the truth:
The truth is [Kyrie's] camp has been putting out there for years – years – that he doesn't want to be in Cleveland. That they don't want him in Cleveland. He doesn't like Mike Brown. He didn't like Chris Grant. He doesn't like Dion Waiters. He's already gotten a General Manager fired. He might get Mike Brown fired. This is the last time – once he signs he loses all of his leverage – so this is the last time he gets to enact leverage. I know he's said all the right things so, fine, on July 1, when they offer a max contract – which they will – and I don't even know if he's a max player, but you have to sign him – sign a five year, no out. That's what a max contract is. A max contract is five years, no out. If you want out or you want three years, that's not a max contract. You want three years? Okay, we'll give you $12 million a year. We're not giving you the full thing.
I'm just giving you my feel right now and my feel is that he's not crazy about [signing the full max extension] unless he gets everything checked off across the board.
And the other thing is: if the Cavs ever dream of having LeBron, it's not going to be with Kyrie there. LeBron and Kyrie have drifted apart in the last few years, even to the point that if the Cavs wanted to get LeBron they would maybe trade Kyrie for someone who would fit better with LeBron. And I'm not making that up. That line of thinking was not originated by me. That's just the truth.
Now, Kyrie has been very upset by this stuff but, whether he wants to acknowledge it or not, it exists out there and I'm just saying the way it is. I'm sure Cavs fans are upset about it. The Cavs are upset about it. When I've written about it, the Cavs have been like "Why does this stuff have to be written about us?" I say, "It has to be written about you because this could happen."
I think this is very elementary from Dan Gilbert's perspective. If Kyrie wants to play for Team USA, he's going to have to do his deal before mid-July when he goes to play for it and he'll either take the five years or he won't. If the answer is "no" to five years, he goes on the trade block. Period. I think it's pretty simple.
I thought I knew Kyrie, but he's just disappointed me this year with his immaturity. I really do think that if he will lock up for five that you have to do that. But if he starts messing around playing power games, you've got to trade him. Dan Gilbert has said as much. At the end of the day, if Kyrie was really a max player, this Cavs team would not be where they are. He would have carried them to much more than this. I'm not saying he has to be LeBron, but he's only spent one day of his career above .500. I know it's unpopular for some people, but after 2010 I'm not in the business of messing around. It's definitely out there in the NBA that Kyrie is not happy in Cleveland – but if that's not the case, he has a golden opportunity to prove everybody wrong and that opportunity is coming in a few months.
***
Brian Windhorst was the Cleveland Cavaliers beat writer for the Akron Beacon Journal from 2003 through the summer of 2008, and began to work for The Plain Dealer in October 2008. He moved to ESPN in 2010