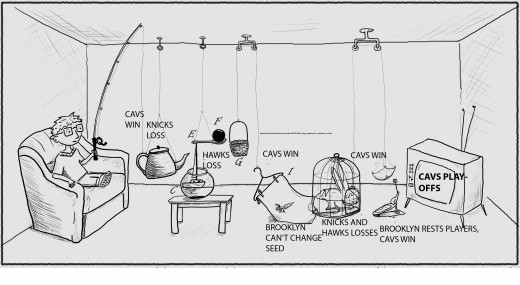 When Friday hits, you have to get prepared for the weekend.  Some people get haircuts. Other people go grocery shopping for a family gathering. People like me contemplate why they hated on Kyrie coming back after he had an amazing game against Orlando. A few people just grab a six pack of their favorite beverage and turn their television on to watch their NBA team.  If you're a Cavs fan, this weekend you're going have set aside time to read about their playoff situation to fully appreciate them battling the Atlanta Hawks on Friday and the Charlotte Bobcats on Saturday.
Mary Schmitt Boyer of The Plain Dealer has the playoff situation covered.  She points out the harsh reality that the Cavs really aren't in total control or even moderate control of their playoff chances.  They are going to need some lucky losses from both the Knicks and the Hawks, since they don't own the tie breaker against either of those teams.
NBA.com gives a more numbers based account of the Cavs' chances to make the playoffs.
With the Cavaliers win against Orlando, their playoff odds went up from 1.7% to 4.2%. If the Wine and Gold run the table and post a 6-0 record to close out the season, their probability of making the playoffs jumps to 64.9%
The Cavs take on Brooklyn for the last game of the season, so there is a good chance that they will not win out, which would push their playoff odds to 21.3%.  However, if Brooklyn has nothing to gain from winning like home court advantage or an easier opponent, they would probably shut down their vets and could give the Cavs an easy win.
–
If the Cavs want to win out, they will have to get to the free throw line.  Trevor Magnotti of Right Down Euclid breaks down how great the Cavs are when they are mugged frequently while shooting.
Taking the last 25 games as a sample, the Cavs have had a higher free throw rate than their opponent 13 times. In these games, they are 9-4, with a 4-8 record when they don't. This has been especially true in the last couple of weeks, as they've posted a higher FTR than their opponent four times in 5 games, and won each game, losing the lone contest where they did not lead against Brooklyn on Friday.
Now that Kyrie Irving and Dion Waiters are sharing the floor again, the Cavs should have no issue getting pushed and acting attacked to earn those extra needed free throws.
–
Since Sergey Karasev and Anthony Bennett probably won't be talked about much during the next seven games for their actual play, Cavs fans can appreciate them more as people for the next few weeks.
Sergey was the subject of the "Growing Up" feature for Cavs.com this week.  Sergey knows no fear outside of the NBA.  He jokes about being better than his father in this piece.
My father was … very good, but if you can see all the titles – I'm rated better. He don't have a Bronze medal in the Olympics, and he don't play in the NBA. But if I want to be a real big star like him – not just in Russia, but all around the world – I must keep working on my every skills. And that's what I try to do.
–
Anthony Bennett was interviewed for USA Today Sports.  The video is short, but it's a good reminder that adjusting to NBA life is very difficult for rookies.  Bennett might not have adjusted completely to the NBA game yet, but he has mastered the NBA media and comes off really well in this video.
Tags: Anthony Bennett, Cavs Playoffs, Kyrie Irving, Sergey