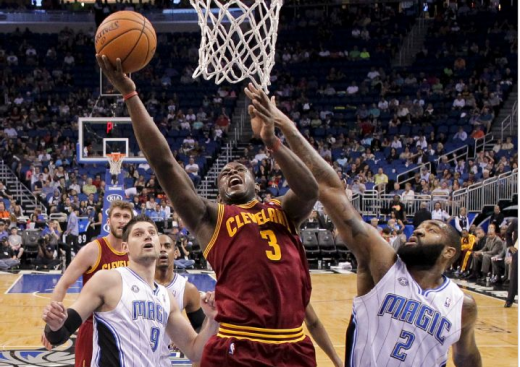 The Cavs completely dominated the Magic. Any worry that CavsNation had about Kyrie and Dion playing together were quickly dispelled. They were completely unstoppable and played the way we've been begging them to play for over a year. Kyrie was incredible, finishing 7-8 from the field, converting a bunch of awesome contested shots at the rack, and playing the role of distributor/defense-magnet quite well. Waiter was 10 of 15 shooting. He splashed all three of his 3s, and nine of his other 12 shots were taken in the paint. Perfect. Spencer Hawes, TRUE PATRIOT, flashed his passing and his 3-point stroke and Tristan Thompson was too much to handle. He made all eight of his free throws.  Jarrett Jack and SuperDOVA managed the PG position well and Jack threw down a huge dunk. (I'm serious!) The execution tonight was just insurmountable, whether the Magic cared about winning or not. Even the shots the Cavs missed were open. They finished with 62 points in the paint and scored 70 points in the first. The Cavs are making it interesting!
Nate and I hopped in the ole podcast booth to talk at length about the Cavs. Mallory is in the process of posting to SoundCloud and iTunes, but, for now, the Podcast is available at Mixcloud
http://www.mixcloud.com/oldseaminer/0044-magic-recap-trade-madness-heroes-suits-and-the-playoff-race/
Tune in to find out about the game, the playoff race, #CavsRank, who the best dressed bench Cav is, which Cavalier legend I get to meet this weekend, and the details of our bet on whether the Cavs make the playoffs.  Go Cavs!