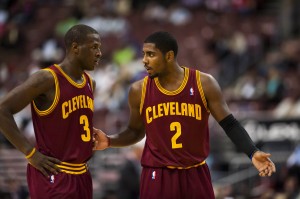 Two weeks has passed since Kyrie Irving injured his left bicep against the Clippers.  He has been reevaluated and can participate in full contact practice according to Mary Schmitt Boyer of The Plain Dealer. Irving's status for tonight is, reportedly, a game time decision
Irving wants to be back, though, according to ESPN,  in this piece about his return.
"I feel good," Irving said. "It was great to be back out there. It was definitely hard for me these last two weeks just sitting on the bench. But as always, if I go down, I'm the biggest cheerleader. "

"If I'm ready to go, I see no reason to stop me," he said. "But obviously everyone has their reason, as we know in this business. Obviously, you have a respect for it, but as a basketball player and as a competitor, there's an inner drive to be back out there. We'll see what happens."
Mike Brown, in the same piece, actually seems to be reserved about an Irving return.  Irving is a bench manager.
"A guy like Kyrie can be a game-changer even if he's not in uniform," Brown said. "Guys listen to him, guys respect him. If they see he's engaged, it makes the team that much more connected. He's helped in that area, in that connectivity."
–
Cavs fans can rest assured that the front office and Mike Brown will not be making the decision of when Kyrie gets back according to this report by Bob Finnan of The News-Herald & The Morning Journal.
"(We'll) see what's the best decision for me and, ultimately, I'll be making that decision," [Irving] said. "If I'm ready to go, I see no reason to stop me.
"But, obviously, everyone has their reason, as we know in this business. Obviously, you have a respect for it, but as a basketball player and as a competitor, there's an inner drive to be back out there."
I know this is a tad over analytical, but Kyrie's use of the first person in describing his reasoning to come back scares me.  This has been an issue for large parts of the season.  It's Kyrie Irving and the Cavs instead of Kyrie Irving's Cavs.  Irving likes to play iso ball while everyone watches.
"(I) knocked some of the rust off," Irving said. "My rhythm is definitely a big thing that keeps my game going, and I've got to get that back. That'll come back, hopefully, when I get back out there. Who knows if it'll be tomorrow or the next game after that, but it felt good today."
I actually hope Kyrie comes back Friday.  Kyrie may have his rhythm, but what about Kyrie and the actual team playing together.
–
The information about Dion Waiters staying in the starting line up is like the Cavs rotations, unknown.  Jason Lloyd reported that Mike Brown may keep Dion as a starter. 
Mike Brown says no guarantee Dion Waiters will move back to bench when Kyrie returns. "Dion's played very well for us in his role." #Cavs

— M.S. Boyer/J. Valade (@PDcavsinsider) April 1, 2014
No matter what happens with Dion and his starting position, it is apparent that Jarrett Jack, Matthew Dellavedova, and Dion will be losing minutes when they are all playing amazingly. The Cavs have gone 4-4 without Irving and have looked like they're establishing a more team-based offense.  The defense from the point position has actually improved without Irving's "turnstile to the hoop" defensive style.
–
Other people in Cleveland are noticing that the Cavs have been really good without Kyrie.  At Cleveland.com, their Cavs Insider video series captures Jodie Valade saying the Cavs have realized passing is productive without Kyrie in the lineup.  If you need something to listen to at work, check out the whole video.
–
People are noticing that Jarrett Jack is doing really well.  He got two puff pieces this week.  One piece is from Bob Finnan and the other is from Mary Schmitt Boyer.  Jack has been averaging 15 points on 49% shooting with almost 6 assists the past eight games.
–
Matty D is even getting love from David Zavac over at Fear The Sword.  It's all Delly love in the post.  Check out his shot chart from the past 18 games:
–
The Cavs playoff race has gotten very complicated with all of the interlinked teams and who we need to be rooting for.  Zak Kolesar at Right Down Euclid gathers all of the playoff race information for Cavs fans in one place with his latest post
–
If reading about the playoff race gets you stressed, you can check out what Andrew Bynum was doing in his final practices.  Answers make everyone feel better.  I want to thank basketball-reference.com for clearing up the mystery.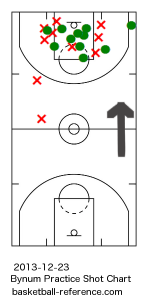 The arrow lets you know what basket he was shooting at.
–
The Cavs signed Scotty Hopson to a deal that makes him extremely valuable for trades with a nonguaranteed second year.  Check out his YouTube video to see if he's worth 1.35 million for the final seven games.
Tags: dion waiters, Kyrie Irving, Matty D