Cleveland traveled to Brooklyn, tonight, nursing a three game win streak, with a chance to make up ground on Atlanta and New York. Unfortunately, Mike Brown and the Cavs contracted amnesia and completely forget about the last time that the Cavs played the Nets or the fact that the previous game gave the entire NBA a blueprint for beating Cleveland: make Tristan Thompson guard outside shooters. Instead, Brown decided that playing Tristan Thompson at power forward against Paul Pierce could somehow be effective, even though Pierce and Teletovic destroyed TT last time they played. Thompson, bless his heart, cannot guard 3-point shooters, and could not resist the urge to consistently drift toward the key. This didn't stop coach Brown from trying to beat a square a dead horse into a round hole in the ground as Brooklyn gleefully launched wide open 3s throughout the game, making 14 of them at a clip of 48.3%. The flawed game plan ultimately doomed them, as Brown tried to find ways to guard the Nets stretch lineups and still score points. He failed at both those tasks.
The Good
There wasn't a lot for the Cavs. Luol Deng scored 20 with seven dimes and six boards, going +10 for the game. The lineups where Deng moved to the four were the only ones that were effective, tonight. Unfortunately, Deng could not play 48 minutes. More unfortunately, Deng could not guard all of the Nets big guard/forwards: Pierce, Joe Johnson, and Alan Anderson — not to mention sharp shooting big man, Mirza Teletovic. There was only one Luol Deng to go around.
Matthew Dellavedova played well, finishing -2 for the game (second best on the team), and consistently pushing the offense. His 3-point shooting has been sharp lately. He went 2-3 this game. Delly also chipped in a nasty runner off the left bank to finish with eight points, three rebounds, and four assists. He had a hard time dealing with Brooklyn's big guards, and Livingston, Williams, and Anderson consistently overpowered him, but Delly hustled and created chaos and helped turn up the defensive pressure. His contributions were better than his box score.
Paul Pierce had to have the best first six minutes of his career.  Paul made three 3-pointers in the first three minutes as Tristan kept leaving Pierce for no reason before Brown mercifully called a timeout. But comically, after the timeout, Brown kept Thompson guarding Pierce which led to this: a simple post-up for Livingston on Waiters, and Thompson LEAVING PIERCE… AGAIN to double, and me screaming, "HE CAN'T GUARD PIERCE," as I desperately tried not to throw my remote against the wall. Pierce splashed another, then drew two free throws off a Thompson foul on the next possession. Three plays later? He drew three free throws on Jarrett Jack. That's right, "The Truth" scored 17 in the first 342 seconds. Pierce was laughing throughout, as if to say, "can you believe they're leaving me this open?"
Shaun Livingston, ex Herculoid, and ultimate utility man, had a Jason Kidd-like stat-line: eight points, eight boards, six dimes, and three steals in 34 minutes on 4-5 shooting. He finished a ridiculous +28 for the game. Livingston worked the offense from the post and mid-post and broke up plays on defense throughout the game. Did I mention he's earning a veteran minimum salary? Someone give this man a contract this summer.
The Bad
Cleveland's defense was a hot mess. TT started it, but the rest of the Cavs finished it: massively overreacting to penetration and the ball coming to the middle, where three to four Cavs would collapsel, and then the Nets would swing it for an easy 3. Brooklyn wasn't running anything fancy. Most of this was simple post-ups for their guards and penetrations off pick-and-pops. The Cavs had absolutely no discipline about who was doubling or helping. It made me wonder if Brown even has a system or if these guys had a plan.  Plays like this were indicative of the Cavs general disorganization. The Nets shot 55 percent from the floor, and 48.3 percent from 3. Cleveland seemed completely unprepared. At a certain point, you just have to stop doubling and take your licks with the post-ups, and hope the transition game and the rebounding advantage can make up for it.  Instead, Cleveland was out-rebounded 41-35. If not for Andy's 13 boards, it would have been much worse. The Nets finished with six guys in double figures.
Alonzo Gee: I've been watching a lot of games this year with my buddy, E.  E hasn't watched basketball till this season, and he asked me, "Why Gee doesn't play more, cause sometimes he looks really good?"  (This was after Gee thundered a dunk off a nice feed from Deng). My answer, "Gee is good when he's dunking, rebounding, defending, and shooting wide open corner threes, but when he tries to do too much and puts the ball on the floor, it's like a Jermaine Jackson solo album." Tonight was an example. -18 in 10 minutes, Gee was a part of the ineffective lineups that scored one point in the first four minutes of the fourth. He consistently got lost on offense and defense, going 1-4 with a turnover.
Spencer Hawes' shot well from outside: 3-3 from three, but 3-10 everywhere else. He missed a lot of bunnies, and I never even noticed him on defense. This was a nightmare matchup for Spencer. Brooklyn basically starts four big guards and the uber-athletic Mason Plumlee. Spencer rushed his shots around the basket when he should have been more deliberate and got the ball in the bucket.
The Ugly
Cleveland spotted the Nets 10 points out of the gate, and still ended the period tied at 29. It was the stoppable force versus the movable object in the first quarter.
Dion and JJ combined to shoot 8-27 before garbage time. The long twos weren't falling, and Cleveland took a bevy of them.  The Cavs also left a lot of points off the board in transition. Jack missed pull-ups. Hawes missed layups. Andy went 3-8. It felt like they were all a little too happy with themselves after the comeback against Detroit. The shot chart causes me physical pain.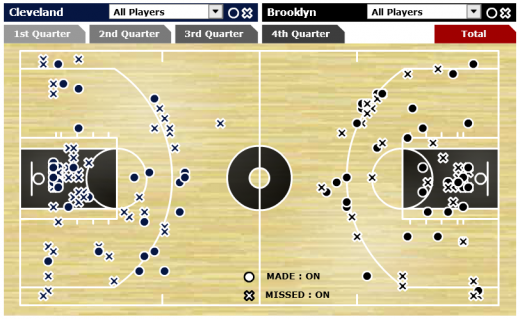 Yes, Dion scored 20, but it took him 18 shots and 42 minutes to do it. The jumpers weren't falling, and he was forcing. He has to know that he's going to have a hard time getting his shot off in the half court against the Nets big guards. It's too bad Cleveland didn't have a big he could get the ball to who could score inside against a four guard lineup. Offseason priority: interior field goal percentage.
Tristan Thompson…  Mike Brown…  SMH…
Brown's inability to adjust was maddening. Why was Carrick Felix inactive? Why didn't Karasev play? The Cavs could have desperately used more big guards.
Kyrie Irving wore a tucked in clean white shirt tonight. Clearly, the loss is his fault. The Cavs were 3-0 when he wore ugly clown shirts while he recovers from his injury. In the words of Crash Davis, "respect the streak." Bring back the clown shirts.
Cleveland has almost no margin for error if they want to make the playoffs. They could have made up a game on New York and Charlotte, who both lost tonight. They're three and a half back of Atlanta and one and a half back of the Knicks with nine games to play. Next up? Indiana on Sunday… A tall order.