I used the above video as header for the last piece I wrote that mentioned Brad Daugherty. Likely, I will use it somewhere in every piece I write about Daugherty.
More than his five All-Star trips in eight seasons wearing the only pro uniform he ever would — the orange "Cavs" or "Cleveland" as short a distance over his number 43 as the basketball rim was over Daugherty's own head — more than his 10,389 career points (a club best when he retired and still good for third best now), more than his distinctive drawl and a hairline that, at times, was practically Boozerian in its encroachment (Carlos Boozer's, of course, attacked from below, from his upper chest, while Daugherty's threatened to cover his lower brow as thoroughly as Batman's cowl), more than all of that, memories of Daugherty — for me, anyway — endure because he had his own card and sandwich.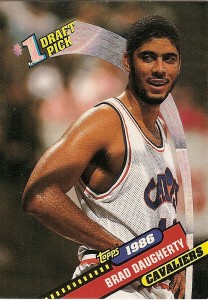 Beyond Brad's Bacon-Cheddar Special, my own relationship with Daugherty the player (not the pitch man), involved decidedly less salivation.  I came to the Cavs at a time when those Lenny Wilkens-coached teams were still in their prime. But it was a post-"The Shot" world and our eventual narrative — that it was a time when a fine collection of Cleveland players just never could get over the number 23-shaped hump that was Michael Jordan — was already sketched out, if not yet fully inked in. So, the baby steps of my first rabid sports team attachment were not made in awe of how good this team was (and just how difficult it is to find players that good and make a team work that well) but, rather, in abject dissatisfaction that my chosen team was made of the stuff that breaks hearts. My dissatisfaction centered, unfairly so, on my team's center, on Daugherty and the "soft" label that clung to him like an early-90s mock turtleneck.
Sports Illustrated's Jack McCallum was very critical of Daugherty after the Bulls bounced the Cavs in the 1989 playoffs (Side note: it's interesting to read McCallum's detailed description of Jordan's game winner before it came to be known by just two simple words) and even his words of praise for the Cavaliers — "a balanced unit, a team of such consistency and emotional stability" — became backhanded compliments and easy explanations for why Daugherty's teams couldn't beat the "volatile," "pyrotechnic" Bulls when it mattered most. Yes, Magic Johnson famously predicted these Cavs would be "the team of the '90s," but the reason Johnson's proclamation is so widely remembered is precisely because of the lack of love Daugherty and his teams got nationally. No one else was saying what Magic said and even he wasn't saying it for very long.
Fairly or not, I was forced to reconcile this lack of national love for my team with my own growing attachment to them and it came at Daugherty's expense. I loved Mark Price. I loved Larry Nance. But I allowed national dismissal of Daugherty's place among the NBA's elite players to become my own. So, when Bob Costas said that Daugherty had "taken his place among the league's best centers" in May of 1992, I was convinced there had to be a catch. There was. Daugherty's career was almost over.
[Note: Yes, if you watch the entire NBC halftime show, you'll see the Trailblazers' Cliff Robinson publicly disrespect the Cavs by saying he'd rather play the Bulls. Well, Cliff, how'd that work out for you…?]
So, okay, yes, Daugherty was lacking (even by the accounts of his own teammates) as an intimidating defender and he has probably never been described as "pyrotechnic." Still, I would come to appreciate — only long after back problems forced him to retire after the 1993-94 season at the age of 28 — that Daugherty made up for with one of the most unique offensive skill sets at his position in NBA history.
Bradley Lee Daugherty was just sixteen years old when he arrived on the campus of the University of North Carolina, a year removed from another historic "Shot" from his future rival, Jordan that earned coach Dean Smith his first NCAA championship. He would spend four years in Chapel Hill, earning All-ACC and All-American status, before being taken by the Cavs with the number one pick in the 1986 NBA Draft. "When a body count was taken," wrote Jeff Lenihan of the Cleveland Plain Dealer concerning that historic draft "the Cavs had used eight draft picks, two trades, a quick-thinking Louisiana jury and a European courier to obtain 11 players, including five 7-footers."
Daugherty was the centerpiece of a complete draft day overhaul that saw them also obtain Price, Ron Harper and John "Hot Rod" Williams. In choosing Daugherty, the Cavs passed over arguably the draft's biggest talent, Len Bias, whose tragic death in June of 1986 may have spared the franchise a less-lopsided version of the "Sam Bowie over Michael Jordan" shame experienced by the Trailblazers just two years earlier.
See, I'm doing it again. Picking on the player Daugherty wasn't. Okay, fine. So, let's look at the player he was.
Daugherty's game was nearly as even-keeled as he was, with career averages of 19.0 points and 9.5 rebounds a game that he started hitting almost from the moment he took the court. When healthy, from his second year on, he was always within a point or two, a rebound or two, a field goal percentage point either way from his eventual career marks. Daugherty never seemed to make "the leap" in his career (unless you're going to call going from 19 to 21 points per game a leap), but Daugherty's team certainly made "the leap" over the course of his career and you could argue that Daugherty's steady high level play was the real foundation that allowed the eventual contending team to coagulate around him.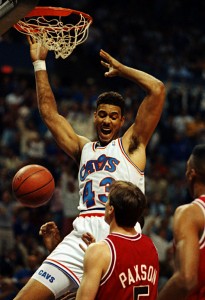 Daugherty ran the court with serious burn, a convenient reminder that his jersey number was not in reference to some other player's jersey, but was painted on the car of race car legend, Richard Petty. He was a powerful finisher on the break, exhibiting that ever-elusive combination of fluidity, size and athleticism. Looking back on the prep version of Daugherty, he can almost be mistaken for the prep-to-pro Tyson Chandler. In fact, it's almost as if Chandler and Daugherty are two sides of the same body-coin: both given similar athletic 7-foot frames (and hair styles) and then unleashed to do completely opposite things well on the basketball court. Daugherty remained mobile even as he bulked up to go against the wealth of five-spot talent the NBA was experiencing in the '80s and '90s and the result was a lot of action at the rim as Daugherty would slip his man, take a pass and, in the words of broadcaster, Joe Tait, "Wham, with both hands!"
Daugherty was smart and always nurtured interests beyond the game of basketball (another frequent backhanded compliment to pro athletes). As important as it was for the Cavs to have a top-5 big man to contend in the NBA of the 1980s, in general, it was that much more important that the Cavs as coached by Lenny Wilkens had Daugherty, in particular, manning the post. Daugherty understood the game and brought an amazing ability to pass the ball for a player at his position. It was Daugherty's passing that helped make those Wilkens-era Cavs teams such a joy to watch. Rather than the ball stopping when it got thrown into the paint, Daugherty was able to find his teammates and make those around him better.
The championship, of course, never happened. People don't talk about Daugherty and Price in the same breath as Malone, Stockton or, say, Charles Barkley as players who were great enough that the absence of a championship ring on their hand still seems a bit off. But [deep, cleansing breath]… that's okay. Daugherty was plenty great.
For his Cavaliers career, he ranks first in defensive rebounds (4,020), second in total rebounds and second in field goal percentage (.532) which is particularly impressive given that he is fifth all time in field goal attempted. He is still fourth in minutes played and is tied for seventh in games played (548) with the number one pick from the team's later contending squad, LeBron James. But, again, it's the passing that really stands out. In the four-plus decades of a team with a pretty sturdy point guard tradition, Daugherty has the sixth most assists (2,028).
Wilt Chamberlain holds the record for highest career assist average by a center at 4.4. Daugherty isn't far off at 3.7 (and he did hit 4.4 per game in the 1992-93 season) and it's a career mark that should put Daugherty square in the conversation about the best passing big men of all time. His assist average compares favorably to such highly lauded passing bigs as Barkley (3.9 for his career) and Chris Webber (4.2).
Those numbers… Daugherty's game… His career… You don't need your own card and sandwich, Brad. That's enough to make a fella feel seven feet tall right there.
But being the Brad in "Brad's Bacon-Cheddar Special" doesn't hurt either.
Just sayin'…