Tonight the Cavs lost their 10th straight game to the Heat.  The Cavs were without Irving or Miles, the Heat without Wade.  LeBron scored 25 points in the 1st quarter and yet that seemed like the most characteristic stat of the evening (although impossible by definition since it was a career high).
1st Quarter
It was an entertaining first quarter the way a circus is entertaining.  There are crazy acts of death defying acrobatics, beasts, and clowns.  The Cavs were down big early, but all of their few points were on thunderous dunks or deep 3s.  Alonzo Gee went beast mode on LeBron, shoving him out of the way en route to a baseline slam.  LeBron.   This was AFTER he threw down one of those crazy acrobatic tip dunks.  LeBron responded by setting his career high for points in a quarter, clowning the city to the tune of 25 points.  It's really really rewarding watching LeBron spend the prime of his career representing true evil while the Cavs gasp for air.  He drained at least 3 bank shots in the 1st quarter, a 3 (of course), and 2 of those <running from right to left across the lane before squaring up> shots.  Then LeBron tried to re-enact Milwaukee 2009, also known as one of the craziest games in Cavalier history.  Not only was that the 16-pts-in-2-minutes game, but also the Villanueva-chokes-Z-after-flagrant-fouling-Andy game.  If you get a chance, install one of those youtube downloaders (hopefully not the malware-infested kind) and download any videos of that game.  You will want them in 30 years to show your grand kids or pet robots.  Back to the game.  LeBron tried to recreate the heat-checkage of that Milwaukee game but it just wasn't the same after he missed the deep deep deep heat check from the right wing.  He stayed plenty hot, as evidence of his 25 in the quarter, and the Heat in general were en-fuego from 3.  They got out in transition off turnovers and rebounds and the Cavs to their credit did their best to stop the transition buckets.  It always led to open 3s, and the Heat made the Cavs pay, draining 7 of 12 3s.  (LeBron made 5 of 6).  The Cavs did a very nice job of exploiting the harassing perimeter defense of the Heat.  They made passes to the interior and found themselves with plenty of open dunks and layups.  Greg Oden blocked a few shots, but generally, the Cavs generated easy baskets.  They trailed 37-25 after one.
2nd Quarter
The Cavs started the second by, again, generating points in the paint.  In fact, 20 of the Cavaliers first 31 points were in the paint, which is astounding given how poor they at it in general.  Varejao showed why he belongs in the circus, changing his spots many times, blocking shots (Beast), leading/finishing transition buckets (acrobatic), and clowning the Heat by being +10 in his first 10 minutes, leading the Cavs all the way back and into the lead.  Norris Cole was unable to stop Delly on a fast break in which he was actually between SuperDOVA and the basket.  Delly got an and-1 out of it.  The Heat better hope Mario Chalmers or "RIO" shows up in the playoffs.  Jarrett Jack was essentially on fire, which makes perfect sense.  I assumed the Heat's harassing perimeter defense was going to just cripple Jack and Waiters.  Instead, they were threading needles and draining Js right in people's eyes.  Jack, hilariously, drew 3 foul shots by doing that ridiculous rip-through move from at least 95 inches behind the 3 point line.  It's hilarious because the Heat did it twice in the 1st half and both times Mike Brown "protested" the way a nun would protest an expired coupon to a fish fry.  The refs really had no choice but to bail out Jack after bailing out Toney Douglas and LeBron twice previously.  Mario Chalmers proved he could out-bone-head Dion on a fast break in which Dion tried to go 1 on 4, dribbled into a corner, and "RIO" shoved him out of bounds.  Did you guys know Chris Bosh is a stretch 4 now?  He's become a deadly 3-point shooter.  If the Heat are going to 3-peat he's going to have to have a great playoffs, because LeBron is going to be LeBron, Wade is going to look exactly like he has the last 2 seasons, Allen and Battier are going to hit a few shots, and everyone else is going to be a huge liability for the Heat.  The Heat just never locked in on defense, standing around while the Cavs moved extremely well without the ball and in transition.  If not for 10 1st half turnovers the Cavs may have been up a lot.  But they were a little loose with the ball and LeBron had 31 on 12-16 shooting in the first half.  They trailed 59-54 at the half.
3rd Quarter
Hawes got Bosh to bite on his corner 3 pump-fake like he was Iron Man taking off for the skies.  Then Tristan cut backdoor for a vicious smash past LeBron.   Moments later, TT drew a foul underneath and hit the free throws.  Then, he stole the ball from "RIO", got it back from Jack, and threw down in transition, hanging from the rim for good measure.  LeBron made a huge bail-out layup in traffic as the shot clock expired after the Cavs played flawless D.  Greg Oden elevated and smashed one home, bringing back memories of 2007.  The Heat started contesting the Cavs a little better and made a point to get out and run on rebounds.  Toney Douglas picked up his 4th foul very early in the 3rd but Erik Spoelstra elected to keep him in the game.  Douglas scored two lay-ups shortly thereafter.  (somehow he was the number 3 trending topic on Twitter at one point which shows how much the NBA still dominates the Twitterverse)  The Cavs got a huge boost from Varejao again in the 3rd.  He checked in and started draining mid-range Js.  He tapped in a LeBron lay-up and convinced the officials to whistle it basket interference on Christopher Andersen the IV, a fine gentleman.  Spencer Hawes out-battyayed Battier and earned some free throws.  I can't stress enough how fun it was watching the Cavs bait the veteran, champion Heat into bad weak-side defense and dumb fouls.  The last half of the 3rd was a highly entertaining back and forth affair.  At the end of the 3rd, the Cavaliers had 38 points in the paint, 22 assists, and were shooting 60%.  Six players had at least 10 points heading into the 4th.
4th Quarter
The Cavs started off the 4th with a Dion backdoor smash.  Then, Jarrett Jack blocked (without fouling) Shane Battier on a 3-point attempt.  Zeller drove baseline and split a pair of free throws after getting fouled by friendly neighborhood Anderson.  The 4th quarter was fairly frantic and ugly after that.  Both teams had active bodies moving around on a string, but offensively there were many blown possessions.  Miami missed some layups and open 3s, the Cavs did likewise.  It didn't help that the refs couldn't stop calling offensive fouls.  Most could have been no-calls.  There were some epic blocks in the quarter, mostly by Miami, but S HAWZ (TRUE AMERICAN PATRIOT) met BAD SANTA at the APEX and the refs called it a jump ball.   (The Bird Man's middle name is Claus, seriously)   Dion Waiters drove in between Heat defenders with a sick spin move and found Hawes wide open in the corner.  Hawes obliged by shooting a 26 foot shot from 23 feet.  But on the next possession, Jarrett Jack drilled a 3 from the same spot, knotting the game at 88.  After a timeout, Chris Bosh swished another 3 and then followed it up with a mid-range J.  The Cavs found themselves in a precarious situation.  The refs They put Miami in the bonus early, so LeBron got to shoot free throws on hand checks, the refs stopped calling fouls even as Dion got sandwiched so hard going to the hoop that Dan Gilbert rage tweeted half of something.  Down 6 with under 24 seconds, Jarrett Jack hit a 3.  The Cavs fouled LeBron on the inbounds and he hit both.  But then Jack drained ANOTHER 3, cutting the lead to 1.  The Cavs never scored again and fell 100-96 to the modern incarnation of pure evil.  (Seemingly less so every day.)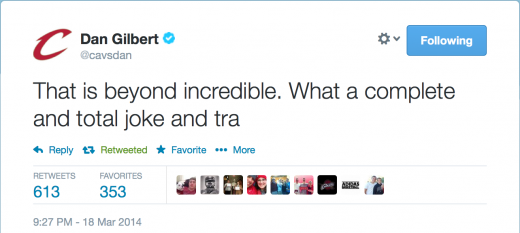 Kevin just penned a great piece about how seemingly impossible it is to predict the fate of this team.  I concur.  Here are some of the things that happened tonight:
-The Cavs shot over 50% from the field, despite being last in the NBA in FG% this season at 42.8%.
-The Cavs assisted on 27 of their 37 baskets despite only averaging 20 Assists per 37 baskets on the season.
-The Cavs scored 44 points in the paint despite averaging only 38 per game this season.  This ended up a lot lower than I thought after 20 of their first 31 points were in the paint.
-The Cavs coughed it up 20 times leading to 26 Miami points off turnovers.  On the season the Cavs allow 17.3 points off turnovers and only cough it up 14.5 times a game.
-Jarrett Jack was downright devastating.  He made 4 threes, more than he's made in a calendar year, and finished 8-13 from the field for 22 points, a team high.  He made some great backdoor passes and played an all-around great game.
-Waiters, instead of trying to shoot 100 times with Kyrie out, had his first career double double, and he had it early in the 3rd quarter.  He forced too many shots in the paint, leading to lots of blocks and turnovers, but he had 11 assists and some of them were gorgeous.
-Another interesting bit, Waiters stepped to the line twice to shoot technical free throws.  He's the 3rd worst FT shooter on the team so that made no sense.  Of course he swished them both.
So, not really things you'd predict based on how the season has gone.  I didn't realize until after seeing the AP recap that Luol Deng didn't play tonight.  That's how much of an impact my subconscious is aware of.  I was actually proud of the way Alonzo Gee played.  Got some snarky tweets about how LeBron destroyed Gee.  OK, but he made 6 of 8 threes and a bunch of them were heat checks so I'm not sure anyone else would have slowed down LeBron either.  At least Gee took 3s and dunks.  Delly was great tonight, finishing with a team high +13 in 23 minutes.  Six assists to two turnovers is great for your 4th string guard.  Especially when you combine his harassing D.
Overall, it was a fun game, a good effort, and it really didn't emotionally drain me watching the Heat beat the Cavs.  (This is very new)  The preening seems to be gone from the Heat, that makes it easier.  When LeBron played for the Cavs he and his teammates seemed so full of joy all the time.  At some point everyone's expectations buried LeBron and he decided he needed a ring to validate his basketball existence and vindicate himself from those that claimed he was all hype.  He went to Miami and the "bad guy" LeBron plus "constantly whining" Wade (World of Wade, seriously?)  was just too much.  Now I watch that team and they seem to be about business.  They're trying to survive the season and they seem a little vulnerable.
It still really bothers me that LeBron could have been the greatest sports legend in the history of Ohio, maybe even above Jack Nicklaus and Jesse Owens.  He could have done something that so few people have done for Northeast Ohio, and he could have been considered the greatest basketball player of all-time while doing it.  I've made peace with it.  The fan-player relationship is mostly fake at this point.  I keep thinking it's going to hurt professional sports but it's not.  Hell, I never stopped watching, blogging, tweeting, consuming.  According to his book, Joe Tait started loathing the NBA sometime in the mid to late 90s, and he hung on for a while.  There's something about the game being played at a high level that beckons even when the curtain gets pulled back on the contrived story lines.  Go Cavs