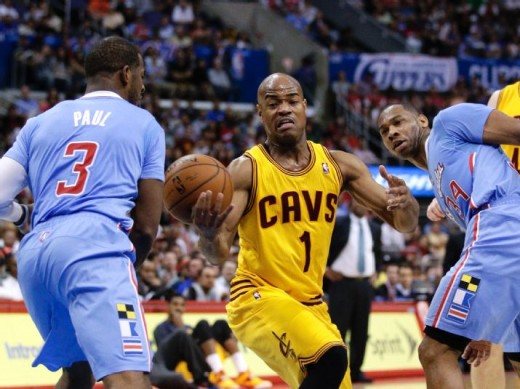 I'm wary of "killer stats," the kind where a broadcaster will glance at a stat sheet from an assistant, look at the score, do two seconds of math and say something like: "Well the Cavaliers have 13 less second chance points than the Kings and that's the difference in the game, otherwise it'd be a dead heat." These quick equivalencies fail to take into account the many coeval facets that go into winning and losing a basketball game. That all being said, the Clippers assist/turnover ratio was 6.4, compared with the Cavs' 1.1. The Cavs couldn't hold onto the ball, and their offense was sludgy tonight, while the Clippers were efficient and generous, which the A/T ratio disparity captures succinctly. A 3-0 west coast trip against playoff teams was probably a bridge too far anyway.
The Cavs found themselves in an early 11-0 hole, similar to how the Golden State game started. Mike Brown quickly went to his bench, countering the Clippers extreme athleticism up front with the best foil he had in Anderson Varejao. Andy was the only Cav to finish with double digit rebounds, and Cleveland struggled to contain DeAndre Jordan and Blake Griffin all night. Los Angeles ended the quarter with 12 assists on 13 made field goals and no turnovers, efficiency the Cavs couldn't match. Turnovers against LA are particularly costly because of their proclivity to dunk everything.
Halfway through the second quarter, Kyrie Irving left the game with a biceps injury he sustained from tangling with Griffin. Irving wasn't the only one to clash with Griffin, as he and Dellavedova got into a shoving match within the flow of a possession, and Spencer Hawes picked up his second technical reacting to Griffin. He seemed unencumbered by any Cavalier efforts on either side of the ball, and dunked and shot whatever he wanted, ending two assists shy of a triple double. Also to his credit was the anonymity of Tristan Thompson, who only scored one bucket and ended -31 in 20 minutes.
The past few second halves, the Cavs have tightened up their defense and pressured opponents with double teams. On Friday, the Warriors' offensive output diminished every quarter, but tonight they weren't as successful. Luol Deng played solid defense and didn't commit a foul all night. Deng's particular skillset works for this Cavs team, as he spaces the floor out and shoots jumpers, which are inefficient but contextually appropriate shots. Hawes' addition helps Deng get open more, especially when he receives the ball in the middle of the key and looks for corner shooters.
The closest the Cavs got to the Clippers was seven. Jarrett Jack spearheaded a 12-0 run with a big three and a pair of floaters to cut the lead to seven with 9:22 left in the fourth quarter. Doc Rivers quickly responded and put his starters back in, who regained control and saw the rest of the game out. LA took 3:30 to score in the fourth, missing their first eight shots, but the starters were very efficient and easily overwhelmed a Cavaliers defense that looked tired. Matt Barnes and Chris Paul hit back-to-back threes with five minutes left and that more or less sealed it. Paul never tried to score much during the first three quarters, as is his custom, but he came alive late and found seams in the defense. He is very talented in predicting future movement of players based on little actions, and he moves quickly to little pockets of space that nobody would ever think to exploit. Mastery of angles and timing ensure he is always in a dangerous position.
His outburst at the end ensured the Cavs would lose, and their offense never found sustained resilience. They shot 34.9%, with only Deng and Jack ending with vaguely efficient lines. Dion Waiters ran the offense to mixed results after Irving left. Often, his aggressive drives opened lanes for the Cavs, but he also turned the ball over three times and missed 10 of 15 shots. The Cavs play next at home against the Heat on Tuesday.