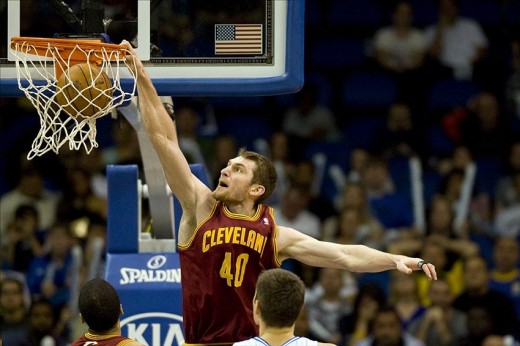 I have a vague theory.  Every time I write pessimistically about the Cavs, they immediately embark on a hot streak.  If I take an optimistic tone, an ensuing 30-point loss becomes inevitable.  Seriously, look it up (Edited Note:  I began writing this on Sunday evening.  Within an hour, Kyrie had injured his biceps).  Sum up the team's record in the two games after each negative article I write.  It is the equivalent of the 1996 Bulls.  Combining every set of two games following a positive article, they resemble the current 76ers.  Most recently, after offering a thumbs down, the team won twice on the road against Western Conference playoff contenders.
So far, this season has not gone as planned.  The Cavs made three big free agent acquisitions this past summer and selected two first-round draft picks, including #1.  This season's salary commitments for those five players approached $23 million, and due to Bynum's odd deal, counted nearly $30 million towards the 2013 – 2014 salary cap.  At gotbuckets.com, we recently created a RAPM-based wins equivalent, SWAgR.  Through March 10th, Andrew Bynum, Jarrett Jack, Earl Clark, Anthony Bennett and Sergey Karasev combined for negative 1.5 SWAgR.  Based on that stat, replacing their minutes with available, reference level players like Alonzo Gee, Nazr Mohammed and Darius Morris wins the Cavs 1.5 more games.  And that is not meant as a complement to the latter three guys.
That is a rotten summer and a wasted season.  But this is not a negative article.  Balancing last week's piece, here are silver linings from the 2013 – 2014 season.  But don't worry, I have taken special considerations to ensure I don't jinx the Wine & Gold!
For Dion Waiters, a primary positive is that he's draining 37% of his threes.  He converted a similar rate at Syracuse (36.4% his sophomore year), and Dion becoming a threat from deep really helps his career.  The other bright side is the incremental improvements in his defensive play.  His on-ball play frequently looks strong, and his off-ball work periodically thrives, too; as an example, in the GSW game, he ran two guys off the three point line in the same possession.  My preferred defensive stats are RAPM and large sample APM.  Last year, RAPM considered Dion the 427th ranked defensive guy of 469 NBA players.  This year, that trends upwards to 270th of 469.  Even more dramatic, 2-year APM graded him as the 380th defensive player of 393 qualifiers last year.  While obviously still including last year's play, his 2-year APM ticks up to 292nd of 391 this year.   Waiters is not a 3 & D guy, but being good at both of these things significantly improves his value.
Prediction: Dion will miss his next 20 three pointers.  Instead of chasing his man around screens, he will spend most of his time at that end of the court standing by the bench drinking Gatorade.
For Tyler Zeller…he's a totally legitimate NBA player!  Pick your stat of choice: RAPM, PER, Win Shares, Wins Produced; the 2nd year big man is an average-ish NBA player.  He looks a lot more capable of dealing with NBA physicality this year, and is knocking down his jumpers to boot.  From outside of 8 feet, he is hitting 50%.  I expect to see continued growth heading into next season.
Prediction: Zeller will switch onto Russell Westbrook on Thursday.  Westbrook will post Zeller up, knock him over, and dunk on him.
Then, Derek Fisher will do the same thing.
Tristan Thompson increased his free throw shooting percentage from 55 to 61 to 67 over his three seasons.
Prediction: Encouraged by his switch from left to right handed, Tristan begins shooting his free throws with a  two-handed set shot.   This fails horribly, ruining his confidence, and many backboards along the way.  He never bests 55 percent again.
In D-League competition, Sergey Karasev is averaging 13.5 points, 5 rebounds, 2.4 assists, 1.7 turnovers and 1 steal on pretty nice 45 / 42 / 84 shooting.  For reference, he is seven months younger than Anthony Bennett and nineteen months younger than Kyrie.  Sergey has moved to the USA, accliminated to playing here and is performing solidly.  With Kyrie now missing some time, I hope the Cavs make a serious commitment to get  Sergey 15 minutes per night over the final month this season.  There is little reason to play Jarrett Jack 40 minutes a night, or Alonzo Gee 10, at Karasev's developmental expense.  There also should be a serious inclination to get him playing time in 2014 – 2015, similar to what Denver has done with French youngster, Evan Fournier.  I don't doubt Karasev can become a very solid two-way NBA player.
Prediction: Sensing upcoming Russian world dominance, tomorrow Karasev announces he is leaving Canton for Kazan.  After seven years, during which he wins Olympic gold medals in 2016 and 2020, he forces Cleveland to trade him to Miami.  Once there, helps towards Lebron's tenth ring.
Prior to his injury, Anthony Bennett made decent strides.  Our friend @laughingcavs was publishing PER graphs on twitter, showing rolling 30-day PER for a few players.  Here is Bennett.  By mid February, his rolling 30-day PER was a respectable 12.5.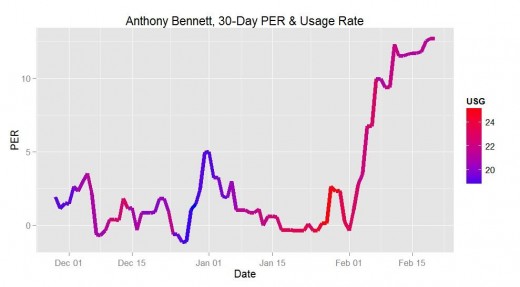 Prediction: The only thing Bennett ever exceeds 12.5 in, is the "over" for the question "Over orUnder, Anthony Bennett misses 12.5 open dunks in 2014 – 2015."
CJ Miles has been pretty good for 2 years, $4.5 million.  The Cavs should re-sign him.  Certainly in hindsight, wrapping up Shaun Livingston and Wayne Ellington last summer for half of the price of Jarrett Jack would look amazing.  In the three guard lineups the Cavs run so frequently, Livingston would actually have decent size as a small forward.  Miles provides solid play and roster consistency, all at a likely reasonable price.
Prediction: Miles inks another 2 year, $5 million deal to stay in Cleveland.  He retires in October 2014 though, hoping to seek a hip-hop career.