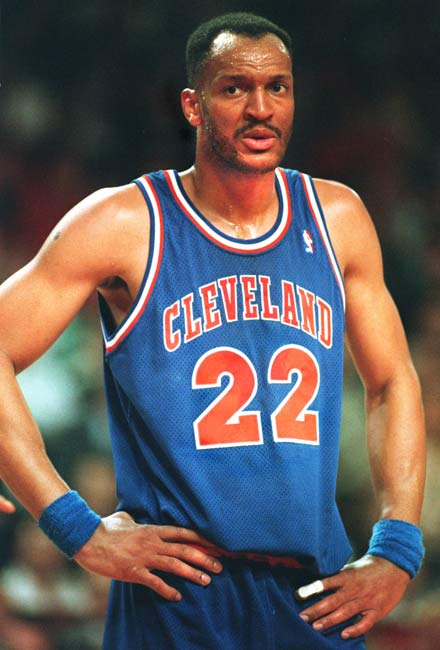 Larry Nance won't make the Hall of Fame.
You won't hear his name first off most people's lips when talking about the best, most talented players of the mid-80s/early-90s. He wasn't even, the truly unindoctrinated might argue, the most memorable player on his own teams whose most enduring legacy is their disadvantage of playing at the same time as a force of nature took hold in Chicago, their coming up short.
He never led the Cavs in scoring or rebounding and his personality came across as professional and subdued on a team known (perhaps unfairly so) for its overall lack of spit.
So, why even bring up the Hall? Why bring up the era's greats when Nance wasn't even the best player on his team?
Because, the thing is, the best player on a consistent playoff and championship contender may be exactly the player that Larry Nance was.
Nance has long worn the look of the prematurely aged. Nance looked like a 14-year vet before he'd even played half that many years, but he never played old. His was a young man's game. Despite appearances that Kyrie Irving's Uncle Drew make-up crew pulled Nance aside for touch ups during every timeout, Nance combined a lean, powerful frame (listed as 6'10" and 205 lbs, if you can believe) with hops so explosive they earned him the nickname "The High-Ayatollah of Salmola."*
Donning the blue and orange in February of 1988, Nance played seven seasons in Cleveland. He was a two-time All-Star for the Cavaliers (his first All-Star nod was in 1985 as a member of the Phoenix Suns), an All-Defensive First Teamer (1989) and a two time Second Teamer (1992, 1993). When multiple arthroscopic surgeries in his right knee finally had Nance tapping out in September of 1994 at the age of 34, he retired as the league's all-time leader in blocked shots by a non-center.
We never had to see "Leapin' Larry" develop an old man's game as he always had a reliable midrange jumper and he continued to block nearly three shots a game for the last three full seasons of his career. He carried a PER between 19-22 until his injury shortened final season (just 33 games in 93-94) where he still posted better than league average (17.1). His number 22 hangs in the rafters of The Q and is emblazoned on his race car, the Catch-22.
While rarely seen at the top of the Cavs all-time stats leaders board, Nance is everywhere on that board. He tops out third in both blocks (1,087) and FG% (.530), but keeps himself in the discussion ranking sixth in offensive rebounds, seventh in defensive and total rebounds (3.561), eighth in points scored, field goals made, field goals attempted, ninth in minutes played and free throws made and 10th in scoring average (16.8).
So efficient and consistent was Nance's game that it's tough to put a finger on his best statistical season. In 1986-87, while still with the Phoenix Suns, the team who drafted him number 20 overall out of Clemson in the 1981 Draft, Nance averaged 22.5 points, 8.7 rebounds and 2.2 blocks, while shooting 55% from the floor in over 37 minutes a game. But those Suns teams were floundering with Nance at their core and wound up trading him to the Cavs at the 1988 trade deadline in one of the rare trades that benefitted both partners. The Cavs got Nance (and, in one of the most accurate descriptions ever by the New York Times, "Mike Sanders, another forward.") for Mark West, Tyrone Corbin, rookie, Kevin Johnson, and a swap of draft picks that would result in Dan Marjele becoming a Sun. Nance tallied 19.2 points, 8.6 rebounds and 2 blocks a game in his third full season in Cleveland, but reached 3 blocks a game while shooting 54% the following season, even as his scoring "dipped" to 17 PPG. He followed that up with a True Shooting Percentage of 59% in his final full season. Going from featured player on the Suns to third option with the Cavs, Nance just kept on doing Larry Nance things and playing Larry Nance ball.**
Nance was so crucial to those Cavs teams, teaming athleticism and grit (the oxymoronic "workman-like above-the-rim game") with the team's more finesse oriented centerpieces, Mark Price and Brad Daugherty, while still being skilled enough offensively to help push the team's game to the next level on both sides of the ball. He was the defensive anchor, the superior rim protector, that the team lacked prior to his arrival and that allowed players from Price to Daugherty, Ron Harper to Craig Ehlo – his teammates – to survive and thrive. Looking back, it's amazing how well the pieces of those teams fit together and it's amazing how much each of them recognized and valued their contribution to the greater collected unit.
That's why it's disappointing that so much focus on these Cavs teams was their inability to get past Michael Jordan's Bulls. Coming up short never really defined these Cavs teams as much as the very fact that they were a team. Nance was that missing piece of the team, the veteran who sublimated his own fantastic array of individual abilities in order for the team to be better and win.
"When I got [to Cleveland]," Nance said, "we started losing. So, I figured it was my fault. … I had to look at myself for the reason why."
The losing wasn't Nance's fault, but the winning the followed was something for which he would be able to take far more credit.
Oh, and he's the only Cavalier of his era to get mentioned in a rap song. End of discussion? Thought so.
Enjoy some vintage Nance now, people. And go team!
* Nance received this nickname by beating Dr. J in the 1984 NBA Slam Dunk competition. Looking back on it, the nickname is … problematic, at best, but a hilarious example of just how far down the rabbit hole the search for truly resonant assonance can take you. Nance has gone on record as saying that he never refers to himself by the nickname … and I think we're all better off for that. Thanks, Larry.
**Looking for a contemporary comparison to Nance, players like Anthony Davis and Josh Smith spring to mind, lean, athletic power forwards who can score and play defense at above average levels. Though, as Ben Cox noted in his #CavsRank piece for Terrell Brandon, TB most closely compares playing with a young Kevin Garnett to playing with Larry Nance. Kevin freakin' Garnett!
Tags: #CavsRank