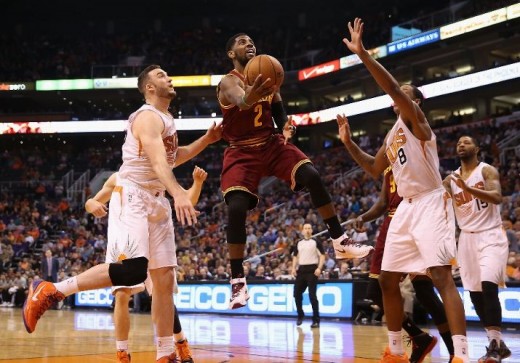 Tonight, the Cavs looked like what we thought they would before the season. They spread the ball around to all their talented young players and they shot and executed their way to a solid win. During the preseason, it looked like the Cavs were going to be built around the inside out play of Kyrie Irving and the seemingly deep frontcourt, a formation conducive to spacing opportunities. Kyrie led the team, but instead it was Spencer Hawes playing interior fulcrum and Luol Deng who took advantage of their passing to put up an efficient line. The season hasn't been what Cavs fans expected, but the team is 3.5 games back of a fading Atlanta team, and it's reassuring to see them still fight for their playoff lives and play productive offensive basketball for a night. The '13-'14 Cavaliers may or may not be doomed, but two months ago we wouldn't have been assured of this resilience.
Spencer Hawes led the initial charge, scoring 17 in the first quarter and hitting a three right from the jump to help the Cavs score the game's first seven. He offers a crucial element of fluidity to the offense. Hawes can shoot, pass, and move, all of which are crucial skills for a Cavs offense that tends to be creaky and sludgy. Irving and Hawes already have good chemistry, and Hawes' mobility and versatility make him a threat to roll, pop, or slip off a screen and find cutters and shooters. He even had a behind the back dribble to himself in the first quarter.
Hawes only added another bucket for the rest of the game, but he didn't need to score much. The Cavs outrebounded the Suns by 15, and made efficient use of those extra possessions, as six players ended in double figures. Dion Waiters was one of those players, but he struggled to run the second unit's offense at times, coughing it up four times and missing two layups. Waiters is at his best as a kind of super scorer or wild card. As a primary ball handler, he is dynamic but he didn't set the offense up particularly well tonight. It's good he often plays alongside Anderson Varejao, which allows him to get the ball in more varied spots.
Tonight was Eric Bledsoe's first game back from injury, and he looked as athletic as ever, if not a touch rusty. The Suns run a futuristic offense, where most of their core players either shoot well from outside or can penetrate and create shots. The lone exception, Miles Plumlee, is an athletic center who is a very athletic roll partner for any of the Suns' guards. That kind of formulation could theoretically spell trouble for a bottom-third Cavs defense, but they contained it enough to let their big early lead carry them the distance today. Hawes doesn't block shots, but he is a genuine 7-footer who causes a few problems. Channing Frye seemed to be open the whole night, and Dragic and Bledsoe continually got into the paint, but it never lasted long and the Cavs rode their steady lead from wire to wire. These next six games are harrowing, and will determine if the Cavs' slim playoff chances are to be realized. Those opponents in order are: Warriors, Clippers, Heat, Thunder, Rockets, Knicks. That is an absolute murderers row and one sleepy geriatric basset hound at the end as a reward.
This has been a lost season for the Cavaliers. It never really got off the ground to begin with, and none of the offseason additions that were intended to thicken out the roster and provide Kyrie Irving with a framework to drape his artistic brilliance on ended up even coming close to their expectations. Mike Brown still has trouble coaching offense and the team's number one pick is kind of a ghost. Expectations were high, but the thing about expectations is that they are always high. In short, there are big frustrating problems and the team has been nothing but stinky. But nights like tonight still matter. Exactly which pieces end up being important and to what degree is cloudy guesswork, but seeing the Cavs play like an NBA team was wonderful, even if it's in a futile, hopeless, particularly dreary stretch of this cold shower of a season. It probably won't matter, but tonight felt good.