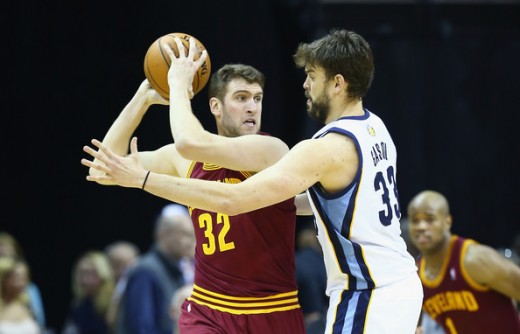 Remember early in the season, when I started writing a series comparing the 2013 – 2014 season to one game?  No?  Fair enough, seeing as I skipped the 2nd and 3rd quarters.  Well with the Cavs entering the final frame, things look bleak.  They are down by twenty, and the other team's starters are checking back in.  Every brief bright spot is quickly followed by harrowing darkness.
When the Cavs traded for Spencer Hawes, my reaction was "Can I wait to make up my mind until April?"  I don't dislike Hawes, but the trade certainly wasn't a slam dunk.  And now, it's not looking so hot.  Why?  Because the team has two wins and seven losses since then.  And that is while experiencing the best Spencer Hawes that has ever Hawesed; his true shooting percentage, rebound rate, and turnover rate are all at, or near career bests during these nine games.  With the next ten games either on the road and / or against playoff teams, the Cavs may become a four win and fifteen loss team really quick since the addition of their stretch-five.   And for it, the young Cavaliers, once basking in cap flexibility and draft picks, are soon moving towards having neither.   The team possesses only two future draft picks besides their own.  Regarding Hawes, all they have after this failed season is the ability to offer him a lot of money, with hopes that he signs…the same ability they had whether the trade happened or not.   
Kyrie Irving, Jarrett Jack, Anthony Bennett, Tristan Thompson, Dion Waiters, Tyler Zeller, and Sergey Karasev combine to earn $32 million next year.  Throw in at least $4 million of Andy's guaranteed contract, and $9.8 million if they pick up his option, plus Hawes at say, $8 million, and a draft pick in the six to ten range, and the team nears $50 million, limiting them to $10 million-ish for five more players.  All that for the team that is about to win five of their most recent 20 games, with the only addition being a new 19 or 20 year old,  some (hopefully) healthy Andy, and a small free agent haul.  Starting in 2015 – 2016, Kyrie's extension will presumably begin, which if he is voted an All-Star starter again next year, could start in the $19 million range.  If the team also signs Tristan to an extension this offseason, maybe also $8 million per year, in that scenario the total 2015 – 2016 salaries of Kyrie, Jack, Tristan, Dion, Bennett, Zeller, Hawes, Karasev, and 21-year old second year guy is $59 million.  Likely around 95% of the salary cap, so if the team is going to make any sort of free agent splash or add salary via trade, it would need to be this summer.  Cleveland, this may be your team.  How far is that group going?
More than ever, the rebuild will fall on the franchise's ability to coax the sum of the youngsters into a lot more than they are currently producing.  Unfortunately, they also aren't getting any younger, and the Cavs' track record for developing this group looks awfully spotty.
Let's brainstorm some ideas on how to change course.  I'll throw some out there.
I hate to say it, because I don't want it to end like this, but waive Andy this off-season.  If the team decides to hitch it's wagon to Hawes, Thompson, Zeller and Bennett, turning Andy into $6 million of additional cap space will be beneficial to chase some quality wing depth this summer. 
Trade Andy.  The return won't be great now, and may only amount to a contract that another team wants to part with.  As a crazy alternative, what if the Cavs could trade Andy's largely non-guaranteed contract, Jarrett Jack, plus the 7th pick in the 2014 draft for…a strong wing.  This helps clear the glut in the backcourt and frontcourt, while filling the team's greatest remaining team.
Don't sign Hawes.  Retain Andy.  Sign a low priced fifth big and maybe draft one with Orlando's 2nd rounder, too. Then spend the remaining available free agent dollars on say…Trevor Ariza and Channing Frye.
Trade Tristan.  Maybe trying to build around a power forward that isn't a ridiculous athlete or a three point shooter is not the right idea.   Could the Cavs trade TT for something like Wayne Ellington, Shane Larkin and a draft pick?  That restores some cap flexibility and slightly restocks the hoard of future draft picks.
Trade Dion.  Maybe he and Kyrie don't figure it out.  This would definitely be a way to shake things up.  I am not sure what the return is though.
Make a "godfather" offer for a disgruntled star.  Whatever the other team wants…Dion, Tristan, Bennett, Karasev, Zeller, the 2014 lottery pick, other picks…anything to acquire a second "star".  Then try to lure a third "star" to Cleveland to play with Kyrie and "Other Star X".
Fire Mike Brown.  Surely some people support this plan.
Trade Kyrie.  Some people will say this is crazy.  Say the Cavs sign Kyrie to a max extension this summer, including a kicker to "super-max" if he is voted an All-Star starter again.  With one vote from the fans, Kyrie becomes a 5 year, $100 million player.  Is he worth that?  How many guys in the NBA will make that deal look like a great value?  Lebron and Durant?  Chris Paul if he is healthy?  Besides those few, it is tying up a lot of money on a guy that as a best case, provides only proper value.  With injuries, or malcontentedness, that deal begins looking real pricey, real fast.   What if Kyrie really doesn't want to be in Cleveland and it is a distraction for four more years?  In this super max scenario, the Cavs are basically buying into the thought that Kyrie Irving is a transcendent, top five of all time point guard, happy, and healthy.  Maybe instead of that gamble, it is worth looking into trades.
Give it time and hope like hell that the best cases for Kyrie, Tristan, Dion, Zeller, Karasev, Bennett, and 2014 #7 pick work out.  I've been doing this since last spring though, and doing so any longer makes me feel stupid.
Ultimately, giving Kyrie a max extension, Tristan a new deal, signing Hawes, and not managing to shake anything else up looks like an easy trip towards building a team with a ceiling of second-round playoff ville.  What is Plan B?