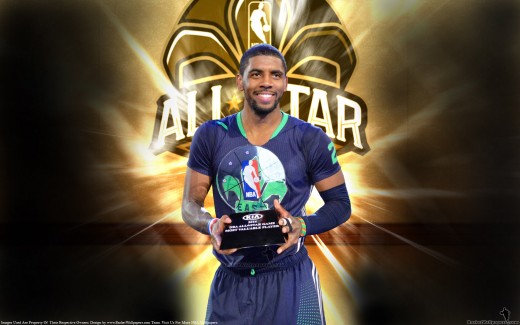 I'm in a tough spot: on the one hand, there's no question we all know just about everything there is to know about the amazing Kyrie.  We've all seen him play. We're acutely aware of his elite skills (and, in the case of his defense, deficiencies), and we can all probably remember at least one spectacular thing Kyrie has done.  On the other hand, how can one possibly summarize a player who has just begun to scratch the surface of his career?  Therein lies exactly what makes Kyrie so special to Cavs fans; while the tenure has been largely awesome, sometimes average, and at times truly awful, the story has barely been written on what is generally expected to be a special career.  A career that, if all goes accordingly, will be one for the Cleveland ages.
Few really knew what to expect from Kyrie when he entered the league.  While it was clear he had talent, there were legitimate questions about his ceiling and his durability.  There were even some who believed Derrick Williams should've been chosen number one overall.  Years later, that argument has been firmly put to rest, and, though some of the Kyrie questions have been answered, new ones seem to pop up every day.  What is unquestionable, though, is that Kyrie Irving has talent.  Supreme, top-tier talent.
Irving's rookie season was one for the ages.  First, Irving's Rookie PER ranks 22nd all-time.  When compared to rookies 20 years or younger, Irving comes in 6th (note: Lebron isn't even on that list!)  and finally, when ranked against all rookie guards ever, Kyrie comes in second to only Chris Paul as the only two rookie PGs to ever have a PER above 20.  In short, KI's offensive rookie season was nothing short of historic, especially given his college experience (or lack thereof).  Irving didn't just stop there, though.  He continued to improve in year two, becoming one of the most feared PGs in the league.  This past summer, Irving was ranked number eight in ESPN's NBA Rank – while that's certainly nothing official, it's clear Irving's abilities are highly respected around the NBA. The same goes within Cleveland.  And lets not even get started on the whole Uncle Drew campaign.
Irving possesses elite skills: his handle is unparallelled; he is able to shoot from three and attack the rim at will (and efficiently, at that); and, despite a high usage, he doesn't turn the ball over too often.  Almost immediately, young Kyrie showed a penchant for the big shot, ranking first in the NBA in clutch FG% after his rookie year.  All this is nothing new to the average Cavs fan.
Which is why it's not surprising that our illustrious panel collectively ranked a third-year player so high.  Still, there is a looming question: What is so intriguing and amazing about Irving that would cause him to be ranked above far more proven, tenured players?  The answer is simple and three-fold: Achievement, potential and context.
Achievement:  It's pretty clear, as I outlined above, how much Kyrie has achieved in such a short period of time.  Even given some slight regression this season, Kyrie remains a top-tier NBA player whose popularity and name recognition ranks among the elite.  If Kyrie retired today, I have no doubt Cavalier fans would remember Kyrie as an extraordinary and impactful.  Even more, it's impossible to believe that anything but his best days lay ahead.  Which leads us to…
Potential: as already noted, Kyrie has some elite skills.  Though he's still a very, very, very weak defender, and has yet to show leadership or the ability to actually win, he's a mere 21 years of age (happy almost-birthday, by the way!)  Irving has shined when the lights are brightest, winning the Rising Stars MVP/Three Point Contest/All Star Game MVP in three consecutive years and securing the Rookie Of The Year award in his first.  It is not unreasonable, given his track record, to assume that Kyrie's ascent to elite player will continue.
Context: remember summer 2010?  And the following season? (Side note: did anyone else realize the Cavs also owned the record for the second-longest losing streak?  How did I miss that?)  When the Cavaliers were at their lowest, luck (and some serious Chris Grant magic) landed Cleveland an immediate star.  With so much emotional baggage post-decision, it's understandable that a fanbase would be so quick to love (and believe in) a young, unproven talent.  Kyrie's popularity is as much indebted to his abilities as it is in our collective need to believe in something, anything, to get over a bad breakup.  When things were at their lowest, fate gave the Cavs renewed hope.  If that's not reason to celebrate and honor, then nothing is.
So, while this countdown continues, lets take a moment to acknowledge just how important Kyrie Irving really is.  Yes, there remain pitfalls to overcome; yes, Irving could very well be gone sooner rather than later; and, yes, as is always the case with youngsters, there's always the potential for a career to fall flat.  But one cannot overlook the impact that Irving has had on the Cavaliers.  When things were at their absolute worst Irving provided a spectacular, incomparable glimmer of hope.  And three years later, that glimmer continues to shine.  Just two weeks away from his 22nd birthday, the world is still eagerly awaiting the next great Kyrie Irving moments – moments that are almost certain to come along quickly in this impressive career.  That's an achievement most NBAers (and nearly all Cavaliers) can only dream of.