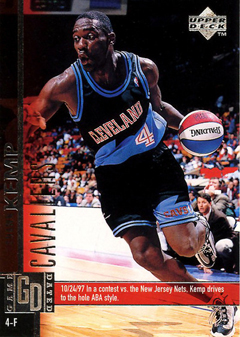 If there's one thing that's become clear in this majestic quilting circle that is #CavsRank, it's how much we rankers are beholden to memory, whether we are willing to admit to it or not. Sure, we have the stats-spray in our utility belt when we really need to argue for one particular player's value over another and we can even concede the bump one of the cogs on the Miracle of Richfield team a couple of notches higher than was our first impulse just to prove to ourselves that we are, after all, objective – that we don't believe that professional basketball in Cleveland was invented in 1985. Or 1997. Or 2003.
But it's just… so… difficult. We all have the memories of when NBA basketball started to matter to us – when we popped the poison pill of Cavaliers fandom that cast everything after that in its soft-focus haze. Ultimately, we will remember Zydrunas Ilagauskas the way we remember Big Z, we'll remember Larry Nance the way we remember Larry Nance and we will remember Mike Mitchell the way we remember Mike Mitchell – or, just as possibly, the way we do not. We can learn about players from different eras, but the very fact that we have been passionate about this team at some point makes any complete washing away of the players that incited that passion an extremely difficult exercise, but not one that doesn't tell us a thing or two about ourselves.
Which brings us to Shawn Kemp.
No player in this ranking has so benefited from our collective memory as Kemp and, the kicker of it all is this: we continue to remember Kemp so powerfully because we remember two completely different versions of the same player. Our ranking is supposed to focus solely on a player's time as a Cavalier, but it's impossible to separate what Kemp's time as a Cavalier was from what he was before and the promise that brought to Cleveland. He was his era's Blake Griffin: a physical marvel and adept posterizer of defenders who, along with Gary Payton, led the charge for the Seattle Supersonics during their reign (yes, pun intended) as one of the most entertaining teams of the 1990s.
I've written before that the fact that Cavs fans remember Kemp so negatively (while still including him in the conversation of top-20 Cavs of all time) has less to do with his production on the floor and more to do with the aesthetic promise the team's trade for Kemp prior to the 1997-98 season made to its fans. Slow-down, ugly, Fratello-ball is over, the trade promised (though Fratello, himself, remained head coach), here is your top-tier talent, Cleveland, your jaw-dropping athlete, your all-star, your franchise. To see the potential for both winning and aesthetically pleasing basketball get lost amid fat roll after fat roll was the real betrayal. Kemp gained weight so quickly once being traded to Cleveland, quite possibly, because he gobbled up all of our souls… and, yes, probably lots of ice cream.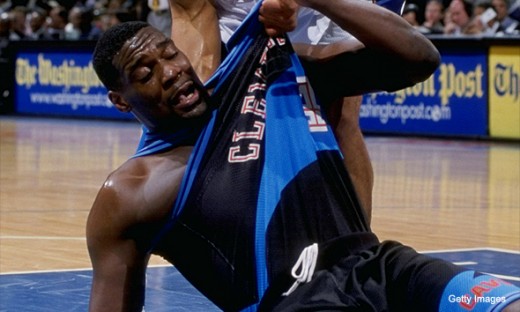 Kemp's first Cavs team was his most successful. Best known for featuring a not-exactly-obese-yet Kemp and four rookie starters in Brevin Knight, Derek Anderson, Cedric Henderson and Zydrunas Ilgauskas. Kemp would average 18 points and 9.3 rebounds a game that season shooting an underwhelming 44.5% from the floor. But he earned an All-Star berth and led his young team to the playoffs where, in four games against the Indiana Pacers, Kemp averaged 26 and 10.3 (though I mainly remember that series for how much Isaiah Thomas's color commentary for NBC, even in advance of what lay ahead of him in New York, may have forever tainted my memories of Isaiah Thomas "one of the greatest players ever"). The Cavs weren't perfect. They weren't contenders with Kemp. They still wore arguably the worst jerseys in organized team sports history. But they were something.
Until they weren't … again… real soon.
A labor dispute between the owners and the players resulted in a lockout shortened 1998-99 season and Kemp, flush with funds after signing a seven-year, $107 million contract extension immediately upon being traded to the Cavs, suddenly had a whole lot more free time on his hands. We all know what Kemp did with a lot of his free time, but it was during the lockout that Kemp, reportedly, began abusing alcohol and cocaine.
The crumbling temple that was Kemp's body was on full display when he was one of 16 players who participated in an exhibition game on December 19, 1998 in Atlantic City, NJ originally intended to raise money for the Players' Association. As he was introduced, a nearly unrecognizable swollen mass of flesh fuddled his way to the court. As a young fan tuning in to get his pro basketball fix in the middle of a contentious and protracted lockout, my stomach fell to the floor… where it was presumably swept up and tossed in a pile of like-minded stomachs for Kemp to nibble on at half time.
The shortened 1999 season was a testament to Kemp's once-astounding athleticism. Despite his growing circumference, a steady weight gain  that would soon take him north of 320 pounds, and despite the well-known debilitating effects of alcohol and cocaine abuse on any athlete not named Ricky Davis, and despite losing Ilgauskas five games into the season (the promising low-post duo would never play together again) – or perhaps because of how much harder he had to work to push even an inch off of the ground with all the rest of this pulling him down – Kemp turned in one of the better individual seasons in Cavaliers history. He scored 20.5 points, pulled in 9.2 rebounds and posted a 23.6 PER in 35.1 minutes a night. Anyone else would have crumpled where Kemp was able to, at least, stand and run up and down the court a few times.
And here come the asterisks… Kemp's best as a Cavalier was in a 50 game season, one in which the team went 22-28 and fired head coach, Mike Fratello, soon after. In fact, Kemp only played in 42 games that year. Whatever magic the Cavs front office thought they'd found the previous year was gone when Ilgauskas went down, but gravity's relentless pull on Kemp made sure that Cavs team was without a leader, without a core, destined to collapse in upon itself.
By 1999-2000, Kemp, the 6-10 former All-Star, was still averaging a respectable 17.8 points a game, but shot just 41.7%, miserable for a post player of his size and skill. The writing was on the wall and GM Jim Paxson made the league's biggest pre-Gilbert Arenas demonstration that no contract is ever untradable. In fact, it's not much of a stretch to say that it was Kemp who was responsible for the franchise's steady slough toward the 2003 draft lottery and eventually LeBron James. So, maybe, we should just all remember Kemp that way. Thanks, Reign Man, you helped us "lose games for James."
Your number 12 Cavalier of all time played just three seasons in Cleveland and appears in the team's all time records only twice, for scoring average (6th all time at 18.5 PPG) and disqualifications (fourth all time with 30). But damned if I don't remember him as being better than that. Maybe it's because it's impossible, even after slathering on three layers of Cavs powder blue, to still not see the emerald of his Sonics-era green peaking through when I look back at Kemp. In fact, his Cavs career was always more about what he promised than what he delivered. That promise just happened to be exactly what Cavs fans needed to hear.