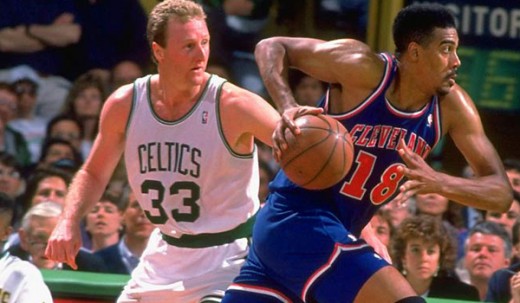 Compared to the other #CavsRankers,  my criteria skewed towards players who did the "dirty work".  I ranked Jim Brewer 16th, higher than anyone else.  I tabbed Andy as 7th, of whom only two people were more fond.  And I placed John Williams as the sixth best Cavalier of all-time, the highest such spot that "Hot Rod" received.  Maybe I was giving bonus points for great hair, too.  Varejao and Williams certainly qualify.
As a three time All-Conference player at Tulane,  after his junior season Hot Rod Williams was largely viewed as a first round talent.  His senior year became mired in a point shaving scandal though, and the Cavaliers fortunately snagged him 45th in the 1985 draft.   On account of the legal troubles, his "rookie" season  transpired in the USBL, before being acquitted of all charges.  He eventually joined the Cavaliers 1986 draft class: Brad Daugherty, Mark Price and Ron Harper.  That 1986 – 1987 rookie crew was the greatest in franchise history and shaped the team's next ten years.
Quick aside, because it's a fun story…An archived article about Hot Rod's early legal troubles is available from Sports Illustrated.  It's a good read, discussing Williams's dirt poor upbringing, and how he literally crafted his game on a Louisiana dirt court.  Addressing what would become of him if the legal troubles ended his NBA prospects, the article concludes with him saying "I'm a good cabinet worker, so I can get me a good carpenter job. I can paint houses. I can fix stereos, and that's good because you know there's always trouble with them things. I'd like to live here the rest of my life. Just sit under the tree. You can see how great this place is."
Fortunately for Hot Rod Williams and Cleveland Cavalier fans, he would not need to rely on his cabinetry skills.
From the onset of his NBA career, Williams made an impact.  He was a power forward with the agility of a smaller man.  Able to face the basket on offense, he could put the ball on the floor or shoot a mid-range J.  On defense, he banged with the opponent's best big, or swooped in for help-side blocks.  Alongside Daugherty and Harper, the Cavs boasted the first team since the 1950's to trot out three first team all-Rookie members; Hot Rod started in 80 games averaging 14 points, eight boards and two blocks.
Shortly thereafter, the Cavs traded for Larry Nance, sending Williams to a bench role for the bulk of his career.  Hot Rod could have started for 25 teams in the League, and this move could have been a distraction for a player of a different disposition.  Fortunately, that was not Hot Rod Williams' M.O.  He embraced the dirty work, guarding the opponent's best big man, while never having plays run for him.  He was a great teammate, and his selflessness helped a good team become more than the sum of its parts.  Hot Rod and his teammates had amazing chemistry, the secret sauce that really made them a great team .  In this interview from a few years ago, he talks about the closeness of the team; many of them were married young; their wives liked each other; their kids grew up together.
Williams shifted seamlessly to the bench, averaging 11 points, 6 rebounds and 2 blocks over the next two seasons, as the young Cavaliers lost in the first round of the playoffs both years, looking poised to be one of the dominant teams of the 90's.
But it wasn't meant to be.  During his fourth and fifth season, the Cavs battled injuries and the fallout of the Ron Harper trade, struggling to 42 and 33 wins.  It was their sixth season together, 1991 – 1992, that served as the premier year of the Price – Daugherty – Williams – Nance incarnation of the Cavs, and certainly some of my fondest Cavalier memories.  Cleveland won 57 regular season games, before waxing the Nets in the first round of the playoffs.  An epic second round series ensued, as the Cavs battled the aging dynasty of the Boston Celtics for seven games.  Although on their last legs, this was the Larry Bird, Kevin McHale and Robert Parish Celtics, with a splash of young Reggie Lewis mixed in.  For the Cavaliers, this series is one for the best-of annals, and Hot Rod Williams played prominently in the victory.  He averaged 15 points on 69% true shooting, along with 6 boards, and combined for 19 steals plus blocks.  In a pivotal moment of game 4, with the Cavs down two games to one, he sunk a crucial free throw to ice the victory for Cleveland.  Winning a seven game series against the Boston Celtics?  This is still the best playoff series in franchise history.
Of course, the Cavaliers never overcame Michael Jordan, losing to the Bulls in the playoffs for the third time in five years.
The next two years, the Cavs won 54 and 47 games, again making the playoffs, and again losing to the Bulls.  Then, Larry Nance retired.  A year later, so did Brad Daugherty.  Finally after one more season, Hot Rod and Mark Price were traded.  The era was over, foiled by injuries and Michael Jordan.
Williams was a highly respected player through his career.  Even when traded at age 32, he drew quite a haul; reigning Western Conference All-Star Dan Majerle, plus a first round draft pick.  When he became a restricted free agent in 1990, the Miami Heat offered him a 7 year, $26.5 million deal, shockingly making him the highest paid player in the NBA thanks to a $4 million signing bonus.  Even at that price, the Cavs matched the offer.
To this day, Williams ranks 4th in franchise history for games played, 3rd for minutes, 3rd for rebounds, 6th for steals, 2nd for blocks, 7th for points, and 5th for Win Shares.  In 661 games, he averaged 13 points, 7 boards and 2 swats.  He suited up for 45 playoff games, including averaging 16 & 8 in the 1992 Eastern Conference Finals run.  The NBA has been counting blocks for 40 years, and Williams still has blocked more shots than only 37 NBA players.
A wonderful two-way power forward for nearly a decade in Cleveland, Hot Rod Williams contributed to two eras of Cavalier playoff teams, including a prominent place on one of the franchise's preeminent rosters.  I am glad to have been able to honor him for #CavsRank.
*In addition to the links above, "The Inside Game", Wayne Embry's autobiography was instrumental in this article.  Find it and read it.
**Also, here's a youtube mix of Hot Rod dunking, shot blocking…you know, Hot Rodding.