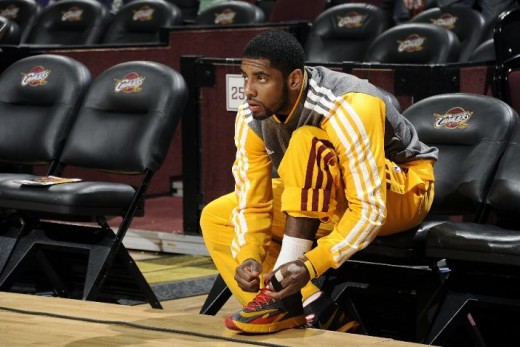 Utah heads to Cleveland, and the Cavs bench keeps looking more and more sparse.  Tonight Anthony Bennett sits with a sore right knee.  There is still no sign of Andy, Dion or Miles.  All three could play Sunday, or may never play again; both things seem like possibilities.
The game started miserably for the Cavs, as midway through the first quarter, the Jazz mounted a 13 to 6 lead.  The Jazz announcers take on the situation was, "the Cavs don't really run an offense, they just put the ball in their guards' hands and run pick & rolls."  Apparently, those guys read the scouting report.   Alternatively, the Jazz were pick and rolling the Cavs to death. to go along with an onslaught of Gordon Hayward bombs.  At it's worst, Utah lead 21 – 12, as the offense looked lethargic, moseying to one 24-second violation, and mustering a few other desperation bombs.  Kyrie and Jack combined for 1 of 9 shooting, as Gordon Hayward tallied 9 points, 4 rebounds, 2 assists and a steal.  Utah canned 6 of 7 from deep, as they took a 27 to 20 lead after one quarter.
Behind a Twin Towers frontline of Tyler Zeller and Spencer Hawes, things began looking up early in the second.  T-Zell scored off an offensive rebound and a Kyrie pick and roll, as Irving dished six early assists.  Dellavedova hit a three in transition, and the Cavs tied the game at 31 with 8:35 to go.  Hawes and Zeller combined for 12 points and 11 rebounds through the first sixteen minutes.  Unfortunately Delly could not hit wide open three pointers; he missed three of those, as the action got really ugly.  The teams combined for seven points in five minutes, with the Jazz leading 36 to 35  with 3:00 to go.  The squads heated up a bit over the last few minutes, including a Deng runner for his tenth points of the half, as the Jazz led 41 to 39 at the break.  Cleveland shot a meager 38% from field, subsiding on mid-range jumpers.  Of their 47 field goal attempts, only eight were from three point range, and they managed only four free throws.    Not very pretty, but Kyrie had six assists, and the Twin Towers totaled 12 and 15.
Early in the third, Utah kept making the extra pass, at one point converting 10 of their 15  shots from deep.  Luckily, the Cavs offense started clicking.  Kyrie teed up assists 7, 8, and 9 in first couple minutes, including on a nice Tristan transition dunk.   The team was moving the ball well, making the Jazz scramble, and opening up the paint.  And Kyrie Irving just kept happening.  First, a jumper off an inbounds play, next a driving layup, then a deeeeep three.  That's 9 points and 3 assists in six minutes of the quarter, as the Cavs mount a 58 to 50 lead.  Later, off another Kyrie drive, Tristan snagged an offensive board for a putback, as the Wine & Gold pushed the margin to twelve; TT had 10 & 9.  The Jazz kept fighting, but Cleveland's defense clamped down.  Alonzo Gee hit a buzzer beater from the corner, and the Cavs headed to the fourth ahead 69 to 60.
The final frame started again with the Twin Towers of Spencer Hawes and Tyler Zeller.  A sweet Zeller dime to Kyrie netted a layup, then an amazing one-handed grab by Irving netted transition free throws.  Things were fun.  Life was good.  Kyrie Irving looked like everything Cavs fans ever wanted him to be.  He was in complete control of the flow and pace of the game.   An assist to Hawes for a three staked Cleveland to a 76 to 60 lead with 10 minutes to go. Kyrie had 21 points, 11 assists and 9 boards with 8 minutes to go.  How many assists and boards was that?  That's right, one short of a triple-double!  I sort of lost focus, primarily basking in the glow of, "Yes!  Kyrie Irving owns this game!"
With four minutes left, Kyrie grabbed rebound number ten, securing the triple-double, a first for Cleveland since Lebron left.  He also totaled 12 assists, tying his career high.  The Cavs led 91 to 70 as Irving headed to the bench with his 21, 10 and 12, his final rebound punctuating a 41 to 19 Cavalier run.
This was a great win.  Probably their second best of the season, only trailing their most recent victory over Oklahoma City.  Kyrie looked like a superstar.  Tristan played effectively within the offense.  He finished with 18 & 14, scoring on rebounds, pick & rolls, and quick dives for floaters at the basket.  Hawes offered 13 & 16 and Zeller 10 & 9.  Luol Deng scored 16 points on 12 shots.
What's next?  Playoffs!?!?  3-win March?!?!  I don't know, but this weekend, we celebrate!!  8 wins in 11 games!!  The Cavs shot 61% in the second half tonight!!  They out rebounded the Jazz 56 to 31!!  28 assists and 10 turnovers!!  43 point fourth quarter against Oklahoma City!!  All-Star MVP!!  Triple Double!!  Tristan Thompson is a double-double machine!!  Spencer Hawes is a real American hero!!  Tyler Zeller keeps on Zelling!!  Sergey Karasev played!!
Go Cavs!!!
Update: After last night, the Cavs are ninth in the East.  They are 3.5 games out of the 8th spot, but Atlanta who currently holds that, has won one of their last ten games.
Also, the Cavs have won 44% of their games against the Western Conference and 38% against the East.  I haven't checked, but that may be the largest such disparity in the League.