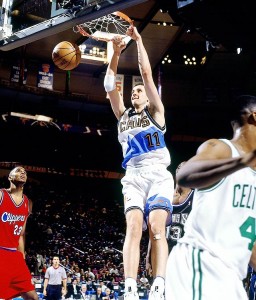 As a Cavs fan, I know all about hurt.  Usually, they are hurting me emotionally.  Sometimes, they are hurting themselves physically.  You just never know.
"Since the advent of rookie-scale extensions and maximum contracts, no player has turned down a max extension offer before entering the final year of his rookie-scale deal. Irving potentially has the chance to make history" [Amin Elhassan, ESPN]
Amin Elhassan gets into the actual options Kyrie Irving has regarding his upcoming contract decisions in his article about the young guard for ESPN insider. Irving can sign a max and demand a trade, just sign and stay, or force his way out next season by playing out the year, becoming a restricted free agent, and taking a one year qualifying offer to enter unrestricted free agency the following season.  If Irving does turn down the max offer, at least the organization is making history.
There is even a poll up at ESPN about whether or not Kyrie should sign the max extension.  The results are a solid no.
NBA.com has set up a special page for former Cavs big man Zydrunas Illgauskas's jersey retirement March 8th against the Knicks.  The page goes through the early injured Big Z's accomplishments over the years.
"Before being drafted in 1996, Big Z had averaged 20.3 points, 12.8 rebounds and 2.8 blocks per game for the Atletas Basketball Club in Kaunas." [Joe Gabriele, Cavs.com]
For the next ten days until the jersey retirement ceremony, Cavs.com will be running a continuing "11 DayZ of Z" article series detailing his career.
Cavs.com also has a top 11 collection of Big Z's best radio calls from retired Cavs broadcaster Joe Tait.
"Q: After porn star Ava Devine offered to have sex with every player on the Cavs team if they made the playoffs, they won 5 in a row before tailing off. How is this not a bigger story? How would you rank the current Cavs roster, in order from least likely to most likely, to follow-up on this offer should the Cavs make the playoffs? Anthony Bennett has to be most likely, right?
—Jim, Cleveland" [Bill Simmons, Grantland.com]
Cleveland gets a unique nod in Bill Simmons's mailbag this week.  Do you blame the Cavs for losing so much recently after seeing that video interview and realizing Ava Devine is probably serious?
"There's been some speculation that Fredette will opt to sign with a team who will give him playing time during the seasons final few months instead of latching on with a contender." [Bryan Rose, Fansided.com]
The Cavs fit of the description of non contender, but it has been reported they are not the right non contender for Jimmer Fredette. Of course, that hasn't deterred the Cavs interest. [Sam Amico, Fox Sports; Mark Stein, ESPN.com]