The Cavs put together their best game of the season, and absolutely dominated the Thunder in the fourth quarter, coming from behind to give OKC its third loss in a row at home, something that hasn't happened in a very long time.  This was just an incredible game.
First Quarter:
Russell Westbrook started off the game with a couple mid-range Js.  Spencer Hawes canned a 3 off a Kyrie drive and kick.  Jarrett Jack also hit a 3, which is a welcome sign that he even pulled the trigger.  Kyrie hit an ankle-breaking step-back J and followed that with a pretty layup (counted due to basket interference).  After a steal, Kyrie tried going coast to coast and was blocked by Ibaka.  Then Ibaka blocked Tristan on a floater attempt.  Steven Adams blocked Spencer Hawes (blocks are fun, I wish the Cavs did it more often).  Jarrett Jack made three shots in the quarter and Kyrie was ultra-aggressive.  Hawes and Deng hit spot-3s.  The Thunder's transition D was awesome but the Cavs were able to get dribble penetration and hit the pops.  The Thunder seem unfairly long and athletic.  I know this is old news (like 5-year-old news) but they provide a stark contrast to the Cavs collection of undersized, less-athletic (by NBA standards of course) players.  The Thunder are second in the NBA in blocks and the Cavs are third last.  The Thunder broadcast crew highlighted a sequence where on back to back possessions, Perry Jones was quick enough to stay in front of Kyrie and force him into a bad shot and then to keep Tristan Thompson from dribbling into his sweet spot on the block. (Thompson was forced to pass out).  After one, the Thunder led 27-26.  The Cavs hung around thanks to some outside shot-making (seven jump shots made).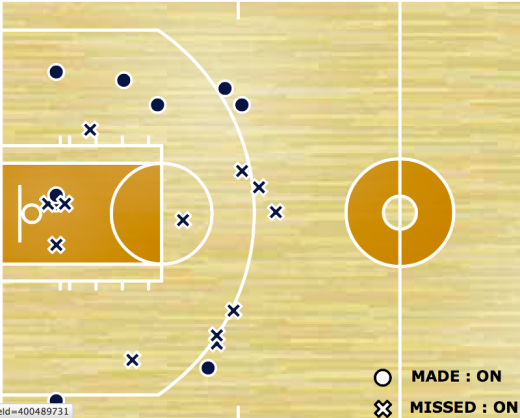 Second Quarter:
The Cavs bench really brought the defensive intensity to start the second quarter.  Not that the Thunder bench is terrifying, but the Cavs only allowed six points in the first five and a half minutes.  Tyler Zeller's active hands netted him two steals.  The Thunder checked their starters back in and reeled off eight straight points thanks mostly to Serge Ibaka blocking everything and also throwing down dunks.  Right about the time I starting feeling a looming blowout, Kyrie Irving rallied the troops. He found TT for a dunk, hit a deep three, and then got to the line for two freebies.  Then after missing a deeper three, he cut to the hole and received a nifty pass from TT who had corralled the offensive rebound.  KI twirled and flipped a reverse layup over the outstretched arms of the Thunder.  It was really awesome to see not give up on the play.  Then Irving made a sweet steal, anticipating a Westbrook pass, and the Cavs actually ran the court and finished.  Luol Deng was forced to slow up and back down his man but Hawes kept running and Deng found him for a lay-in.  (Always reward the big man!)  The Cavs started playing with more confidence at this point.  Deng hit a no-hesitation 20-footer (credit Hawes with the dime), TT popped in a no-hesitation floater (Jack with the assist), and suddenly the Cavs had a five point lead.  After a Westbrook 3 to quell the 13-1 run, Spencer Hawes participated in a tip-drill around the bucket and was finally rewarded with a nice feed from Luol Deng (a shot-pass).  Hawes followed Kyrie's lead and flipped in a reverse to avoid the block party.  Unfortunately, Durant and Westbrook scored five in the final 30 seconds and the Thunder went into the locker room up by one: 52-51.  Still, great quarter by the Cavs.  It's unfortunate that Westbrook drained both of his 3s.  The Cavs forced 12 turnovers and did pretty well on the offensive glass.  Hawes, Jack, and Kyrie played particularly well in the half.
Third Quarter:
After starting 3 of 4 from the field, Jarret Jack missed five straight jumpers, bringing his shooting down to 3 of 9.  (He missed two straight to start the third.)  The Thunder canned two more 3s, one from Durant and one from Sefolohsa.  Hawes made an extremely lazy pass that was not only tipped but tipped and stolen by Steven Adams.  Westbrook warped to the hole and put in an uncontested layup, and then Ibaka hit a 15 footer.  Mike Brown took timeout, as the Cavs had given up 10 points in three minutes.  Once again, the game started slipping away.  After a nice pump fake to create some space, Luol Deng missed a zero-footer.  I apparently don't watch as much basketball as I think because I thought Dick Bavetta retired.  He didn't.  He's as animated as ever.  Steven Adams threw an uncontested layup 2-feet wide of the rim drawing an interesting response from the crowd.  Westbrook hit ANOTHER 3 which had to be demoralizing.  Scott Brooks apparently found TT's floater demoralizing because he took a timeout.  If I'm a coach and my team has made 6 of 8 non-Steven Adams shots, I let em play through it.  But I think it was just psychological warfare.  Popovich likes to call timeouts when his team gives up that layup in the midst of a 24-4 run just to make a statement.  BUT GUESS WHAT SCOTT BROOKS.  ON THE NEXT POSSESSION, TRISTAN THOMPSON MADE ANOTHER FLOATER.  AND THIS TIME YOUR BOYS FOULED HIM.  AND HE MADE THE FREE THROW.  SWISHED IT ACTUALLY.  CALL TIME OUT AGAIN!  (he didn't)
Durant got a backdoor alley oop which must have made Mike Brown consider taking a rage timeout.  But Hawes drained another 3 (his third of the night).  Nick Collison was called for goaltending and disagreed so he earned a tech to go along with it.  After the 3-point-play the Cavs cut the lead back to three.  But wow, Collison is not a guy you want to anger.  He somehow tipped in a miss at the other end that seemed impossible given his positioning.  Then he drew a charge on TT.  Then Nick scored in the paint.  He also dove on the floor and got a burn on his elbow on the next possession.  Geez.  Luol Deng earned some free throws to calm the Collisanity, and Jarrett Jack sorta broke Reggie Jackson's ankles and gently tossed in a floater.  (Where's THAT been hiding?) Then Deng made a nifty move underneath to pop one in, avoiding the block.  That cut the lead to one before Reggie Jackson hit a 3.  (The Thunder were 10-18 from 3 at this point).  Jeremy Lamb almost broke the backboard attempting a transition floater.  I could vividly hear someone yell "ah hayell naw" as soon as he threw it at the hoop.  Credit the Cavs for once again fighting through what looked like a looming blowout.  They finished the quarter down just four, 76-72.
Fourth Quarter:
Jeremy Lamb hit a 3 (of course) to start the quarter.  After a miss, Alonzo Gee grabbed a board and drove left.  He hit Tizelle with a sweet bounce pass.  Collison had no choice but to foul (he fouls hard).  But Tyler hit both free throws.  After a missed 3 (finally!) Matty SuperDOVA got the ball on the backboard before Ibaka could swat it.  Goaltending.  At the other end, Ibaka put on a Melo jersey and did a triple jab-step jumper right in Bennett's eye.  Then then Thunder got lazy and SuperDOVA drove and found Zeller who popped in a lefty layup.  Scott Brooks took another rage timeout.  Alonzo Gee fought with Kevin Durant for a rebound off a free throw he missed.  Then the game started getting physical with bodies flying and the ball being kicked around.  Eventually, SuperDOVA hit another baseline floater to TIE the GAME.  Of course Derek Fisher can never die and hit a 3.  But Tyler Zeller answered by driving through two defenders for the lefty layup.  (Big time play during a crucial part of the game for a sophomore.) After Durant free throws Kyrie hit a wide open spot 3 off an aggressive drive by Alonzo Gee.  Then after a sweet chase-down rebound by Gee, (he was everywhere!) Anthony Bennett hit a 19-footer to give the Cavs the LEAD.
Finally, Gee picked off a pass from Fisher and drove all the way in for a slam!!!!!  SCOTT BROOKS IS RUNNING OUT OF RAGE TIMEOUTS!  Out of the timeout Ibaka got a slam off a nice feed from Durant.  Kyrie said screw it I'm shooting (SIIS) and rattled in a 28-foot 3 from the top of the key.  (Similar to those game winners he hit last season).  Westbrook got to the line on a dubious call and then Tyler Zeller was unable to convert on some pretty give and go action with Kyrie.  Then the zebras called a travel on Delly that made no sense and screwed the Cavs out of another Kyrie triple.  After Ibaka blocked Deng and Westbrook drove for a layup, Kyrie blew by Westbrook, drew contact from Ibaka, and earned free throws even though Ibaka spiked the ball into the deck.  The crowd didn't like it.  It was certainly not a call the Cavs would have earned at home against the Raptors.  Durant and Jack traded 3s as the clock approached the four minute mark.  Jack caught the Thunder sleep walking and snapped a pass to Kyrie who quickly (like Steph Curry quick) released and drained the 3.  Then, Spencer Hawes pump faked a 3, drove all the way to the paint and flipped in a floater!!  Scott Brook only takes rage timeouts.  After Durant rattled in a J, Kyrie barely grazed the rim.  But TT went in between four Thunder players to steal the rebound.  The ball got kicked back out to Hawes who drove AGAIN and floated one in AGAIN — this time with the left hand!  SPENCER HAWES, AMERICAN PATRIOT.  After another monster rebound from TT, this one at the defensive end, he found Kyrie driving for the and-1!!!  This got Dion Waiters to tweet about it in jubilation.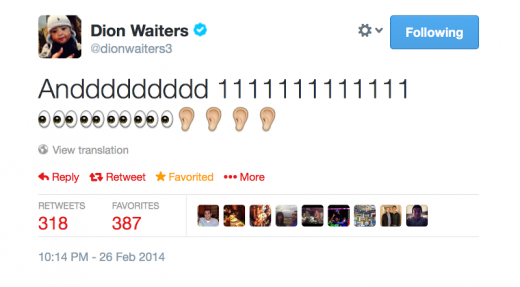 This put the Cavs up nine with under a minute and a half remaining. After Westbrook missed a 3, Jarrett Jack came down and hit a tough, contested floater – giving the Cavs an 11-point lead with under a minute.  WOW!  Both teams traded free throws the rest of the way and the Cavs slayed the dragon: 114-104.  The Cavs dropped FORTY-TWO fourth quarter points on the road, on the second night of a back to back, missing their top three players in terms of +/-.  Un-be-lievable!
The Goods:
-Alonzo Gee.  He. was. PHENOMENAL.  He may have only played 11 minutes, but the Cavs were +7 during those minutes and he was directly involved in the segment of the game where the Cavs turned the tide early in the fourth quarter.  He fought for extra possessions.  He drove and made a sweet dish to Tyler Zeller that netted four free throws.  Gee earned his own free throws on a nice drive (he made the first, missed the second but fought with Kevin Durant to get the ball back).  He drove and collapsed the Thunder defense before passing out to a WIDE OPEN (could not have been more wide open) Kyrie Irving who canned the 3 to tie the game at 86.  Alonzo swooped in out of nowhere to grab a defensive rebound from the waiting arms of Kevin Durant and after the Cavs took the lead on a Bennett J. No. 33 jumped the passing lane on Derek Fisher and drove all the way in for a slam to put the Cavs up four.  It was just a huge sequence and it really put the Thunder on their heels.  His aggressive play was much needed and I don't think the Cavs get this win tonight without Gee going into Beast Mode.  Great game 'Zo.
-Kyrie Irving was sensational tonight.  From the opening tip he was looking to attack attack attack.  He's been fighting hard on defense the last few weeks even if it's not obvious but he's had some tough shooting nights without the floor spacing that Miles and Waiters provide.  Tonight Irving's J was soaking wet.  He finished 10-19 from the floor, 4-7 from deep (shoulda been 5-8), made all seven of his free throws, dished out nine dimes, had five rebounds and four steals.  Thirty-one points for Uncle Drew tonight, and an epic fourth quarter.
-Jarrett Jack had his best game in recent memory.  Something got into him and he took 7 threes (amazingly, a season high).  He hit three of them including a HUGE, contested 3 right after Kevin Durant had hit a 3 at the other end to give the Thunder a 2-point lead.  Jack finished with four assists to only one turnover and was +11 in a gritty 39 minutes of work.
-Tristan Thompson had a somewhat decent if not quiet night but came alive and made some critical plays when the game was in the balance in the fourth quarter.  TT had two assists and two rebounds, and each was huge.  He had the dish that led to the aforementioned Jack triple, and his offensive rebound late in the quarter led to one of Spencer Hawes' floaters which turned a four point lead into a six point lead.  Thompson really had no business getting to that ball – he fought with four Thunder defenders to snag it.  Double-T finished with 11 points, 11 boards, and five dimes.
-Luol Deng is still struggling to find his place in the offense but that didn't deter him from being aggressive tonight.  He had trouble finishing at the rack but he got there eight times which showed a willingness to attack.  Luol did an admirable job keeping Kevin Durant from getting to his sweet spots (almost as admirable as the Thunder guards)
-Spencer Hawes hit some pretty big 3s to shock the Cavs' offense throughout the first three quarters.  But his two driving floaters late in the fourth were amazing.  With Kyrie Irving and Jarrett Jack taking turns draining 3s, the Thunder worked so hard to close out on Hawes.  He put the ball on the deck, drove, and flipped em up and in – the first with the right, the second with the left.  Eighteen shots seems a little steep on most nights but the Cavs needed his offensive firepower tonight.  Spencer finished with 19 points and seven rebounds in 32 minutes.  He's really looked great in a Cleveland uniform.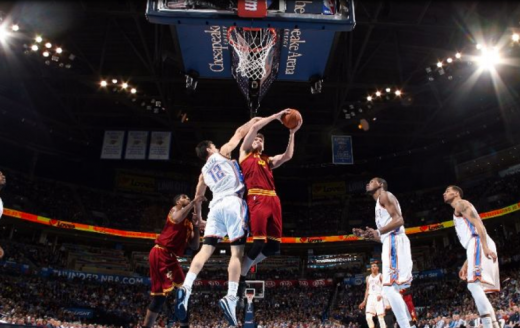 -Anthony Bennett played a limited role but when he was on the court he did good things.  He followed up a miss with a tip in and of course hit the jumper that gave the Cavs the lead late in the fourth quarter.  +7 in 12 minutes?  Yes, please.
-I've been really impressed with Tyler Zeller this season.  I highlighted his improved shooting numbers (image is from a tweet a few weeks back) from every area on the court earlier this season.

But Zeller has been doing more than just shooting well.  He's fighting down low, he's cutting into the open spaces on the court, and he's really giving the Cavs a boost with his play around the basket.  He was +11 tonight in just 17 minutes.  He hit two big free throws in the fourth quarter, and had a couple nice steals in the second, when the Cavs defense suffocated the Thunder for a stretch.
-SuperDOVA has been pretty ordinary lately, hurting the Cavs by taking but not making many open 3s.  Tonight he abandoned the outside shooting for some nifty forays to the rim.  He popped in a few floaters including one that tied the game at 81 in the fourth.  Matt added some nice assists after dribble penetration and he was robbed of another huge assist when he drove and found Kyrie Irving spotted up for 3.  Valiant effort tonight by Delly.
-Mike Brown.  Gotta say, Mike must be doing something right lately.  The Cavs are giving effort on defense for 48 minutes.  Tonight there were at least three occasions when it looked like the Thunder were going to blow the roof off.  Only, they never did.  The Cavs kept fighting, kept executing, and never lost their composure.  It was a great win and hopefully it leads to even more confidence for him and the team.
Other Thoughts:  I've stayed clear of the Russell Westbrook / Kevin Durant usage fight that has really engaged certain spheres of the NBA sub-culture.  Never felt like my fight.  But now I have Durant on my fantasy team, I've seen the Thunder a lot this season, and I've seen what he can do when the offense runs through him.  I'm not saying Durant should be putting up 30 shots a night.  No, actually I am saying that.  Look the guy scores effortlessly.  It feels like an effective offensive strategy is to let him take 28 foot heat checks.  At the very least, with his improved passing, he should not being going three or four possessions in a row without seeing the ball.  Westbrook is a stud, but so is Dwyane Wade.  The Heat really took off (and won two championships) when Wade started deferring to LeBron.  It may have annoyed a few folks when some half-court slug fests started smelling like the ol' Cleveland teams, but the point is you can WIN THAT WAY.  You can win with a transcendent star that is surrounded by players that compliment that player.  You don't need two dueling banjos to win a title in the NBA, that is like the third greatest lie after Kobe being labeled "best on the planet" during the Beijing Olympics and the national media saying LeBron didn't have enough help in Cleveland.  The Thunder were dominating teams with Westbrook in a suit.  It's not because he's not better than Reggie Jackson, it's because Durant was basically in video game mode from tip to confetti.  He should never, under any circumstance, seem half invisible, like he was tonight.  Reggie Jackson is just as guilty.  Ten shots in 24 minutes…bro, do you even pass?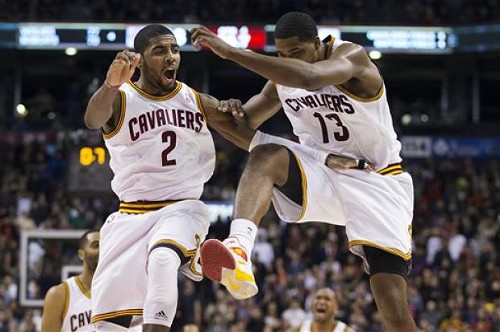 Update :In case you read my last recap.  My wife heroically delivered our second child (once again without drugs – she's tough).  We now have two girls, Gwendolyn and 3-day-old Catherine.  Winnie's floor game is more polished but we need to have patience with the rook.  Thanks for the kind words in the comments of the last recap.  They meant a lot to us.