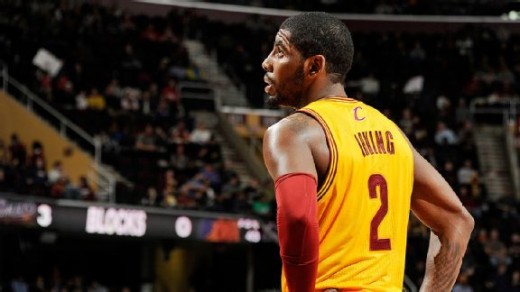 Hey!  Kyrie may want out of Cleveland!!  Or something along those lines from Brian Windhorst.
On days like this, I hope the Cavs do trade Kyrie.  It's not personal, these articles are just perpetual, and trading Kyrie is a way to make them stop.
For what it's worth, Kyrie is one more all-star vote away from being a "supermax" player, making $20 million or more per year in his extension.  He doesn't even need to be particularly great, just popular, to reach "supermax" status.  Is he worth that much loot?   As of this moment, I am not sure he is, to Cleveland or any other team.  Let another management group decide this summer whether he is an investment worth $100 million after one healthy season out of three in which he helped guide his team to 25 – 30 wins annually. 
Remember when Denver traded Carmelo, or Toronto parted with Rudy Gay, and things turned for the better?  What haul could be gained for Kyrie and is it better for the present and future than Irving at $20+ million per year?  This answer could be a "yes"; there are a lot of good point guards in the NBA, eight with a PER above Kyrie, and 29 above average.  Regression based stats consider his defensive impact as awful.  And ultimately winning games is what will keep people in the seats, Kyrie or not.
Anyways, as a fan, this has little to do with Kyrie; I just don't want to deal with these reports for another five years.