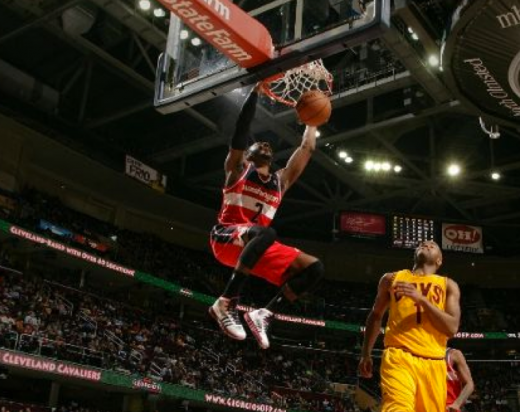 The Wizards' out-classed the Cavs in Cleveland tonight.  John Wall, Bradley Beal, Trevor Ariza, and Marcin Gortat really handled the Cavs' starters.  Spencer Hawes was a huge factor off the bench for the wine and gold but the Cavs managed only 31 points in the entire second half.
1st Quarter:
Mike Brown took a timeout 29 seconds into the game after a lazy Jarrett Jack pass got stolen by Trevor Ariza.  After being down 8-2, the Cavs went on a 11-0 run thanks in part to excellent play by Tyler Zeller.  Tizelle splashed a 17 footer, finished a left-handed dunk on a fast break, grabbed some boards, and had a nice block.  Jarrett Jack took and made a mid-range J. And then the Wizards answered with a 12-0 run of their own, flying up and down the court after each turnover or miss by the Cavs.  Brad Beal finished a fast break slam that drew some "oohs" from the crowd.  The Cavs continued to lob lazy passes around the perimeter that should never under any circumstance be risky enough to warrant a turnover.  But the Wiz were jumping the lanes and finishing on the break.  The Wizards had eight fastbreak points in the first quarter.  After an 18-6 run, Kyrie Irving drained a few of the jumpers that he couldn't get to fall in the last game.  The Wizards looked to run at every opportunity and even beat the Cavs on the offensive glass.  Their energy and athleticism gave them the edge in the quarter.  Spencer Hawes and Anthony Bennett both scored in the quarter, Hawes was rewarded with free throws for running the floor off a Kyrie steal and he later hit a quasi-Old-Timer hook shot in the lane.  The Cavs were fortunate they made as many jumpers as they did, otherwise the damage could have been worse.  30-27 after one quarter.
2nd Quarter:
Alonzo Gee checked in and scored 6 quick points.  Delly added a baseline floater off the wrong leg (or at least it looked so awkward I'm assuming it was off the wrong leg)  Spencer Hawes showed why it helps in the NBA to be 7'1" as he tossed in a few pop shots off Cavalier misses.  Jarrett Jack did the thing he does that makes me crazy.  He spotted up in the right corner, received a pass off a nice drive, and instead of shooting it (he was open and there was little time left on the clock) he pump faked and drove.  He was called for traveling.  SHOOT THE BALL WHEN YOU'RE OPEN.  The Wizards answered the Cavs 10-2 run with a  6-0 run of their own.  Gotta say, Bradley Beal looks really good.  Very smooth, and gets crazy elevation on his jump shot.  Spencer Hawes sure showed off the entire package on offense.  In his first 11 minutes he tallied 10 points, five boards, two assists, and a block.  Not only did he make a few slick passes, he even showed off some big-man moves.  He drove baseline on a spin and tried a pump-fake pivot move in the post.  He got Nene in the air but since he's not Dwyane Wade the refs didn't call the foul when Hawes ducked into him and threw up an airball.  Kyrie Irving made some tough shots, nothing was coming easy.  His insane dribbling forays are fun to watch, especially when he sticks a fadeaway after, but he needs to get easier shots.  A little part of him must die every time Jarrett Jack passes up a wide open spot-3.  The Cavs finished the half poorly overall, as the Wizards scored 16 points in the final four minutes.  John Wall scored eight in just over a minute.  The final shot, a deep, contested 3, off the glass, as time expired, was just unfair.  At the half, the Wizards led the Cavs 58-52.  The Wizards' starters really took it the Cavs.  Fortunately, the Cavs bench, led by Hawes, kept them in the game with 13 points, seven rebounds, two assists, and a block in only 14 minutes.  That's crazy.
3rd Quarter:
The third quarter started ugly for both teams until Trevor Ariza splashed a 3 off yet another Wizards' tap-out.  Kyrie answered with a 3 of his own.  The Cavs chipped away at the Wizards lead, using some nice interior passing to generate free throws.  The Wizards seemed to get three or four opportunities on every possession.  The Cavs, to their credit, made it a point to recover quickly on 3-point shooters, but the constant expanding and recovering kept the Cavs from really boxing out.  The Cavs played pretty good D but couldn't shore up the glass.  They cut the lead to one many times but allowed Al Harrington (he's still playing?) to score five points in two minutes.  Luol Deng did a nice job keeping the Cavs close with free throws.
4th Quarter:
Anthony Bennett threw down a huge dunk off an inbounds play to start the fourth.  That was cool, and got the crowd amped up.  The Wizards continued to grab offensive boards (even with Nene now in the locker room with a left-knee sprain).  Kevin Seraphin popped in two hook shots and Mike Brown quickly called timeout.  Matthew Dellavedova's missed another wide open 3 off a transition opportunity.  The Wizards' defense started to tighten, and the Cavs just couldn't generate easy baskets.  After a terrible offensive possession, Jarrett Jack grazed the rim and Tristan Thompson ran down the ball to save it.  His pass was intercepted by Bradly Beal and the Cavs were called for a clear path foul.  Later, Beal intercepted a Kyrie pass and took it all the way for a layup against Jarrett Jack.  That gave the Wizards an 11 point lead.  After an offensive goaltending call on TT, John Wall hit a nasty crossover jumper.  That was essentially the dagger, as the Cavs offense couldn't score 15 points in three minutes against spectral traffic cones.  Some more stuff happened but the game was out of reach the entire time.
Good Things:
-Anthony Bennett continues to grab a few rebounds each game that he probably shouldn't.  He was on the floor for the Cavs in the 2nd when they went on a run.  His dunk was amazing.  He finished with a game high +/- of 0.
-Spencer Hawes is fairly skilled.  Tonight he flashed hook shots, 3s, pop-shots, free throws, he was versatile, which is something the Cavs need out of their bigs.  He finished with 16 points, 12 rebounds, and 4 nifty assists in just 32 minutes.  Nice game for a True American Patriot!
Bad Things:
-I really hope the Matthew Dellavedova folk-hero thing wasn't a fluke.  He's missed so many open 3s lately it's hurting the Cavs.  He was 0-4 from downtown tonight and I think 3 of them were open looks off transition opportunities.
-Jarrett Jack.  I hate beating a dead horse.  By all accounts, Jack is a great dude.  It's not like he's out there clear cutting old growth forests or anything, but the guy is just frustrating to watch on offense.  I might have to write an entire piece about this, there's too much to talk about in a recap.  He's working hard on D but his inability to shoot spot-3s is killing the Cavs.  I just don't see any excuse for it.  He's passing them up with these weak pump fakes that everyone in human history (past, present, and future – his pump fakes transcend time and space) knows are coming.  Then he dribbles but without an explosive step – just…sorta…dribbles and either hoists a worse shot than he had when he was spotted up, passes it out on the perimeter after ruining the Cavs spacing, or finding a big man inside (those are sometimes effective).
-Luol Deng salvaged another poor shooting night by getting to the stripe.  He hasn't solved the Cavs' spacing issues and the whispers of his Achilles injury are growing louder.
-Another rough shooting night for Kyrie Irving.  Nothing is coming easy for him.  I'm sure he's frustrated – he expended a lot of energy out there and the Cavs lost by 13 at home.
-The Cavs probably aren't going to make the playoffs.
And….my wife is going into labor.  Gotta run!