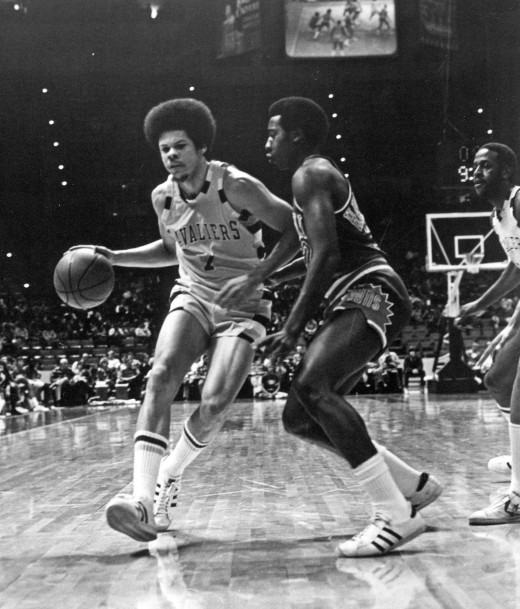 Editor's Note:  Today's post is a guest contribution from Scott Raab, offering a look back at one of the foundation pieces of the early Cavs teams.
The world was young once, and so was I — 18 years old when the Cavs were born in the autumn of 1970, so long ago that the Browns still had a glorious musk, and the Tribe — well, the Tribe sucked, but a general admission ticket cost $2 and you had the joint pretty much to yourself. Cleveland was another city then — bigger, richer, prouder. No one spoke of a curse, because none of that horrid shit had happened yet.
The Cavs were magic from the start. They were bad, but they were fresh and funny. Bill Fitch, a rookie NBA head coach bound for the Hall of Fame, led the league in acidic one-liners, just ahead of another rookie, the immortal Joe Tait, and the team was hilarious. They weren't burdened by expectations or history — good or bad or both. They had three, maybe three and a half guys capable of starting — not starring: starting — for anything other than an expansion team. They played in the old Arena, Euclid at 37th, in the same dingy barn where me own da once saw Joey Maxim decision Jimmy Bivins in 1948 and later took me to see the Barons play. What wasn't there to love about all that?
Student tickets cost a dollar. One dollar. Every game. I was a freshman at CWRU, living in a dorm a short ride up Euclid. I went to a ton of Cavs games. I remember Walt Wesley backing down his man and calling, high and hopeless, for the ball; I still hear his voice. And I still see Bingo Smith launching jump shots.
Romance aside, primo Bingo was an above-average NBA swingman. He could slash, a little, and he played hard on both ends. He was the finished product of four years at Tulsa, 24 years old, 6'5", with a solid all-around game that grew more steady and crafty during his 9+ seasons as a Cavalier. His calling card — the skill that made him above average — was his accuracy from distance, back when the 3-point line didn't exist. He also stayed healthy, and he had great hair and a great nickname. Again, what wasn't there to love?
As Bill Fitch got better at finding talent and coaching to its strengths, the Cavs built a decent team that became a very good team in 1975-76. That team was fitted perfectly by season's end, finishing 49-33, playing with a confidence and trust that was contagious on and off the court. For a fan, it was more than just a little bit of heaven, and by that time, Bingo was the last survivor of that first Cavs roster. You could see how much it meant, to have hung in and lasted out the losing — and you could feel it, too, yourself. You and Bingo were there from the beginning.
(You'll read some of the other names on that team somewhere on this list, so I'll keep it brief: Those Cavaliers played hard and smart; they shared both the work and the glory. Seven Cavs averaged double-digit scoring, and the defense was a work of fucking art. Except for old Nate, there isn't a future Hall of Famer in the bunch, but their effort, every game, was relentless, and they were fully invested in each other's success on the court.)
Bill James writes about 'peak' and 'career' player value; Bingo makes my list, easy, on both scales. He was a starter and part of the core of a Cavs team that was a legitimate NBA title contender. When the '75-'76 team clinched a playoff spot, that was huge. But beating the Bullets, who'd lost in the Finals the season before and featured Wes Unseld, Elvin Hayes, and Dave Bing, all Hall of Famers — beating the Bullets meant it was possible to dream of winning it all.
Bingo's peak was only a moment, but it was one hell of a moment: Game Two, two seconds left, Cavs down 79-78, on the road and in grave danger of going down 0-2 in the series, and Bingo hits a 25-footer from the top of the circle — and the Cavs grab the first playoff win in franchise history.
Listen to it here, just past the 4:25 mark.
Best call in Cavs history, in my book. One of the best shots, too. By one of the best ever to wear the wine and gold.