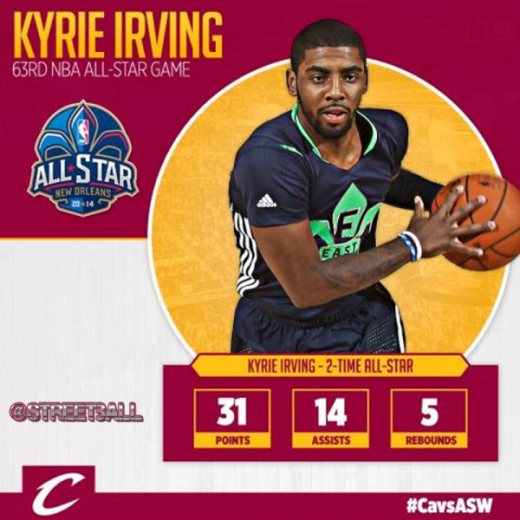 Last Sunday, Kyrie Irving put on a dazzling display of scoring and passing to become the second-youngest player in NBA history to be named MVP of the NBA All-Star Game. In seeing Irving explode for 31 points and 14 assists, Cavs fans finally got to enjoy a glimpse of the Irving they thought they'd see this year: a dynamic and efficient scorer who is also able to get his teammates theirs.
Now, of course, the All-Star Game bears only a passing resemblance to even the least defensively engaged regular season game, but it's difficult to see the Cavaliers' star have so much success as a distributor and not try to find ways to bottle even the tiniest flicker of that lighting as the games that count start back up again this week. For Irving to reach his potential as a player, he must do a better job getting his teammates involved. The more he does so, the less predictable any given Cavs possession will be and, arguably, the better the looks Irving will find for himself, as well.
Watch Irving's highlights from Sunday (note: most of them come in the second half) and a couple of things stand out: 1.) the space he can create in the middle of the floor for a trailing big on the break or the roll man on a pick and roll and 2.) how the attention he attracts when he penetrates opens up opportunities on the perimeter if he's willing to keep the ball moving.
Irving's critics have been pleading with both him and Dion Waiters to embrace this second point and both guards have started to look, particularly for one another, as an option when they drive. That's just good, non-black hole driven basketball and its something that, with the addition of Spencer Hawes, a reliable shooter at the five spot, will likely (and hopefully) continue.
So, I wanted to look a little more at what Irving can do to create shots for his teammates in the painted area. Yes, in the All-Star Game, Irving was dumping off to LeBron James  as his trailer on the break and that won't be an option when he's trying to win games as a Cavalier (*sigh*), but that doesn't mean the Cavs coaching staff can't try to run some stuff to get their collection of mobile (if not LBJ-level athletic) bigs some easy action going toward the hoop.
Zach Lowe, writing for Grantland, broke down much of what has been going right for the Cavs recently. In it, he points to the offense's love affair with the pick and roll, often using multiple pick and rolls on a single play to put pressure on the opposing defense until it (hopefully) breaks down. You can check out video of each of Irving's three assists Tuesday night against the 76ers here, but the first one is my favorite.
Early in the first quarter, Kyrie gets the ball from Jarrett Jack at the top of the key. After some fancy dribblin', he takes a Zeller pick at the foul line, draws the defense, kicks it to Zeller who hesitates allowing Hawes (the new Cavalier, so recently the poster boy for defensive apathy) to close out on him. Zeller wisely kicks it back out to Kyrie beyond the three point line with ten seconds left on the shot clock, immediately takes another Zeller pick then hits a cutting Zeller, who recognized that the soon-to-be-Cleveland-bound Hawes was floating away from him and toward Kyrie on the pick and rolls, for an easy layup down the lane.
This is the type of action Cavs fans saw a ton of between Irving and Anderson Varejao under Byron Scott and where Irving should be able to rack up some dimes going forward. Defenses need to respect Varejao, Zeller and now Hawes shooting from that range, but they'll likely send someone to help keep Irving from having an easy path to the basket. If the help comes from the opposing center, the Cavs should be able to keep manufacturing two things they've struggled getting with regularity this season: easy scores at the rim and points in the paint from anyone not named Irving or Waiters.
Irving has been playing off the ball more lately, but he doesn't need to be the one initiating the play on offense to be the guy in a position to record an assist on it. For Irving to get his assists up, though, will require a commitment on his part, by his teammates and by Mike Brown and his coaching staff to create opportunities where Irving can be as successful giving up the ball as he can be in keeping it.
Which brings me to Irving's decisions in transition. He's been so successful scoring at the rim that it's almost a given that, if the Cavs have numbers, Irving will try to take it all the way. What he did in the All-Star Game was interesting, though. On the break, Irving could take it or he could slow down just enough to shift the defense, such as it was, and allow a clear path for a streaking James.
Neither Tristan Thompson nor Anthony Bennett are James. Got it. But, Bennett is developing into an above average rebounder and Thompson already is one. So little for the Cavaliers has come easily this year, it would be great to see this sequence attempted a couple times a game: Thompson or Bennett grabs the rebound, whips an outlet to Irving who pauses just enough on the break (and does not – repeat does not – dribble into the corner where he'll be trapped between the baseline, the sideline and the defender) to reward his big man flashing down the lane with a head of steam. Thompson, especially, has to work so hard for every offensive opportunity, so it would be nice to see him know that if he makes the move (and catches the ball) he might be able to stuff one home. And there is a remotely believable future where Bennett develops into a big time finisher.
Now, none of this is like discovering fire. Any of these things can get blown up on any play depending on match-ups and the level of their opponent's defensive intensity and it's likely that the Cavs practice many of these things. Maybe, they've just been lost in the Bryon Scott / Mike Brown "we practiced X and they just didn't execute X" vortex. What we saw from Irving on Sunday, All-Star Game grains of salt or not, was his ability to be a scorer and distributor – to be a leader and a point guard – when he trusts his teammates.
So, maybe, it's a lack of trust that has kept Cavs fans from seeing All-Star Irving with much regularity this year. Over the last six games, though, Irving and his teammates have been taking the baby steps necessary to build that trust by going out, playing hard and executing. If those steps continue, there might be a better brand of Cavaliers basketball – and a better brand of Kyrie Irving – to look forward to in the weeks and years ahead.