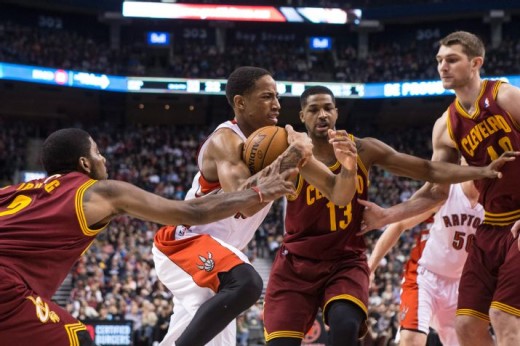 Pretty big game tonight for Cleveland.  Riding an NBA-long six game win streak, the stakes got higher, as the Wine & Gold head to Toronto to face their toughest game of the last two weeks.  Earl Clark and Henry Sims are gone, and Spencer Hawes makes his Cavalier debut.  Tristan Thompson and Anthony Bennett return home to Canada, where AB reportedly had eighty friends and family in attendance.  Unfortunately, three of his friends couldn't make it; Anderson Varejao, Dion Waiters and CJ Miles stayed back in Cleveland to recuperate from their various maladies.  That makes for a tough win against a good team on the road.
The game began with brutal offense from both teams, with the score sitting at 4 to 5 after five minutes.  Things started looking up though, as in his first few possessions, Hawes drained his two shots, including a three, and also swatted a shot.  Kyrie rolled up four early assists, including a pick & pop to Hawes, another to Bennett, and finding Tristan as a roll man.  The offense found Anthony Bennett alone for a thunderous slam, and Canada rejoiced, aside from the fact the Raptors were losing 22 to 14.  After the first handful of minutes, things were clicking on both sides of the ball for the Cavs.
Cleveland's defense stayed strong throughout the first half, and Tyler Zeller was a big part of that.  He blocked two shots, and seriously altered at least five more; this was certainly one of his most impressive rim protecting halves of his young career.  With 1:30 remaining in the quarter, the Raptors had scored only 33 points, en route to a 44 to 39 Cavalier halftime lead.
Then, the third quarter happened.  The Raptors moved the ball effortlessly, finding open shots at the rim or from the perimeter.  It didn't hurt that they converted 9 of 11 midrange jumpers.  Toronto found Jonas Valanciunas rolling from his picks, or fed him the ball in the post, as part of a 10 point, 4 rebound quarter.  Aside from a fantastic Kyrie to Tristan alley-oop, and another TT dunk off a Jack dime, the offense began to labor.  On account of a 37 point Raptor scoring binge, the Cavs trailed 65 to 76 heading to the fourth.
The final quarter rarely got a lot better than the third.  Bennett almost made a ridiculous dunk in transition, and also slammed home another; at least he and Tristan had highlights for their moms in the stands.  After Demar Derozan canned a jumper with 10:43 remaining, the deficit stayed between 10 and 15 until under two minutes left.  In the final minute-thirty, Jarrett Jack scored five points and Luol Deng tallied six, making both the final score, and their box scores look better than reality.  The Cavaliers lost 98 to 91.
Tough game tonight.  Following a 6 and 12 start and trading Rudy Gay, the Raptors have won 24 games against 13 losses.  That's nearly half a season as the equivalent of a 53 win team.  And Cleveland was on the road, minus the starting center and two of their better scorers / shooters.  There's really no shame in losing this one.
The recent winning streak and fun All-Star performances made this season and the trade deadline confusing.  Are they starting to put it together, or were the last two weeks a mirage?  Tonight was a poor night to gauge an answer to that question, but the next two, at home against Washington and then against Toronto, are somewhat must wins.  The schedule gets tough in March.  If there are hopes for the next 25 games to feature Kyrie, Tristan, Dion and Zeller continuing their recent growth as a team, and an exciting sprint to the season's  finish, the Cavs need to protect their home court against non-elite squads.
A few bullets:
I'm going to name Anthony Bennett tonight's MVP.  He scored on a jumper, he splashed home a post move, he threw down one monstrous dunk.  Nine points, three boards, a steal and a block in 15 minutes?  I'll take it.  Mom must have fed him well last night, upped his energy.
His Canadian amigo played reasonably well, too.  Most (or all) of Tristan's shots came within the flow of the offense, and he finished with 13 points and 9 boards on 57% true shooting.
Kyrie could not get anything to fall…3 of 16 from the field.  He had some open looks rattle out, but also forced shots near the basket.  Thanks to attacking and getting to the line frequently, he finished with 17 points, but only on 40% true shooting.  His six first half assists initiated some effective first half offense, but of his nine total, four came in the first ten minutes of the game.  Is there a website that tracks performance by quarter?  I could certainly be wrong, but it seems Kyrie facilitates very well early, then progressively less as the game continues.
Luol Deng wasn't as good as his 21 & 11 looks.  In the final five minutes with the game largely out of reach, he scored 9 points on 3 of 4 shooting.  Prior to that, he tallied 12 points on 3 of 11 from the field, with 1 assist and 3 turnovers.   He did drain 7 of 8 freebies (two in the final minutes though).
Same story for Jarrett Jack.  He scored 7 points in the final three minutes.  Other than that…2 points in 37 minutes.
After starting 2 for 2, Hawes finished 3 of 10 for the night.  He drained a three though, grabbed ten boards, and blocked three shots, leading the team in plus / minus with +7.  No doubt he is an improvement to the team's big man rotation.  Now hopefully the team can string together two fun, exciting months.