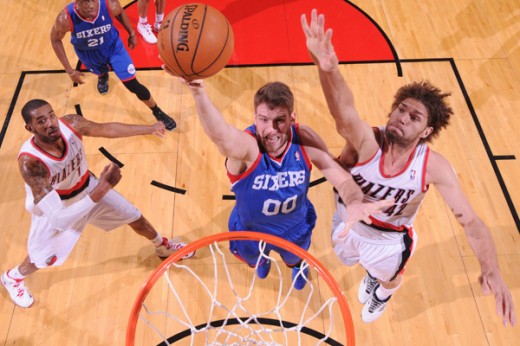 There are not a lot of details, but Cleveland has dealt two second round picks for Spencer Hawes.  In order for salaries to work, other players must be involved.    Hawes is a 25-year old, floor stretching center.  He is a free agent after this season.  Cavs:the Blog will update as more is available.
Update: Apparently Earl Clark and Henry Sims are included in the deal, along with the two 2014 draft picks.  Through the years, oftentimes I have wished that the Cavs would do more with their second rounders, due to the great value those (typically non-guaranteed) contracts provide if the team finds a gem…or they could stash a few Euros.  If no other deals are made and Andy is healthy, the frontcourt is very packed with Varejao, Thompson, Zeller, Bennett and Hawes.  Perhaps there is another deal coming, or Varejao is going to be out for a while.  At the moment, I am neither excited or upset about this trade. 
Can I wait to have an opinion until April?