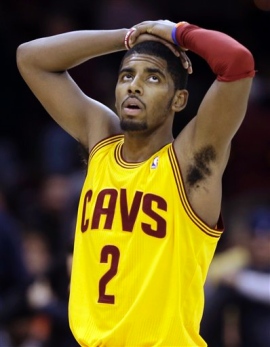 It's a frigid, snowy NYC Saturday in February.  I've got two sixers of a wide selection of beers (more on that later!), a fridge full of snacks, and I'm about to order Chinese.  That can only mean one thing…
It's ALL STAR SATURDAY!
As some of you may remember from last year, I absolutely love this night.  Old timers taking half court shots?  Giannis showing off his ball handling skillz (with a z)?  Kyrie draining threes?  High flying dunks?  COUNT.  ME.  IN.
So lets get started, folks!
8:00 PM:  I went foreign tonight, guys.  Monchshof Schwarzbier – it's delicious.  Someone tell me why I didn't buy more than one?  Oh yeah – because Hopslam finally hit NYC.  I should probably turn off NBA 2k14 – we're almost at broadcast time!
8:16:  Isn't the Big Bang Theory great?  That Sheldon is so ridicu…oh wait – NBA!  Sorry, sorry, got distracted.  Damn you, TBS!
8:18:  As I flip to TNT, Paul George and Steph Curry are chatting with the usual panel.  Funny how neither guy was a top 5 pick.
8:20:  Did you know Steph Curry was born in…wait for it…Akron, OH!   Haaaayo!
8:22:  Commercial break.  The Big Bang Theory pilot was a long, long time ago.  Weird…
8:23:  Still on commercial.  Maybe I should just do a Big Bang Theory marathon diary.  It's the pilot!  Will Leonard end up with Penny?  WHO KNOWS!
8:24:  So building off this last year's East vs West theme, it's now purely East/West.  Right?  I'm pretty sure the NBA is trying to make this more complciated.
8:26:  Why did Charles Barkley interview Obama?  Doesn't the president have more pressing matters at hand than speaking to a grumpy, aging former NBA player?
8:26:  Now Barkley is talking politics.  Lets get this thing rolling, TNT!
8:30:  And we're live! This brass band intro is so, so, SO much better than last year's Macklemore jokefest.  Thank you doing it right, NBA.
8:34:  George and Curry are your captains!  And they're wearing the team jerseys.  SO much better than last year's leather fest with D-Wade and Chris Paul.  But why is Nick Cannon still hosting????  What, Kevin Hart wasn't available?
8:35:  Paul George picks himself for MVP.  Way to keep it real, Paul.  Curry seems like a good dude.
8:35 (2):  And we welcome CLIFF PAUL to the stage!  We knew we wouldn't get more than 5 minutes into this without some sort of Chris Paul sighting, right?  At least this is for charity.  Lets give him props, though; Cliff Paul is the MASTER of assists.
8:37:  Kendrick Lamar!  Funk music!  NBA ALL STAR SATURDAY!  YES!!!  Wait…what's that?  There's basketball too???  That's cool, I guess.
8:38:  Sears, Taco Bell, Foot Locker, and Sprite.  Based on those names, I guess I'm most excited for Taco Bell.
8:38 (2):  It's pretty awesome that the Hardaways and Currys are both in the Shooting Stars competition.  This should be fun.  Plus BECKY HAMMON!  I can't believe she's still playing!
8:39:  Chuck picks "The Hardaways."  I'm picking the Montagues over the Capulets.  Everyone else seems to think the West will win.  Lets see who does it!
8:42:  Cliff Paul is trending nationally on Twitter.  Ugh.
8:44:  I didn't even realize this had started!  But Becky Hammon and the Currys doing well, until they get to the half court.  1:05 on Becky's half courter.  Ouch.
8:45:  Skylar Diggins, Durant, and Karl Malone.  Reggie and Webber can't stop talking about Malone's muscle.  Dude is JACKED UP.  How is it possible he's in BETTER shape now than when he finished his career?  Durant hits the shot, AND we have a Moondog sighting!  Awesome!!!  #GOCAVS!  Durant's team will rep the West, with a time of 1 minute on the nose.
8:47:  Longest State Farm ad EVER.  Way to beat a dead horse, guys.  Except using Chris Paul's son is classic.  Foot Locker's ads are the best.  Who saw Anthony Davis and James Harden as being the two funniest guys in the NBA?  Keep up the good work, FL!  Plus,   I'd love to see the Beard dressed as Davis.
8:52:  I don't know who the WNBA player is on the Hardaway team, but her shot (and face)  is prettier than either Hardaway's.  Final time is 1:25.  After starting strong, they stumbled HARD at the half court.  Yikes.
8:53:  Swim Cash (is that right?) is owning Wilkins AND Bosh.  Bosh literally took forever to hit the three.  UNTIL HE DRAINS THE HALF COURT SHOT!  WHOA!  35 SECONDS(!)   TEAM DURANT!  TEAM BOSH!  NBA ALL STAR SATURDAY!
8:54:  Pete Holmes special after this?  I am SO in.  This is going to be a longgggg night.  Side note: If you haven't checked out the Pete Holmes show, get on it.  Great, great stuff.  It's back on TNT in two weeks (I think?)
5:58:  Reggie is going BONKERS at team Durant!  They do take FOREVER to get the shot off.  YOU CAN SHOOT WHILE THE BALL IS IN THE AIR!  43.6 seconds is the time to beat.  Can Bosh do it?
8:59:  Yikes – Wilkins misses the bank shot.  And Bosh can't hit the three.  Uh oh… They're in trouble.  Wait, NO THEY'RE NOT!  Bosh drains the three to win for the second year in a row!  Miami is doing their absolute best to haunt us, aren't they?
9:01:  Barkley can't stop talking about Karl Malone's body.  Jealous much, Chuck?
9:04:  Nick Cannon is so short alongside the NBA/WNBAers.  And that white suit is frightening.  Especially in red shoes.  Swim Cash calls out the panel for not picking team Bosh to win.   $100,000 to team East, $25,000 to the West.  Skillz up next!
9:06:  Hey, Subway – not sure who thought up the whole "Cruncha muncha" slogan, but it's time to retire it.  Like, two weeks ago.
9:09:  Giannis, MCW, DeRozan, Oladipo.  Burke, Lillard, Goran, and Reggie Jackson.  Where the heck is Kyrie, here?  Shouldn't he OWN this event?
9:09:  Chuck picks Goran because he has "something to prove."  And then calls out Nick Cannon's shoes!  Glad to know I'm not the only one who noticed them.  Yikes.  Ya might've over thought that outfit, buddy.
9:12:  Apparently the course is new.  This event tends to be the most lackluster of AS Saturday.  Lets see if it's improved!  Reggie, like me, will be referring to Giannis STRICTLY as Giannis.  Hats off to anyone who can pronounce (or spell) his last name correctly.  Webber and Miller are gushing over him.  It's pretty amazing how badly the rest of the league botched that pick…
9:14:  I like the one-two player flow of this.  And Giannis is amazing.  Note to self: watch more Milwaukee games.  Note to the NBA:  Put the Greek Freak in the dunk contest.
9:17:    MCW air balled a three.  Yikes.  Still, team MCW/Oladipo advances over Giannis/DeRozan, beating them by two seconds.
9:17 (2):  Same Foot Locker ad as before.  I'm pretty sure I'd notice Anthony Davis faster than James Harden.  Still love the ad, though.  On to beer number two.  Sticking with the Euro Schwarzbiers: Köstritzer Schwarzbier.  And this one is even better than the first!  YUM!
9:22:  Reggie Jackson (the slacker, according to Reggie Miller – not the "real" Mr. October) goes slowly because he's "too cool for scho0l."  But, lucky for Jackson, his teammate Goran is a beast.  They finish with the best time so far.
9:23:  Despite missing a bunch of threes, Columbus native Trey Burke, and last year's ROY Damian Lillard, destroy Goran and Mr. October's time, advancing to the next round.   Reggie is going to let Reggie Jackson live this down.  All the Reggies and Jacksons are making this confusing.  Thank goodness he's out!
9:26:  The Lego Movie video game!  How is that even a product?  Will they make a Lego Movie video game Lego set?  Can one of you make this happen?
9:28:  Michael Carter-Williams really can't jump shoot.  Love the player, but he could could barely drain an open three.  45 seconds and what is likely a loss.
9:30:  WHOA!  TEAM WEST BEATS TEAM EAST BY 1/10th OF A SECOND!  OH.  MY.  GOODNESS!!!!!!!  Gotta say, this relay thing works well.  Sad the East lost, but happy the NBA may have finally figured out how to make the skillz (with a z.  Make it happen already, NBA!) work.  To quote Chuck, "Like the Alabama game, a lot can happen in a second.  War Eagle."
9:32:  Lillard and Burke up on stage with the illustrious Nick Cannon.  Lets not forget, though, the real winners tonight are the kids.  $30,00 in scholarship money for Anna-Marie, who looks like she might bawl on stage!  Also, if you haven't read the Grantland article on Burke and Sullinger, get on it.  It's great.  Also, also, I have an on-going bet with one of my best friends that Sullinger will make it through three years in the NBA.  I'm almost definitely winning.  My friend is a lunatic.
9:39:  Chuck is a 23% career 3-point shooter.  Shaq hit ONE in his career.  These guys know three point shooting, eh?  Kenny the Jet picks Marco Belinelli.  Chuck's sleeper is Brad Beal.  My pick?  KYRIE!  KYRIE!  KYRIE!  KYRIE!  Shaq agrees.  How is last year's winner THIS underrated????  WHAT IS WITH THE KYRIE BACKLASH?!
9:41:  Kerr picks Steph Curry, as does Miller.  There's a new twist this year – the "all money ball" rack.  Players can pick where the rack goes.  Reggie says the PGs will put the rack in the middle, where as swings will put it in the corner or at the wings.  Kerr says anyone who is "into math" should place it in the corner, because it's a shorter shot.  I'll agree with Kerr, here.
9:43:  Seriously, this beer is amazing.  Go to your local bottle shop and pick it up.  NOW!!!!!
9:44:  Love up first.  He thinks the NBA "did him wrong" putting him first.  Oh grow a pair, Kev!  Though, I will say, he only made one of his "money ball rack" balls.  Love doesn't even finish the last rack, and scores just 16.  Yikes.
9:46:  Kerr will not let the rack placement go.  Extremely critical of the angle placement of Lillard.  The angle is the lowest-percentage three point shot.  Lillard barely beats love, hitting just 18.  Remember, guys, the highest possible score is now 34.  18 = not good.
9:48  Belinelli places the money rack at the end of the line.  He starts (VERY!) slow but manages to hit 3/5 of the final, money ball rack!  Looks like the strategy paid off.  19, edging out Lillard.
9:50:  Way to copy Belinelli, Steph!  Money ball rack is at the end.  Kerr's corner shot strategy is the early favorite for the shooters.  Still, Curry can't finish it out, only hitting two on his final rack.  Score: 16 – the lowest of the West.  Steve Kerr dies a little inside.
9:51:  WHAT AN UPSET!  KENNY SMITH'S DARK HORSE, MARCO BELINELLI, ADVANCES FROM THE WEST!  Reggie Miller, who called Kenny an idiot for the pick, is forced to eat his words.  NBA SATURDAY NIGHT!  EXPECT THE UNEXPECTED!  Is Marco advancing the Detroit Piston NBA Championship of all star Saturday?  Who is the East's worst-case scenario?  Afflalo?
9:55:  Pretty amazing that Dennis Miller is doing March Madness promos.  I thought he was only relevant on Fox News.
9:57:  First up, Joe Johnson!  Apparently everyone is picking the angled money ball rack because they're hoping to heat up after the first rack.  Kerr dies a little more inside.  Can't we just fast forward to Kyrie?!?!  Joe Johnson only hits 11 – too slow, too methodical, and only hit one money ball.  He left three balls on the final rack.  "he pretty much started the competition like Brooklyn started the season.  Too slow, too methodical."  ZING, REGGIE!
9:59:  Afflalo now.  Modest NBA fans everywhere are confused and asking, "who?"  Forgettable round, finishing with 15.  No one has reached 20 yet.
10:01:  Despite only hitting two from his money ball rack, Beal finishes with a first-round high of 21!  Kid can SHOOT!  Love the high arch.  Reggie and Kerr are gushing.  Where's Dion?  Can't we make it a rule that Beal and Dion have to face off all the time?  Like, whenever one is elected to something, the other automatically goes too?  We're all in agreement?  Great. NEXT UP… KYRIE!!!!!
10:03:  DEFENDING CHAMP KYRIE STARS STRONG!  6 points in the first two racks!  But can't power through the last three racks.  UGH.  KYRIE IS OUT.  I'm about to drown my sorrows in another beer and some Chinese food.  What a disappointment.  I can't help but feel like this competition is a little too reminiscent of the Kyrie's season in general.  But, in other news, Beal vs Belinelli!  NBA ALL STAR SATURDAY!!!!!!!  Lets hope this is the last time I'll ever have to root Beal.
10:08:  Oh.  My.  God.  Belinelli.  "I'm going to do like I do before.  Do use my money ball in the corner."  Awesome.  On the surface, I'm rooting east.  But deep, down, I'm going to cheer for Marco.  Beal has his money ball rack at the angle.
10:09:  Nelly used to babysit Brad Beal.  This night just keeps getting weirder and weirder.
10:10:  Marco starts suuuuper slow.  But finishes with 19!  Can Beal win?  Do we have a major upset on our hands?  If Brad wins, will Nelly write a rap about him?
10:12:  Beal starts slow too, but hits 3/5 on the money ball rack (the second rack).  And then…WOW!!!! BEAL HITS 6 STRAIGHT TO FINISH IT UP!!!!!  19 FOR BOTH BEAL AND BELINELLI!  It's a runoff!  Beal is really, really, REALLY clutch.  Wow.  Just…WOW!!!!!  60 seconds for each player.  RUN.  OFF!!!!!
10:14:  Marco again starts slow, but heats up MUCH faster on the second rack.  12 going into the final two racks!  Marco drains 24!!!!!! to finish his runoff.  Beal has to kill this from the start to win.
10:15:  Beal is starting strong.  Can he finish this off for an East win?  Answer: No.  Too inconsistent.  Kenny Smith can gloat!  Steve Kerr's strategy works!  Marco wins!  The Spurs win!  Pop wins!  The Cavs lose.  All, apparently, is right in the NBA world.  Through three competitions the West least the East.  Better do this, Eastern Conference dunkers!
10:19:  Shaq's two cents on the three point contest is…um…flat.  He really shouldn't be allowed to discuss anything outside of 10 feet from the basket.
10:19 (2):  The real winners tonight?  Anyone who gets to listen to Marco Belinelli speak.  Can we get this guy his own talk show?  Nick Cannon keeps cutting him off; why, Nick?  WHY?  Lets the Italian speak!  Marco Belinelli does not smile.  Ever.  The man is a stone cold killer.
10:21:  Idea: Marco Belinelli co-hosts the Pete Holmes Show once the NBA season is done.  Everyone wins.
10:24:  Now I know why Nick Cave gets the nod every year – he's good at announcing music acts!  Kendrick Lamar!!!!!  I'm about ready for a nap until the dunk contest.  But, I'll admit, the set and lighting are pretty cool.  nicely done, NBA.  Still, this is a snooze.  WE WANT DUNKS!  WE WANT DUNKS!  Kendrick looks a little sweaty.  Maybe if he wasn't wearing a black sweatshirt he'd feel cooler.  Nick Cannon's outfit wins again.
10:34:  This LeBron interview makes me sad.  Why must you rub it in, NBA?  WHYYYYYY.
10:35.  DUNK TIME!  In round one, each side has 90 seconds for every player to make a dunk.  Then there's a head to head round?  And an ice cream social round?  And it ends with a bikini contest?  Judges still determine the winners.  I'm confused.  So are Shaq, Chuck, and Kenny.  Hm…  Paul George captains the east with Terrence Ross (Kenny's favorite.  No, John Wall!) and John Wall.  The West is captained by Lillard (again…sheesh) and features Harrison Barnes (Chuck's favorite) and Ben McLemore (Shaq's choice).  Barkley just discussed McLemore's hair in a…um…controversial way.  Lets just leave it there.  Charles also thinks that allowing a social media vote for the best dunker is a good idea because he likes social media.  I think it might be Chuck's bedtime.
10:41:  Lets, for a moment, discuss the Fiat ad where Diddy announces that two men walking through the desert are "definitely going to die now."  Who deemed this a smart sales pitch?  South Park better be planning a spoof.
10:44:  Kenny and Chuck are down at the play-by-play courtside.  Spike Lee is there too.  This just keeps getting more and more confusing.  Also, there is a DJ booth next to the judges booth.  So far no sign of the ice cream bar.  Dr. J, Magic, and Dominique Wilkins are judging.
10:46:  I really don't get this freestyle round.  East is up first.  Apparently it's basically just the guys running around dunking for practice?  It's a warm up?  I'll admit these dunks are cool, but there's less building excitement.  Cool, but I give it a 7.  The final, three-man alley oop was cool.  But.  Meh.  But the judges don't even post scores?  What?
10:48:  Charles Barkley notes that "Toronto plays in another country."
10:50:  The West isn't even draining dunks.  Except McLemore.  Wait, so does Lillard.  Barnes is flat, though.  I'll give the West a 5.  McLemore can get HIGH.  Wow.
10:51:  Dominique picks:  EAST!  More showmanship, more consistency.  Lillard gets props though.  Magic picks:  EAST!  "They're representing on their first round."   Dr. J picks:  EAST!!!!!!  Dr. J waxes poetic on his choice.  East sweeps.  Well done, guys.  Now on to the individual dunks.
10:58:  So winning the first round allows the East to pick going first or second in round two.  That's it?  Lame.  East picks to go second.  Lillard is up first.
10:59:  Kenny likes the music.  Lillard's  dunk is pretty lackluster – I'm giving it a 6.5.
11:00:  Last year's winner, Terrence Ross, comes out with Drake!  Nice touch.  Drake is throwing the pass!  I'm a fan of this whole ordeal.  Ross fails the first time – apparently you only get three tries.  The dunk was cool…but Meh.  Basically he grabbed the ball off Drake's hand, goes between the legs, and windmills it.  8.5 is my choice.
11:02:  Dominique picks:  Terrence Ross  Magic picks:  Lillard (West homer!), Dr. J picks:  Ross!!!  Terrence Ross wins battle #1.  Lillard is eliminated.
11:03:  Another Moondog sighting!
11:04:  Apparently there will be a downloadable dunk contest for 2K14?  Sounds cool…
11:05:  Barnes misses his first two attempts.  The third dunk is a lame little double-clutch dunk.  To quote Kenny, "that [dunk] will not be downloaded."  4.5.  I miss last year's competition.
11:06.    Paul George is up!  PLEASE, REVIVE THIS, GEORGE!  He misses his first dunk, but it looks pretty cool.   a 360, through the legs, windmill.  COME.  ON.  PAUL!  He nails it on his last try!  9.0.  For some reason the crowd isn't NEARLY as into this new format.  Sad.  Dominique picks:  EAST!  Magic picks:  East!  "No words."  Dr. J Picks:  East!  "Well sick is sick.  And the last thing I saw go through the hoop is sick."
11:10:  McLemore's entrance is CLASSIC!  The land known as "Shaqramento" is now known as "McLemento!"  Gotta love medieval proclamations.  But will his dunk do it?  Ben is going to try to jump over a sitting Shaq.  Note:  Shaq is sitting on a throne.  WOW!  McLemore nails it on his second try, then gets crowned by Shaq!  Well done.  I'll give the whole thing an 8.0  Still, this competition feels flat.
11:11 (make a wish, as my lady-friend says…):  John Wall, a favorite for sure, is up.  AND WOW!  He does a behind the back double pumped under the legs dunk!  Over the Wizard mascot!  10.0!  The east will win this.  Nice way to finish!
11:14:  Dominique picks:  East!  "That dunk is one of the best I've seen in a long time!"  Magic picks:  East!  Dr. J picks:  East!  "The slam dunk has returned!"  Nice job, Wall!  John Wall: 1, Kyrie Irving: 0.
11:15:  Earnie Johnson is sitting all alone.  Aw, Earnie.  Do you need a hug?
11:18:  The trophy presentation picture is so, so awkward.  The only defuse is when Chris Bosh is involved.  He should be required to be in every picture of the night.
11:19:  No surprise, John Wall wins the dunk of the night.  Still, this is easily one of the most lackluster dunk contests I've ever seen.  Wall's dunk was amazing, but the head to head format just doesn't work.  Put the clock back up, and let the guys face off.
By my expert calculations, the East and West should be tied.  Now what, NBA?  Now what.
11:24:  So I guess it's a tie?  $250,000 donated on behalf of the East and the West.
As the wrap up the night, I'm opening another beer: Kyritzer Mord und Totschlag.  YUM!!!!  Schwarzbiers rule the day.
11:25:  I guess Wilkins told Earnie the dunk contest is back.  But I disagree.  The single dunk was great, but a tweak needs to be made.  Kenny and Chuck think they should add another round, where the three head-to-head winners all face off.  Agreed.
11:26:  Chuck and Kenny are making fun of Shaq's D his last three years.  Remember that last year, guys?  Sigh…Cleveland…….
11:28:  The Mailman makes an appearance.  He's letting Shaq and Kenny rip him on his super tight shirt.  Say what you want, but the man looks good.
11:29:  I've been watching NBA All Star Saturday my entire life, but something felt flat on this one.  Was it the crowd?  The format?  The jerseys?  Karl Malone's tight shirt?  Cliff Paul?  I don't know.  But something was missing.  If you made it this far, let me know what you thought.  Otherwise, on yet another disappointing Kyrie night, I bid you adieu.  GOODNIGHT CLEVELAND!