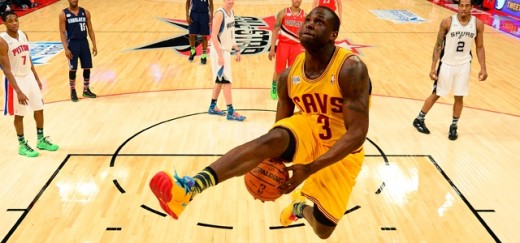 Dion Waiters played on Team Hill last night, winning the Rising Stars challenge on Night One of All-Star weekend.  Dion lead Team Hill with 31 points on 10 of 14 shooting (4 of 6 from deep, 7 of 8 from the line), 7 assists and 3 steals.  Andre Drummond edged Dion for MVP though, with 30 points and 25 rebounds; that is a travesty.
ESPN awarded Dion an "A", saying among other things "The most entertaining stretch of the game came in the second half, when Waiters and Hardaway Jr. engaged in a prolific shootout."
The esteemed John Krolik wrote about the game for NBC Sports Pro Basketball Talk, with the story of the game being the Waiters versus Hardaway matchup, of which "Ultimately, Waiters got the better of (Hardaway)…"
There is never a ton of defense in these game, but Waiters was the story of the game and represented the Cavs amazingly.  Awesome stuff, Dion!