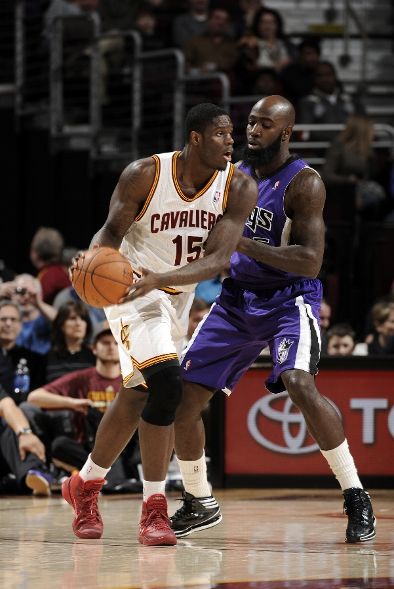 The 2013-2014 Cavaliers are a silly team. Their silliness oscillates between comical and sinister at unhealthy speeds. One month, Andrew Bynum is acting like a full-on Wes Anderson villain and indeterminately throwing objects, and the next month Anthony Bennett is teasing DeMarcus Cousins, the first post-LeBron four game winning streak has everyone smiling, and Kyrie is starting an all-star game this weekend. This season is entertaining in the same way that eating three bags of cheetos in one sitting is entertaining: fun in the moment, but it might leave you with a body ache afterwards.
Silliest and body-achiest of all is Anthony Bennett. Early  this season, it was tempting to forget about him, to push Bennett into your brain's corners. The Cavaliers drafted him knowing he was injured and that they had a lot of power forward types already. While a number one pick was undeniably a big deal, the team was focusing on a playoff run and his job was to back up Tristan Thompson. Had the Cavs won more games, his struggles probably wouldn't have been highlighted to the degree they were.
But it took dude five games to make a basketball shot and his PER was lower than an average GPA. Even in a no-expectations vacuum, it was awful. The phrase 'tire fire' was overused but it was at least accurate. The problem wasn't so much that Bennett was inefficient, but rather, that he was drastically behind on certain metric baselines that NBA players have an assumed mastery of, like body fat and spatial awareness. Criticisms poured in. An infographic showing how bad his rookie season was compared to past number one picks made the rounds. The Cavaliers were and still are one of the bigger disappointments of the NBA season, and Anthony Bennett was having serious basketball problems. Narrative-wise, he and the team were two sinking ships, dancing as they spun into the abyss. Well, for a while anyway.
The Anthony Bennett Renaissance is upon us. Bennett has shaken off the incompetence of his fever-dream start and is beginning to look like the player he was at UNLV. He posted his first double-double against the Pelicans, and even confidently turned away one of Anthony Davis' shots, the ones that basketball fans fawn over. It was such a stunning reversal of trajectory, it makes you wonder how the Cavs managed to mangle his early development so thoroughly. Rather than ease him into the NBA slowly, or make him learn on the job, Victor Oladipo style, Cleveland strode the frustrating middle ground. He played on a short leash without an offensive support structure or communicative teammates. Neither Mike Brown nor his guards ever made a point to manufacture shots for him, and Bennett never seemed confident enough to make decisive, successful plays on his own. His entire season up to the Pelicans game had been an exercise in grasping for momentum and slipping, only to start over again. The inertia he had to overcome thickened daily.
Now, he has finally laid a foundation for a productive season, which speaks to his talent. It was disconcerting to watch him struggle with basic tasks after seeing the type of player he was in college. As a Runnin' Rebel, he was an evolutionary power forward, big enough to spar down low and athletic enough to spread the floor and pass out of double teams. The absence of his athleticism this season was conspicuous. A shoulder injury shouldn't have prevented him from being in shape and an NBA team shouldn't have let their number one pick fall as far out of shape as Bennett did. Bennett is a professional athlete and is responsible to keep his body in condition, but the Cavs are an NBA organization with huge incentives to use their power as employers to motivate Bennett to work out. It seems that lines of communication are subpar.
During his low times, it was tempting to write Bennett off as a bust, and many did. If you looked at stats, there wasn't a case to be made otherwise. There wasn't a hidden code in his steal rate or whatever that indicated improvement was on the horizon. Numbers showed a player amongst the worst in the NBA and the eye test confirmed it. He was floundering and couldn't do anything well. The argument for patience didn't have much support. Those numbers, rows of goose eggs and turnovers, were a tautology that pointed at Bennett's irrelevance. His badness was a monument to itself.
The same Bennett who produced those numbers is now playing much better. He looks like a floor-stretching bench four with room to improve. His potential as a pick-and-pop partner for Kyrie Irving should make Cavs fans smile. This mini-resurgence is a small sample and all-star weekend may take the wind out of his sails a bit, but this uptick should serve as a counterargument to the characterization of basketball skill as static and modular. Bennett is not cursed by any set of stats, and he is young and ductile enough that you should expect improvement. This is not to say that there is no truth or value in stats. There is a lot for basketball fans to learn, but context is absolutely necessary before you can draw any kind of meaningful conclusion.