Five Cavs questions for the writers – all in one place.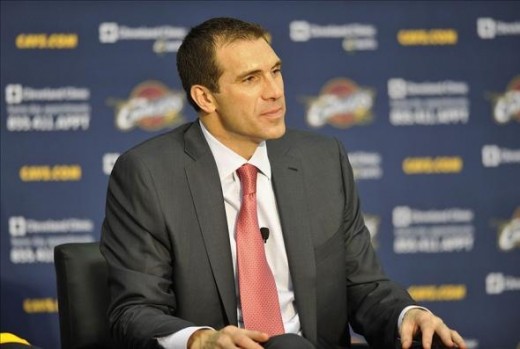 1.) How would you describe Chris Grant's approach to team (re)building?
Tom: Chris Grant seemed determined to avoid the challenging circumstances that the Danny Ferry-era front office encountered.  Ferry ran out of draft picks and cap space and was stuck trying to shuffle overpaid role players in and out according to the Cavs matchup needs.  (Take a moment to remember that the 2010 Cavs failed because LeBron choked, not because of any team building failure.) Chris Grant, conversely, stockpiled draft picks, refused to commit long-term resources to role players, and hoped his core, if given ample opportunity, would blossom into a big-3 at just the right time to make a splashy acquisition.  Filling in the role-player blanks seems like it was a "cross that bridge when we get there" afterthought.
Kevin: Pretty clearly he subscribed to the OKC Model of rebuilding; maintaining a relatively miserable team for a few years to accumulate elite draft picks.  In Cleveland, it is not working.  There was a brief sliver of time when I really thought it was.  From January through April last year, Tristan appeared to have turned a corner, looking like a capable offensive player to go along with his defense and rebounding.  From January to March, Dion upped his game significantly.  Kyrie was an All-Star.  They were all 20 or 21.  Then everything unravelled, maybe in part due to everyone being so young…the inmates were running the asylum.  Once upon a time, I wrote a week-long series titled "Building a Winner".  The basic thesis was that pretty much every good team of the prior ten years had not built themselves via the "OKC strategy" that Cleveland was employing, and that the teams picking at the top of the lottery for a few years straight, tended to not get a lot better than that.  This is something that Mallory has continued as a theme since then.  A couple years into the future, look at the up & coming teams…Indiana, Houston, Golden State, Portland, Phoenix.  How many players that they drafted in the top five are important players on their teams?  Lamarcus Aldridge?  The teams with runs of high lottery trips like Washington, Charlotte, Sacramento, Minnesota, Cleveland…where are those teams headed?  The relatively random  success of the Thunder skewed people into thinking it was a reliable strategy, when it never had much of a track record.  It will be interesting to see what becomes of Philly and Orlando.
Robert: He tried to correct two things that plagued the Cavs during the LeBron years: lack of draft picks and financial flexibility. Dan Gilbert probably mistook a future full of first rounders and cap flexibility as being "ready to win," which we now know is clearly not the same thing but it was something that Grant was very successful in doing. And it wasn't easy. Grant was also a notoriously tough to deal with but, now through unceremoniously-fired-colored glasses, I like to think that his strategy was "If some teams have advantages in free agency, I'll make sure the Cavaliers will always have the advantage in trades we make." Or he was just a prickly crag who vastly overvalued what was his. Somethin'.
Nate: Grant was a big fan of guys who rated high on advanced analytics like Hollinger's/Pelton's draft rater, like Dion Waiters. In trades, he had the backing to take on salary to acquire future assets in order to give other teams cap relief. He collected future draft picks and short term/middling productive contracts like a doomsday prepper collects toilet paper. When Grant finally did start adding longer term contracts and investing significant dollars in free agents, he picked Jarrett Jack and Earl Clark: guys who seem as useless as bringing a BB Gun to the zombie apocalypse.
Patrick: Hoard draft picks for a while, then theoretically use high lottery picks as building blocks for a good team. These young players age and improve together then make a playoff run. He nailed the first part. Two 1's and two 4's is about as good as it gets for three years of drafts. But this strategy is highly dependent on a quick refractory period of awfulness, reversed by picking good players. The point isn't to draft forever, it's to dip your way into some talent then ride back up to relevance.
2.) At what point did you suspect Grant's rebuild might be in trouble?
Tom: I began having suspicions that the Cavs core wasn't close to competing near the end of last season.  After studying the lineups for my Trends, Ranks, Outliers, series, I noticed that the main difference between the awful team of Nov/Dec and the "budding" team of February was mostly due to the Herculoids.   Kyrie Irving and Dion Waiters had never shown an ability to maximize each others talents, Tristan Thompson was trying to set league records for % of shots blocked, and no one on the team could defend.  The Cavaliers' one month dance with competence was on the backs of some individual efforts and the incredibly entertaining and effective offensive chemistry of the 2nd Unit led by Shaun Livingston.  To this day it is difficult to see the synergy between Irving, Waiters, and Thompson, and TT can only play average basketball for so long before he settles into the league as a average player.
Kevin: For a while, I liked Grant's moves.  I liked the Waiters and Zeller picks.  The accumulation of draft picks was neat.  Last spring is when every move became a head scratcher.  I tried offering a semi-positive outlook, mainly because life is more fun that way, but hiring Mike Brown without an interview of anyone else?  We knew who Mike Brown was; I really wanted the franchise to try to find something fresh, someone that could be special.  I had Anthony Bennett fifth on my Big Board, plus the team already employed a 22-year old power forward, so that was a surprise. Certainly by the metrics that I respect the most, Earl Clark is not, and has never been a decent NBA player…and he was apparently the answer at small forward.  The Bynum signing was exactly what it was supposed to be, a dice roll.  I wish the team had signed a relatively cheap insurance big man in free agency, or acquired one via trade.  It seemed that acquiring a wing shooter would have been a higher off-season priority.  Then, the season started.  Kyrie, Tristan and Dion all began backsliding from their prior performance.  The head-scratching decisions of the spring & summer looked like disasters.  And it started to look clear this rebuild was taking on a 6 year plan.
Robert: I think I wrote it right after the Mike Brown hire: Grant had maneuvered himself into the position of "next domino to fall" at the slightest hint of team tremor. Wasn't expecting a mid-season dismissal, but even my lowest lowered execrations weren't this low. I didn't fully come around to the reality of just how broken this team has become until after the west coast trip when they began their current string of insulting efforts. hashtag teambroke
Nate: Grant's rebuild was in trouble the minute he drafted Anthony Bennett, who represented, in Grant's mind, the best prospect in a poorly perceived draft class. He was a high risk/high upside player that was always going to take a long time to develop, Unfortunately, for a team that had an expressed goal of not being back in the lottery, he was the exact wrong pick. A player like Oldadipo who could have helped the team compete more immediately, or Noel, who at least wouldn't have hurt the team, would have helped his job. The narrative was that he tried to trade out of that pick, but couldn't find a good deal. Sometimes, the "good" deal is the best one available. Grant's need to "win" every trade probably sunk him in that draft.
Patrick: Not until this year, when Dion and Tristan didn't improve. It looks like the players they are is a decent approximation of the players they'll be, at least on the Cavs. Couple that with Anthony Bennett's, uh, struggles, the ineffective summer signings, and Mike Brown's hiring and his weird inability to get anything from a talented roster, and it becomes clear that Grant had a good idea in the abstract that didn't come to fruition.
3.)  Do you think firing Grant will ultimately improve the team's outlook, or did they ax the wrong guy?
Tom: I don't think firing him will change much.  Drafting Joel Embiid and making smart FA moves in the offseason will improve the team's outlook.  Overall I thought Grant did a decent job.  It feels like he was trying to time the Cavaliers' ascent with the 2014 offseason and that he never got a chance to make a blockbuster move to snag Kevin Love or do something crazy.  I disagree with a few things Grant did early on, mainly, his choice to draft "highest perceived ceiling available" with no regard for fit.  But I can't shake the feeling that he was a smart GM that understood how to navigate a small-market ship through the tumultuous waters of the new CBA.  We'll see if David Griffin (who reminds me of Robert California) can break the Cavs out of their apocalyptic malaise.
Kevin: This season appears shot, and this move had to be made.  In the short term, a new GM wouldn't seem to have any impact to substantially improve or change the team.  If Mike Brown has lost the locker room, that is a huge problem.  Too bad they owe him $16 million still.
Robert: Who's the right guy?! Even if you don't exactly fawn over a Mike Brown coached team, you can't think he's THIS bad of a coach, can you? Some of the problem with these Cavs is, yes, while they work together like Autobots and Decepticons, no one has written off the long term projection of some of these players (though, to be sure, Tristan Thompson is strongly hinting at the fact that he's an 11/8 guy for life). So, blowing up the roster still seems premature. You just rehired this coach. Hulk mad. Hulk punch wall. (Note: Chris Grant just happens to be that wall.)
Nate: It ought to. Tristan and Dion's agents have to be telling them: you're not going to get nearly this many minutes or opportunities if you're playing for most other teams in the league. How many teams would Tristan Thompson start for right now? Three? If firing Grant gets the team to play better and pull their heads out of their bums, then it was a necessary move. Firings, especially in the NBA, are often unfair. Look at Mo Cheeks. He gets fired for Joe Dumars' stupid moves. Grant had to know that Brown's $16 million remaining after this season made Grant the expendable one. The firing sent a message, whether it was fair or not: ultimately it's up to the players to play harder. If they do, and Brown keeps losing through obvious coaching incompetence, then fire him too.
Patrick: Eh, I think it's kinda missing the point. He wasn't adept at pivoting the team towards being good, but his job is mostly player assembly and there was talent. His record in trades is good, but the Cavs plans were all contingent on drafting well and he didn't do that. However, the problem goes deeper than that.
4.) What stands out as the most indefensible decisions Grant has made as GM?
Tom: The move I hated the most was the Earl Clark deal.  There was just no evidence from my vantage point that he was worth the deal they gave him.  It seemed even worse in light of Shaun Livingston and Wayne Ellington getting away.  Those guys or DeMarre Carroll should have been available for less money than Clark got.  The one that could haunt the Cavs for a while is not getting a rim-protecting center out of 3 straight drafts.  Could have (many would say should have) taken Jonas or Nerlens.
Kevin: Not investing anything in free agency earlier.  Joey Graham, Samardo Samuels and Manny Harris in 2010?  Mychel Thompson in 2011?  Only CJ Miles in 2012?  Grant didn't need to make huge splashy moves, but there are plenty of signings that could have been made for cheap that would have improved the team at the time, and maybe actually built the winning identity and culture that he and Coach Brown talk about so much.  Instead, the franchise chose to purposefully stink, make a lot of draft picks, and build the world's wealthiest fraternity house.
Robert: Right now, it's the Jarrett Jack signing (which, for the record, I was a huge fan of when it happened). He could not work worse in a rotation with Irving and Waiters and you really just wish Mike Brown had talked sweet to Shawn Livingston who, it turns out, would have made so much more sense as our backup / guy who knows how to move a basketball. Plus, Livingston's got length. How did Brown let a guy with length get away?!
Nate: Gum Drop Bear was indefensible: an injured, overweight tweener who dominated a bad conference. Even when he plays "well," he racks up fouls like a fiend, doesn't have a position, and lacks "fire." There's a chance Anthony Bennett overcomes his rough start and becomes a productive player (he's been showing signs), but it was an indefensible pick for a man tasked with returning the Cavaliers to the playoffs. Through the first half of the season Anthony Bennett was the worst player in the league who received minutes. Playing Gum Drop in NBA games was not conducive to winning.
Patrick: Poor free agent record. He did his best on selling Cleveland to Andrew Bynum and Jarrett Jack, but if those two dudes are his best signings, that's a problem. He tended to throw too much money at the wrong dudes (ex. Earl Clark).
5.) How about the most unfortunate outcomes of reasonably sound moves?
Tom: The Jarrett Jack move made a ton of sense.  The Cavs are an extremely immature team and their star PG has injury concerns.  So why wouldn't you sign a 29-year-old scoring point that never gets injured and is loved (no seriously, LOVED) by his former coach for his leadership? And then there's the Deng trade.  After Grant nabbed Deng I argued with Nate that this would make the Cavs too good and if they weren't able to re-sign Deng it would mean they rented their way right out of the lottery.  And now the Cavs have been so terrible with Deng…it's mind boggling.  But the one that really gets me is the Bynum move.  I gave the Bynum experiment a 25% chance of succeeding.  And that's because I thought there was a 74.99999% chance that he wouldn't be able to overcome his injuries.  But the Cavs fell victim to the 0.00001% chance that he'd work so hard to rehab in Cleveland just to become a locker room cancer.  Awesome.
Kevin: Grant was always praised for his trades.  Some don't look quite as shiny in hindsight though.  The Jon Leuer trade was amazing at the time.  But now that Ellington and Speights are gone, the trade is Leuer for an as yet unrealized draft pick.  That pick could be a high lottery pick, or could become the 25th pick in 2017.  In that scenario, do we look back and say, "man, that Chris Grant was a genius.  He bought a late first round pick for five million dollars five years into the future."  The Deng trade could be even worse…if Chicago is picking twelfth in 2015 on account of the Sacramento pick, and gets to swap first-rounders with the Cavs (assuming Cleveland makes the playoffs), while Luol Deng plays somewhere else (please, not Chicago), that will be the ultimate "LOL Cavs #facepalm".
Robert: No one expected Anthony Bennett to have such an inauspicious start to his NBA career but, while it was a shocking pick, I'm still not convinced it wasn't a reasonably sound move. That draft, thus far, has proven the stink bomb wrapped in a skunk pelt that we were all told it would be. Looking at the UNLV Bennett at least made you think, "Well, this guy might be interesting." Unfortunately for Grant, Bennett has not (until, perhaps now — too little too late) been interesting. And embarrassing is not the -ing Grant was going for.
Nate: Jarrett Jack seemed so sound. He was 29. He'd just come off a monster playoffs next to Kyrie-like Steph Curry. Jack looked like a guy who'd be effective into his early 30s. Three more years was reasonable from a guy whose game didn't revolve around high flying or breakneck drives to the basket, right? Sure, Jack wasn't a great defender (despite Mike Brown ignorantly saying he was), but Jack was a good offensive player with a reputation as a leader. But who knew he'd turn into a free-throw line pull-up chucker terrified of the moment? (His crunch time free throw misses Friday were the most expected story line of the night). And this is why Mike Brown's seat is still hot. Brown has taken two productive offense veterans: Jack and Deng, and turned them into bad offensive players and worse defensive players.
Patrick: I guess I'm an Anthony Bennett truther. He was good in college! That talent didn't just evaporate, he'll be a lot better than many people think. However, drafting Bennett onto this roster was contingent on patience, developmental attention, and leadership to guide him, and none of these materialized. Mike Brown mismanaged the heck out of him early on, he was played out of position and there never seemed to be any chemistry. Bennett could have had a much better start given the right circumstances, but the Cavs were not those right circumstances.
Commentariat, how would you answer these?