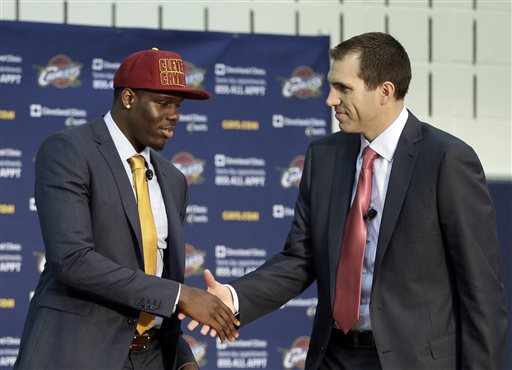 Over the weekend, Terry Pluto of the Cleveland Plain Dealer discussed the sense of entitlement that often comes with just being drafted in the NBA. Pluto wrote:
"With young men drafted high in the NBA lottery, they are made to feel as if they have 'already made it' in the NBA before taking a dribble as a pro. Even more disturbing is how the league fuels that entitlement.
The NBA draft is a huge television show. Then comes the All-Star weekend, where there is a game between rookies and second-year pros. Nearly all of those young players have done nothing to merit being on the same stage as the real All-Stars."
He goes on to say that by the time most high draft picks enter the league, they've played for so many coaches over the last handful of years and no coach for very long. This leads to high draft picks who have no idea how hard it is to win consistently at the NBA level and don't have a history of coaching continuity that can instill a base of basketball knowledge to help them when they try.
So much for building through the draft…
I made a similar argument to a friend last week, but came at it from a different angle. We were asking a common question this year: How did we just lose to that Phoenix Suns roster?! The answer to that question involves some inevitable head scratching about how a roster full of mid-t0-late first round picks (aside from the little used Alex Len) could so thoroughly dismantle a team featuring four top-four picks (and five top-seven, if you include Deng … though I generally still remove him from the discussion when thinking about this team's problems).
There's an NBA truism at work here — one that takes us all the way back to Mike Fratello and his slow-it-down Cavs teams of the mid-90s: the less universally accepted a player's talent level is, the easier it is to get him to buy into whatever team concept the coach is preaching (in Fratello's case it was defense and limiting the number of possible possessions in any given game — for Hornacek it's run, run, run).
And when you choose a player at the top of the draft, that player is supposed to be "the man."
The Suns roster looks "bad" because it's made up of a second round pick (Goran Dragic), a 13th and 14th pick (the Morris twins), a so-so former eighth overall pick back in the league after heart problems (Channing Frye) and a former 18th pick who the Pacers couldn't get rid of fast enough last off-season (Gerald Green). Oh, and a Plumlee.  They have a little bit of "star" sizzle in injured point guard, Eric Bledsoe, but even he was picked at 18 in 2010.
But Hornacek can look at his team and say, "If you play my way, you'll show your value in this league by contributing to a winning team. When you can contribute to a winning team, you'll have the chance at a long career in the NBA and make yourself some good money." Brown cannot spin the same commitment to winning, because he has a handful of guys who, by virtue of their draft position to some degree, aren't thinking "long career" but "a chance at a Hall of Fame career," not "make yourself some good money" but "earn yourself a couple of max contracts."
This is not to pick at the character of the young players on the Cavs roster but, as Wally Szczerbiak said as a guest on Brian Windhorst's "Below the Rim" podcast, professional athletes have to view their bodies like ATMs. The nature of the professional athlete's limited career arc, Szczerbiak argued, meant making choices to maximize your earnings in a relatively narrow window of time.
So, if you are an 18th overall pick, your path toward maximizing the earning potential of your career might be in being a grinding defender, a rebounder, a rim protector or a 3-and-D guy … a role player, in other words, who wants to excel by doing what his coach asks of him.
If you are the first overall pick in the NBA — or if you are the fourth — your conception of maximizing your career earning potential is completely different from day one. Your rookie deal is already pretty good money and a max-level deal could be in the cards after that. At least, that's what history has suggested those cards might be.
Again, this is not a claim that, for Irving, Dion Waiters and Tristan Thompson, this is all about money. But does Irving get his max extension if he'd come in, averaged 18 points, nine assists and moderately engaged defense while helping the team to a .500 record? Maybe he does, but 23 points, six assists and two all-star selections even on a bad team virtually guarantees it. Does Waiters's body ATM pay out most if he's a 15/4/4 guy who buys into Brown's physical defensive principles and keeps the ball moving because it helps the team win or if tries to prove he can be an explosive scorer either off the bench or starting? What new wrinkle to his shot does Thompson have to implement to convince his team he's worth $12 million a year come extension time?
This is why it becomes very tricky to ask these young players to also be your team's leaders. You have to get the personalities just right, along with the talents. That is the trick behind the Oklahoma City Thunder model. They selected the best player to come out since 2003, sure. But their next piece was a point guard who was a.) not a great shooter and b.) had a competitive streak that occasionally bordered on insanity. None of the Cavaliers core has that personality, even if their individual talents aren't half bad.
To be clear, I don't think the Cavs players are consciously out just to get theirs. I think they are young, developing players who are trying to become the best players they can be, just not necessarily the best players for their team to win right now. And the onus of this is not on the players but, rather, on GM Chris Grant.
Grant has become known as the master of the draft day surprise. He shocked us with Thompson. He shocked us with Waiters. And even when we knew he was probably going to shock us, he still shocked us with Anthony Bennett. Each of Grant's shocking selections (there was debate around Irving, but not much and definitely no shock) were a shock because they were considered reaches at that high point in the draft. Now, they have all shown that they are good NBA players — hey, even Bennett's been looking more respectable recently — but the risk/reward factor of a reach is extremely high and could be exacerbated by the entitlement and body ATM potential that go with being a high draft pick.
Simply put: if you reach on a player and you miss, you may still have a good player. You may just have a good player who may be trying to develop into an all-star. That gap between ability and perceived potential, then, could create a real rift when players are asked to sublimate their egos for the good of the team.
Could Grant's roster be particularly flawed, then, by having a core made up of several players he reached on — players who shouldn't be playing with the pressures and potential (financial and otherwise) that come with being a top five pick, whose perceived successes and failures are not so dependent on the numbers they produce?
Of course, he had to draft someone, but Grant may have made his rebuild that much harder by artificially inflating some of his core's body ATM withdrawl limit by reaching for them.