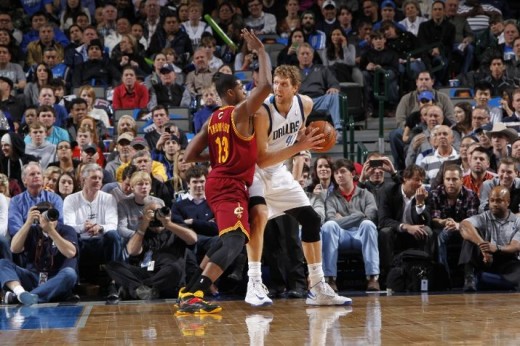 The Cavaliers probably had something to prove after a particularly tumultuous weekend. There are reports that the roster is headed for detonation, that new all-star on the block Luol Deng can't believe how laissez-faire the whole team is, and that the team is generally swamped by darkness. How a team responds to diversity and negativity is a big indicator of their potential. Reporters have called the Durant-Westbrook relationship into question before, but it always seems like they respond with a defiant show of togetherness. Against the Mavericks, the Cavaliers played the most average Cavs game I've seen from them. They weren't horrible, but there was a lack of urgency. The Mavericks maintained a steady lead over Cleveland all game and the Cavs yawned themselves to death.
Jarrett Jack started this game in favor of Dion Waiters and played 30 more minutes. Jack had eight assists and 12 efficient points, and generally looked far more comfortable with second units. However, he couldn't hang with any of the Mavs quick point guards. The Cavs don't match up well with Dallas. They have a very tall, athletic front line and lightning-bug guards who all spread the floor well. Samuel Dalembert had 18 points on 88% shooting and Brandan Wright presented the same type of problems for the Cavs in Dalembert's stead. Dirk Nowtizki was too much of something for each Cavs defender; too athletic for Tristan Thompson, too big for Luol Deng, and too both for Anthony Bennett. Overall, the Mavericks outrebounded the Cavaliers by 14.
The Mavs only led by two after a quarter, but it probably should have been more. The Cavs found themselves out of position trying to defend any kind of action. If Dallas ran, they ended up with two shooters splitting one trailing Cav. If they picked and rolled, they could take advantage of disjointed help. In the second frame, the Mavs made two key tweaks that swelled their lead, while the Cavs continued to try dribbling their way through entire posessions and switching as fast as possible to no success.
On offense, the Mavs ran pick-and-pop plays for Dirk Nowitzki. Tristan kept going under screens which gave Dirk the small pockets of space he needed to hit shots. The Nowitzki-led Mavs ripped a quick 17-4 run to take the first substantial lead of the game. Defensively, they applied extra pressure to Cleveland's ballhandlers (read: anyone who touched it) which slowed the Cavs down and started a few fast breaks. They even moved to a zone at one point, which Cleveland didn't exploit.
Anthony Bennett saw heavy minutes again tonight, and he proved more able than Cavs fans have been accustomed to. He proved immobile in the post and altered a few Dallas shots. The Mavs made a concerted effort to switch him onto Dirk and he once muscled him uncomfortably far from the hoop. He scored an almost-career high 11, and all three of his makes were swishes. However, he missed five shots short off the front rim. Not sure his legs are quite there, but he's improving and looking like an NBA player finally. I am a Bennett optimist and I think Cavs fans will see more of this Bennett than the scared Bennett of the first two months. Take your silver linings and hold onto them tight.
The second half was more of the same blasé basketball. The Cavs started out with energy and a nice Kyrie-to-Tristan alley-oop, but it didn't last too long. Dallas didn't seize the decisive lead until the fourth quarter, but they played their game and got whatever they wanted. They shot 46% on threes and easily moved the Cavs around until a shot was open. Thompson flexed his athleticism and had a nice line (17-8 with two blocks), but was more receptive than active. Kyrie shot well and seemed to hit a big three anytime the game seemed like it was accelerating its trot into the loss column. For the most part, the Mavs defended him well but he got where he wanted and shot well from the outside.
Jack had a four-point-play opportunity midway through the fourth quarter, but rather than seize on that momentum, Cleveland laid back and made themselves into a perfect canvas for Monta Ellis to paint on. Nowitzki didn't play the last seven minutes of the game. He didn't need to. Ellis sliced through the first line of defense seemingly every possession, scoring and distributing wherever he wanted.  Monta Ellis has a reputation of a loose cannon, but he looked smooth and relaxed as he dismantled the Cavs late in this game. There were flickers of resistance, but nothing ever was sufficiently organized to make a real impact.
Etc.
– Anthony Bennett was the first player off the bench today. He mostly played power forward, which is where he should be playing unless he suddenly regains his UNLV quickness.
– The Mavs announcing crew is one of my favorites. They are smart analysts, but also are consistently funny and lighthearted. Not being a homer goes a long way for me.
– Dion Waiters completed the rare season-long o'fer against the Mavs, going 0-4 just like last time these two teams played. I hope Jason Lloyd asks him if he is afraid of horses.
– Ballhandling is a quietly important skill for teams to have, but sometimes it seems like the Cavs are misallocating their surplus. The second unit, with solely Jarrett Jack as ball dominant guard, moves the ball more than the starters. Deng has nice handles and Waiters can make moves across defenses, but Irving is one of the best dribblers in the NBA. Too many cooks.
– Brandan Wright shoots knuckleball free-throws.
– Anderson Varejao vs. Samuel Dalembert was a fun matchup, with the Haitian getting the better of the Brazilian. Both dudes are athletic in very different ways, but have similar games.
– The Cavs have now lost five straight games and have the same record as the Utah Jazz.