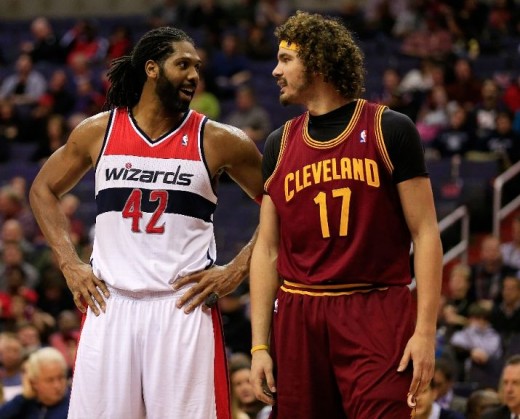 Tonight is the first game sans Chris Grant.  A moment of silence, please.  Pour some liquor on the curb.
Ok.  Let's be strong.  We need to carry on.
Entering tonight's action, the Cavs hold the league's longest losing streak.  And while Luol Deng will miss the game with a flu, I'm not even sure that's a bad thing anymore; it is becoming apparent he may be a Chicago Bulls spy, performing secret espionage against Cleveland.  On the bright side, Kyrie will suit up after reportedly being sick earlier.  And so it begins…Irving vs Wall…Waiters vs Beal…surely, the starting backcourts in the 2017 Eastern Conference Finals.
The evening started well enough, with the Cavs forging an early lead between two Irving buckets and two Miles scores. High octane scoring dominated the early portions of the game as midway through the first, the Cavs led 19 to 18.  Nice ball movement generated a few Tristan dunks, including a fantastic transition finish.  The defense was pretty much garbage though, as the Wizards found whatever shot they wanted.  With two minutes remaining in the first, it was 30 to 30, as CJ piled up 12 early points.   Ultimately, the Cavs could not get the Wizards to miss though; Washington hit all of their first quarter three point attempts.  John Wall penetrated to where he wanted, drew the defense, and found shooters.  Luckily, Dion Waiters also could not miss, canning three jumpers, so despite allowing a ridiculous 38 points, the deficit at the quarter was only six.  CJ Miles scored 12, Kyrie pitched in six points and six assists, and TT tallied six & three.   Of course, the Wizards made 65% of their field goals, all of their threes, and rolled to 12 assists against two turnovers.
Did I mention there was an Alonzo Gee sighting?  With Deng hurt, and presumably because Earl Clark stinks, AG received a lot of playing time tonight.  Early on, it was not good, with wild forays to basket and aborted corner threes; the usual assortment of his tricks, but it does get better.  The second unit began the quarter well, as Tyler  Zeller dropped in a couple buckets and Dellavedova threaded a neat two-third court dime to Bennett for a layup; the Cavs led 44 to 43 with eight minutes left in the half.  Eventually it became clear that Dion was in one of his blind zones; nothing could miss.  He converted six of seven for the half, with all six makes on jumpers and the lone miss occurring at the basket (of course).   Not wanting to get left behind, Anthony Bennett hit a jumper from a pick & pop with Kyrie, then drained a three as the ball swung around the perimeter.  The Cleveland ball movement exceeded typical expectations for the entire half, and Bennett scored seven points on three shots.  Cleveland led  56 to 52 with five minutes on the clock.  Over-dribbling resulted in back to back turnovers by Dion, but then the shot-making resumed, with Gee splashing home a corner three (maybe he has been practicing those) and Kyrie drawing a series of fouls.  At the half, the score was 67 to 63, Cleveland.  If you like offense (or hate defense), that's one hell of  a half.   Kyrie piled up 12 points & 10 assists, his first single half double-double.  CJ Miles scored 14 on six of eight shooting, and Dion added 13 on six of seven.  The Wine & Gold shot 60 / 50 / 100 with 15 assists on 25 field goals, compared to only six turnovers.  The Wizards feature the NBA's 8th best defense; why doesn't this Cavs offense show up more often?  On the downside, the Wiz made 54% of their shots and 70% of their threes.
Early in third, Kyrie racked up his 11th and 12th assists, on a give & go with Andy and a pick & pop with Tristan; the twelve assists tied Kyrie's career high.  Including 5 more points from him, Cleveland led 80 to 74 with five minutes left.  Cleveland's defense looked much improved early in the half, as the Wizards took mainly long twos, and missed most.   Then, the team's super-subs checked in.  Bennett drove past Gortat, and attacked Nene, netting some free throw attempts.  Eventually, Kyrie took a Gortat elbow to the head and went to the bench, leading Waiters to decide it was his time.  He scored on a jumper, then a layup, then after another beautiful Delly dime in transition for Dion free throws, Waiters canned a few more jumpers.  At the end of the third, Dion totaled 20 points on 9 of 11 shooting, as Cleveland's shooting percentages stood at 59 / 50 / 91, taking a 93 to 85 lead into the game's final stanza.
The Cavs kept on trucking through the early portions of the fourth.  Dion kept hitting jumpers.  Delly looked good running the point.  Zeller blocked a shot, grabbed an offensive board and made freebies.  Alonzo Gee drove for a layup, pushing Cleveland to their widest margin at 101 to 87 with nine minutes left.  As was reasonably expected, the Delly, Dion, Gee, Tristan, Zeller offense started looking ugly though…where was Kyrie?  There were nearly two 24 second violations in one possession…there were Tristan Thompson jumpers…the well went dry for Waiters' hoists…I started getting a bit nervous, but then, an Alonzo Gee putback SLAM!
We now go live to the Hetrick house, where the clock cannot move fast enough… And a Waiters driving layup puts the Cavs up 107 to 96!   Nothing is easy for the Cavs though; after a really crappy offensive possession, John Wall hit a three, dropping the lead to six, with a few minutes left.  I am officially nervous, but a nice Waiters to Andy pick and roll quells that momentarily.  109 to 101 with under two minutes left.
My goodness, can this team makes things hard though.  After allowing an easy Gortat dunk, Kyrie gets his shot blocked, allowing John Wall to run the other way.  Suddenly it's 109 to 105 with 27 seconds left and the Cavs  are inbounding the ball.  Wouldn't you know, almost a five second violation…how can this team be so maddening? Lest there be too much drama though, the ball gets to Kyrie, who hits both free throws, extending the lead to six points with 25 seconds left.  Whew!
Except not.  The Cavs allow an easy layup to John Wall, before Kyrie drained two more free throws.  But aaaahhhhh!!! Martell Webster cans a three. 113 to 110, with twelve seconds to go.  Cleveland manages another successful inbounds…Ok…calm down, Kevin…this will be all right.   But then, another Webster three pointer!?!?  Why is winning so hard?  Up 11 points with two minutes to go, and eight with 50 seconds left, of course this game needs to be exceedingly difficult.
Now it's 115 to 113.  Two seconds remaining.  Jarrett Jack heads to the line, where in this comical folly of a season, he misses both.  Of course he misses both.  Luckily, Washington is out of timeouts, can't get off a shot, and the Cavs escape with a win.
Man, this team is frustrating.  Hey, a win is a win though, right?   At least the bleeding stopped for one night.  Anthony Bennett is beginning to look like an NBA player.  Kyrie tied a career high for assists.  He and Dion both had good games on the same night.  I'll focus on the positives, and for a moment forget that there were prior games, or even future games.
Bullets:
Clearly, Chris Grant was the problem.  Finally, that riddle has been solved.
His first round picks combined for one of the collective group's better games.  Kyrie finished with 23 points and 12 assists, including draining all 13 (huge) free throws.  Can someone break the Cavs season into maybe…six minute blocks, and figure out the Cavs offensive rating when Kyrie has two or more assists, compared to when he doesn't.  The ten first half assists were lovely tonight, and while it may be anecdotal, it seems that many of the team's recent offensive outbursts coincide with times when Kyrie is capably involving teammates.
CJ Miles scored 18 points on 7 of 11 shooting and finished second on the team in +/-, somewhat of a recurring trend this season.
Anthony Bennett tallied eight and six, on three of four shooting.  The team was +13 during his time, a huge contrast to many of his disastrous stints.  His shot looked a lot better tonight, with none of his three jumpers ending short.
Tyler Zeller definitely looks stronger this year.  Last year, Nene would have decimated him, but on several occasions, TZ maintained post position while battling Nene.  Zeller finished with eight points, five rebounds, a steal and a block.
Jarrett Jack had 0 points, 0 rebounds, 0 assists and 0 steals in 12 minutes, probably due to mourning Chris Grant's departure.
Dion finished with 24 points on 11 of 18 shooting.  He was ON FIRE early.  As the game wore on though, his jumpers became more off-balance and hurried.  This was another game where Dion checked in midway through the third and didn't sit again.  If Dion is going to be the sixth man, and close games, Mike Brown has to find a few minutes to sit him in the middle of the fourth.
Waiters gets a lot of grief for his defense, much of it deserved, but most of his issues are off-ball.  There are stretches on-ball where he looks really good.  There was a possession in the Houston game, when James Harden appeared to be throwing every move in the book at Dion, but couldn't shake him.  Once tonight, Dion clung to his man's side and broke up a tight give & go; it was a play I don't see many defenders make.  Quick lateral movement really stood out a few times, helping to hold Brad Beal to nine points on 15 shots.  If a coach can get Dion to play within the flow of an offense, and focus both on & off the ball on defense, nights like tonight are reminders about the contributions he can make to a good team.  Of course, if he wants to pound the ball into the floor for ten seconds at a time and lose his man on D, well, that's a different story.  He is 22.
Delly finished with seven, three, and three, including the two really nice transition dimes.
Alonzo Gee finished with 11 points, seven rebounds, a steal and a block.  He slammed home a few putbacks and hit a corner three.  After his first few minutes, tonight was maybe the best he looked since 2012.