The Cavs are terrible, but they are also streaky.  Tonight's game was very reminiscent of a game last week against the Mavericks, where it seemed like the Cavs were going to be blown outta the gym, only to fight back with a significant run before succumbing to unforced errors.
1st Quarter: Mike Brown opted for Jarrett Jack to start in place of C.J. Miles.  I guess the logic is that Jack forces Kyrie to play off the ball more.  So even though Miles is the only player on the Cavs that has a positive +/- on the season, and the Cavs are -9 pp48 with Jack on the floor, it's….ok it doesn't really matter.  Try anything.
Dwight Howard can still abuse a team that has no post defenders.  He went 7 of 7 in the first quarter and even made a free throw, bringing back memories of his insane FT shooting in the '09 playoffs.
The Rockets got whatever they wanted on offense.  They only took 3s and shots in the paint.  The 3s they mostly missed, the paint shots they mostly made, and the Cavs were down 31-23 at the end of 1.
2nd Quarter: Hey, Omri Casspi can play basketball!  A young, confidence guy that plays scrappy D, rebounds, and can work as a stretch 4 in certain situations.  Who saw this coming?  Casspi's 2 free throws capped off an 8 point quarter for him and pushed the Rockets lead to 19 with 6 minutes remaining in the 1st half.  At this point it looked hopeless, but the Cavs actually battled back behind some spirited play from Luol Deng and Dion Waiters.
Dion started to enter the "Dion Waiter's Zone" near the end of the half and drained a big 3 to cut the lead to 6.  He finished with 15 points in the quarter.  Unfortunately, James Harden drained a 3 at the buzzer to push the lead back to 9 and the long halftime pause took the fire out of Dion's hot hand.
3rd Quarter:  Waiters' must have transferred his hot hand back to Luol Deng, who came out firing to start the 3rd.  The Cavs actually went on an 11-0 run to start the quarter which was very encouraging.  And then they fell apart, converting only 4 field goals over the final 9 minutes of the quarter.  Their 2 point lead vanished quickly and they never seriously threatened again.  Dwight Howard and James Harden pushed the lead back out to 11 to end the 3rd – almost every shot was in the paint.
4th Quarter: The Cavs needed another trip to the Dion Waiters' zone, but they never got it.  The game didn't reached blowout status, but it never felt within reach.  The Cavs' defense held the Rockets to 45 points in the 2nd half but they couldn't score enough to capitalize.  Henry Sims got a lot of burn tonight in place of the injured Varejao, and he played valiantly, but there just wasn't enough offense.
Shot Selection: Check out the shot chart.  I think the Rockets took 6 shots tonight that could be classified as mid-range.  The Cavs, conversely, took a lot more than that.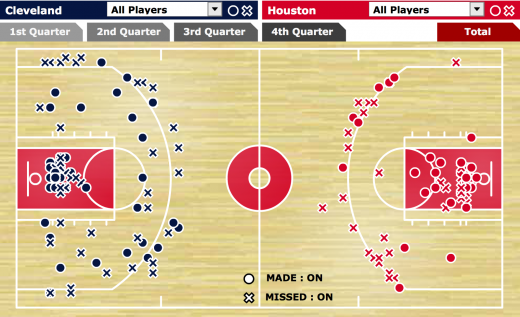 Notes:
-Henry Sims did an admirable job tonight.  He finished with 7 points, 6 rebounds, and 2 blocks in 21 minutes of action.
-Tristan Thompson is a good rebounder and he puts together some decent box scores from time to time, but he just hasn't seemed like an impact player this season.  His defensive rating has gotten worse each month.  He finished with 6 points and 7 rebounds in 35 minutes.
-Dion had an amazing first half (19 points), and was completely absent in the second half.  Pretty typical Dion.  He finished with 19 points on 14 shots in 26 minutes, which are nice numbers.  I'd like to be encouraged by his improved mid-range shooting, but he needs to attack more.  It's not a state secret, but for Dion to become a solid player he really needs to figure out how to finish and draw fouls.  Being able to attack and stop the clock is a steadying force for a player and a team.  The Cavs have no steadying forces right now.  Their best offense comes from hot-handed perimeter shooters, which can vanish as quickly as a coach calls timeout.
-Kyrie seems to be in a shooting slump the last few games.  He did manage to score 21 points and dish out 7 assists, but only on 8-19 shooting.  He also coughed it up 6 times.
-Luol Deng was the Cavs' MVP tonight.  He was steady all game and finished with 24 points on 10-19 shooting.  He and Waiters had some decent chemistry in the 2nd quarter when they made their run.
-Tyler Zeller seems tougher this year than last year, and I'm happy about that.  He also seems like a good dude, which this team may need now more than ever if the reports out of the locker room are true.  He was the only Cavalier tonight with a positive +/-, posting +1 in 27 minutes.  He had his hands full with D12 and almost fouled out, but he was scrappy.
-Jeremy Lin was pretty linsane tonight.  He posted a triple double in under 30 minutes.  He gets into the paint at will.
-Dwight Howard is still a load.  Somehow he was outrebounded by two different point guards on his own team, but he finished 10-12 from the field and made 6 of 8 free throws.  (I'm going to look up Howard's career FT numbers against the Cavs.)
-Patrick Beverly, much like Jeremy Lin, was all over the court.  Credit the Houston guards for wreaking havoc and feeding their top scorers.  Beverely had a Rondo-esque 10 rebounds, 8 assists, 5 steals, 1 block, and zero points.
-James Harden and Terrence Jones combined to go 18-31 from the field.
-Omri Casspi was active in his 18 minutes.  He scored 9 points on 6 shots and grabbed 3 boards.  He's posting a career high PER with the Rockets.
The season seems like a lost cause.  Reading about the small separation from the 8-seed has gotten more irritating than hearing about Tristan Thompson's double-doubles.  Pretty inconsequential numbers, in my opinion.  Nothing is really working, at least not consistently, and the rumblings from the locker room have approached seismic levels.  #ontothenextone