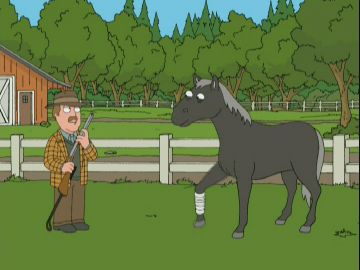 That was awful. I've had surgeries that were more fun than that game. Cleveland didn't compete in the first half, spotting the Knicks 17 points on a 38-21 first quarter, and then mailing in a 22-15 second quarter. A token effort was made in the third.  Cleveland actually cut the lead to 15 at one point, and outscored New York 29-21 (this game's lone moral victory), before the Knicks "rallied" to post a 36-21 fourth.  There was very little good, and a lot of bad in the way the Cavs played tonight
Andy didn't suit up, and Tyler Zeller started in his place. New York came out on fire, and Cleveland seemed like deer in the headlights. Mike Brown seemed powerless to adjust to New York's small lineup, with Carmelo Anthony at the four, and J.R. Smith at the three.  The matchup became Deng on Anthony and Tristan Thompson on J.R. Smith, because, you know, that makes sense. Tristan Thompson was helpless. Smith destroyed him, and Tristan finished with two points, two rebounds and five personal fouls in 22 minutes. To say that teams have figured him out, would be like saying hackers have figured out Target. Tristan Thompson can't guard anyone who can shoot, and he can't shoot, himself.  I love the guy, but he's been exposed.
Luol Deng played a valiant game.  The Cavs made a concerted effort to get him the ball early, but he just couldn't finish consistently around the basket. The achilles injury is clearly bothering him. Deng ended up 3-9 with 13 points and 11 assists. His defense on 'Melo was decent in the second half was solid, and the fact that keep  I will miss his game when he's playing anywhere but here next season.
—
Update: Logged in to find that I'd hit "Publish" in my sleep last night, so, I apologize for the brevity of the initial post. It was supposed to be finished this morning. I'll add that Dion Waiters played a a solid game and seemed to exert some effort in scoring and playing with "energy" (what does that even mean?). He was 8-15 with 21 points in 25 minutes, but as Greg Anthony noted in the TNT broadcast, the Cavs seem to have no offensive structure, no idea what they want to do, and everything is initiated with the dribble.
Speaking of off the dribble, Greg Anthony quoted Mark Jackson, coach of the Warriors, as saying that Jarrett Jack was one of the, "greatest leaders he's ever been around." If by "leading," Jackson meant chucking up contested elbow jumpers early in the shot clock, then I'd agree. Jack joined the "one-fer" gang, and went 1-8, joining Thompson, Clark, Bennett, and Zeller in the "yay, I made (one) basket" department.  They were better than the "o-fer" gang of Gee and Delly who couldn't hit any field goals. Jack, like many other Cavs just played as if he didn't trust any of his teammates, and just wanted to pull a Snake Plissken, and Escape From New York.
C.J. was a not awful -8 in 13 minutes (not awful compared to everyone else).  He finished with nine on 3-4 shooting from outside the arc.  Naturally he only played 13 minutes.  Zeller played 14 and had two points and a rebound.  Those players' minutes and their production point to a humongous problem with this team. Outside of Irving, Waiters, Andy, Deng, and — debatably — Tristan Thompson, no one on this team seems to know what their role is. It's not helping. C.J. doesn't know if he's playing 10 minutes or 35.  Zeller doesn't know either. It doesn't seem as if there's, you know, a "plan" with each game.
Brown seemed to have no answer for New York's offense. I guess he didn't realize that with Deng guarding Melo, Smith would be on Tristan. The Cavs had no idea what they wanted to do on offense, and half the subs came in and ran around like chickens with their heads cut off. The most comical Brown move was to bring in Anthony Bennett to guard 'Melo, which lead to vicious crossovers and violent dunks for Anthony (Caremelo Anthony). Gum Drop Bear returned from his his outlier 15 point game to score 4 points off 1-6 shooting.
A Henry Sims sighting completes the night.  He played hard, got some layups and some blocks. He earned himself some more playing time. Maybe he should get some minutes when whoever is going replace Chris Grant sends Anthony "sunk cost" Bennett to the D-League.
It's hard to know what to say about this team, other than they seemed scared out of their minds to be playing on national television. Please, for the love of God, Dan Gilbert, start interviewing people to run this basketball team. You and the people you have in charge are doing an awful job.