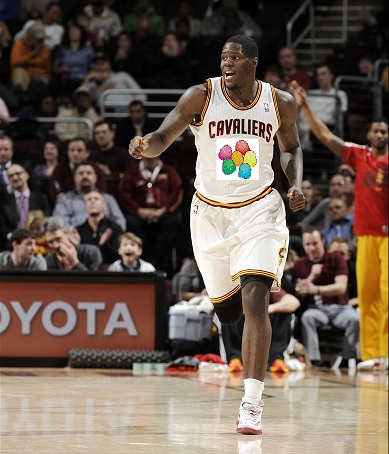 Well, the Cavs kept it close for a quarter and a half tonight. With a 44-42 lead with five minutes left in the second, Dion Waiters lost the ball coming off a screen, and then committed a clear path foul on Eric Gordon. The Pelicans got a four point possession after Gordon canned the freebies and then drained a jumper in C.J. Miles' grill. New Orleans scored eight more unanswered points to close the quarter on a 16-0 run. The future best player in the NBA, Anthony Davis, made sure the game was never again in doubt. But we did have a silver lining. Gum Drop Bear provided heartfelt entertainment throughout the evening. If you watched this game as if it was a cartoon made for six year olds, it wasn't that bad.
It's been discussed on this blog that Anthony Bennett is actually a giant Care Bear playing in the NBA. Once you realize this, it explains so much, and makes watching him enjoyable. But the saga of how a Care Bear made it to the NBA begs a lot of questions. In more recent lore, Care Bears seem to have articulated fingers.  In olden times, they seemed to have appendages that end in mitten shaped hands. In examining a care bear that I found deep underneath my daughter's bed, I found that the stuffed variety of Care Bears contained the stiff outline of a thumb. Clearly, a life sized stuffed bear would be unable to shoot a basketball, and would lose it easily. This may explain AB15's shooting percentages.
We need an expert to clarify this. Adult fans of My Little Pony are known by the unified term, Bronies. Unfortunately, there's a schism in the fanboy community over whether adult male Care Bear fans are known as "Care Dudes" or "Belly Bros." Regardless, the only person I know who might be a Care Dude is CtB commenter, Ross, who invented the Gumdrop Bear moniker. With Ross unable to comment, the only way we'll be able to be answer this question is to watch GDB play.
Fortunately, Mike Brown wanted to know, too. So he called up Bennett after two weeks of DNP/CDs and decided to play him 31 minutes tonight. The Cavs were without Andy for this one, and started Tyler Zeller in his stead. When ZPA subbed out at 3:29 left in the first, Mike Brown decided to begin painting his absurdist masterpiece by inserting Anthony Bennett at center. A running diary follows, to be followed by future generations of Belly Bros. and fans of Mike Brown's performance art.
First Quarter
2:52 Eric Gordon drives and scores over Gum Drop Bear, who looks about 6'5″ standing next to Anthony Davis.  I want a refund, NBA Draft combine. 40 seconds later, Gordon does it again. Anthony Bennett will never be known as shot block bear.
1:40 Dion Waiters steals the ball from Tyreke Evans and races up the right sideline. Bennett trails, and Waiters clearly wants to get him a bucket.  Dion slows, pitches to Gum Drop, who gathers slowly and then gets the ball knocked out of his mitteny mitts by Care Bear villain, Beastly. "Oh, Gum Drop Bear," I utter. In retrospect, the shot blocker may have Anthony Davis. They have the same unibrow.
1:34 Bennett drives from the right elbow and throws a pass off Tristan Thompson's hands. Mittenitis is apparently contagious.
0:34 Gum Drop Bear catches the ball at the top right of the key and bricks a 20 footer over Anthony "Beastly" Davis. I've seen nothing in this quarter that makes me think that Bennett's arms and hands weren't sown on at the Hasbro factory.
Second Quarter
11:44 Davis blocks Gum Drop Bear's dunk attempt.  Bennett shakes his head at his lack of a call.  Apparently, they don't teach you how to shield the ball from the defender in Canada, because Gum Drop looked an awful lot like Tristan Thompson on that one.
10:22 Jarrett Jack hits a trailing Gum Drop Bear on the break. Instead of trying to put up a right side layup, Bennett channels his inner Share Bear, and throws a pass to Waiters that goes all of two feet before falling to the court as Dion looks on disgustedly. Austin Carr yells something about not being afraid of failing. But I empathize. The ball must have slipped out of GDB's cottony paws.
8:30 Gum Drop Bear chases Darius Miller out to the right wing on defense.  Miller shoots, and GDB challenges by jumping from seven feet away and throwing his Care Bear bottom into Miller. He ends up straddling Miller in some sort of reverse-Gum-Drop-teabag closeout. Riotous laughter erupts in the Smith living room. Miller makes three free throws.
7:18 Bennett shows on a pick and roll and launches his gum drop shaped body into Eric Gordon 32 feet from the basket. Gordon bounces and Austin Carr goes off. "I hate that. I hate that play.  If you don't have the right angle, why you wanna bump him like that?  Slide your feet and make him turn the other way. But don't run at him like a truck coming out of a (loses train of thought)… (exasperatedly) Why do that? It makes no sense that far from the basket."  Why indeed, Austin.
6:31 The Cavs score out of a timeout when Bennett curls off a screen to the left of the key, catches, and drains a 17 footer!  12 seconds later, Gum Drop gets whistled for a defensive three second violation. You win some, you lose some.
Third Quarter
7:20 Bennett crashes for a pedestrian offensive board.
6:58 Anthony Davis takes a rebound away from Bennett by out-jumping him from behind.
6:41 Defensive rebound with some elevation.
6:33 Offensive rebound! AB spins and feeds Dion on the left wing, and then sets a screen for Waiters, who scores. The Cavs scorekeepers are very generous and credit AB with an assist. What is happening?
4:11 One of many possessions in this game where AB is camped out in the right corner. This is called "foreshadowing."

2:29 Bennett shot-fakes from the right elbow, drives left on Ajinca, and tries to slam it over Greg Stiemsma. Nice move, Anthony! He doesn't succeed but he does get to the line where he splits the pair.
2:12 After a show-and-recover on a screen without running someone over, AB15  displays some nice effort going after, and grabbing, a defensive rebound.
0:56 Anthony Davis schools Gum Drop on a spin and drive from the free throw line. This is not a fair match-up.  Davis has at least 15 inches on Bennett.
Fourth Quarter
11:00 Bennett is throwing "the butt that almost destroyed Darius Miller" into screens a couple times per possession. He's subtly using his body to rub defenders off guards. It's nice to see… Hey! Get your mind out of the gutter.
9:23 Jack lasers a pass to AB on a back door cut, and Bennett destroys the basket with a two handed dunk! He hangs, and did I hear a snarl?

8:44 Bennet screens for Jack on the right wing, slides to the right corner, and Jack hits him on the pick and pop.  Bennett elevates and shoots a form perfect jumper over Greg Stiemsma. The crowd gets on its feet. THOSE THUMBS ARE OPPOSABLE!!!!
6:48 Those huge hands and enormous wingspan allow AB to easily grab another defensive board. He gets Austin Rivers in the right post on the ensuing possession and instead of backing him down, he shoots a turnaround brick to the right baseline — a poor choice.
6:00 Anthony Davis and Anthony Bennett tie up a rebound for a jump ball.  Fred McCloud remarks that Bennett is 6'8″, and Davis is 6'10", or the longest two inches in human history. Somehow, the Cavs win the tap. AB trails a Kyrie fast break and gets fouled as he goes hard to the rim. Mike Brown destroys his rhythm by calling a timeout, and AB sends them both off the back of the iron after the commercial.
4:18 Cavs run that right wing pick and pop again, and Kyrie hits Bennett in the corner. AB bounces the ball on the catch, sets, and drains another jumper over Stiemsma.  IT'S A CARE BEAR MIRACLE!!!!!!!!!!!! I'm actually happy, even though the Cavs are down 16.
3:45 Cleveland runs that right side screen play again. Kyrie goes away from the screen, throws it to Jack on the left wing, who spots Bennett cutting hard back door. AB catches, elevates and gets blocked by Stiemsma but gets to the line where he makes both free throws. Wow. Anthony Bennett looks like a real, honest to God, NBA player right now.
3:31 Anthony Davis drains yet another jumper over Gum Drop Bear, this time from the right baseline. GDB picks and pops from the top of the key and launches a straight on, heat check brick, then fouls Davis next time down. Slow your roll for a second, Gum Drop.

1:45 Nice hand-in-the-face D by Bennett on Anthony Davis turnaround. AB turns and tracks down the rebound efficiently. Was there an athletic young basketball player in that bear suit all along?
0:25 Anthony Bennett catches the ball between the top of the key and the left wing.  He turns, shot fakes, drives left, and finishes with a nice lefty layup on Anthony Davis.  Where the hell did that come from? After the buzzer sounds all the Cavs youngsters stand in a circle and sing "Let's make a rainbow," fingers intertwined.
"Let's make a rainbow! Do the best and reach for the sky, all that matters is that you try…"
"Let's make a rainbow! All the colors in harmony. When we work together, you and me…"
Conclusions
The fans at the Q deserve a lot of praise for this one. 13,985 souls braved the bitter cold and stayed almost to the end to cheer on Anthony Bennett. It was very cool to see and made me proud to be a fellow fan.
Oh yeah, the Cavs lost. And yeah, the only players with positive plus-minus got it in garbage time, but at least Dion Waiters kept working when the game was out of hand. He finished 9-13 for 21 points, and showed the most effort of any Cav when the chips were down.  Much of Irving's game seemed to revolve around hitting his scoring nut.  I assume that's why he was out in the late fourth.  He was solid, yet unspectacular, offensively.  To his discredit, the Cavs had a hard time getting into their offense. They had an even harder problem dealing with Anthony Davis, the unbelievably underrated Al-Farouq Aminu (+24), and Eric Gordon (20 points, nine dimes).
Greg Stiemsma came off the bench to outclass the incredible, disappearing Tristan Thompson, who only had five and five in 32 minutes.  Zeller had an electric game with 13 points and 10 boards, so naturally Mike Brown only played him 21 minutes. Jarrett Jack was somehow a team leading +12 with two points and three dimes. He wins garbage time.
The Cavs may be in tank mode. They seemed resigned to failure in this one. While sitting Andy, the Cavs played Anthony Bennett 31 minutes and left the electric Tyler Zeller on the bench. They are ruining Luol Deng and seem to have no idea on how to get him the ball in places he likes to score. I'm becoming increasingly convinced he's re-signing with Chicago in the off-season, and that they fleeced the Cavs out of some draft picks. Also, Dan Gilbert threw away the $6 million dollars that he could have saved when waiving Andrew Bynum. I'm resisting the urge to make a joke about throwing away the $16 million that is owed Mike Brown for the next four seasons.
And yes, it appears Anthony Bennett may not actually be a Care Bear in human form. He did not look like one of the worst players in the history of the league, tonight. And if tanking it is, then I say more Gum Drop Bear, please (I still love the nickname). I won't stop using it unless he actually ends up being good.  OK, I lied.  I'd settle for average.
Mike Brown is taking his performance art piece, "the coach," on the road to New York, and national TV, tomorrow thursday, against the Knicks.  The rumor is that he plans to showcase dancing Care Bears marching ambivalently to the music of Phillip Glass, and on playing Sergey Karasev for 20 minutes at the newly created position, "point-shooting-pivot." Hey, like Frank Sinatra said, if you can make it there, you can make it anywhere. Until then, Belly Bros.