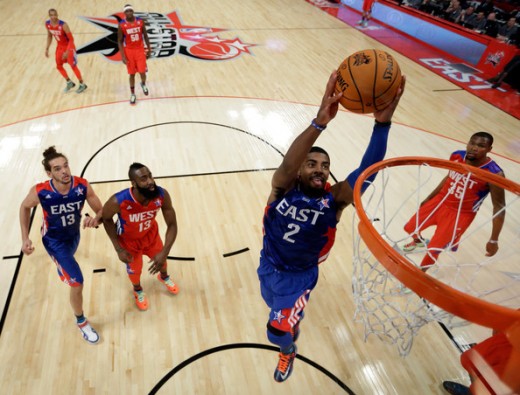 Kyrie Irving is a 2014 all-star. He was a 2013 all-star. These two actualities are equal, but the thrill is gone this year. While all-star status always imbues a certain prestige or legitimacy on a player's season, this go-round it has come on the back of a war of attrition rather than a pyroclastic announcement of intent. Kyrie Irving and the Cavs are sputtering around aimlessly, similar to last year, but trajectory and expectations have created a different environment. With Kyrie at the center of the team, his all-star selection served as a natural jumping in point for writers to consider the intertwined struggles of Irving and the Cavs.
Most prominent was Jason Lloyd's scorching referendum at the Akron Beacon-Journal. In the piece he takes Irving to task for being overly concerned with his brand and image at the expense of improvement. He calls Kyrie immature and details how he acts as if he is above the team and thus shielded from rational criticism, which could theoretically help the Cavs unmire themselves. Irving deflects, blaming his struggles on team defense or entropy but Lloyd does have a valid point. Kyrie has been aloof for a while.
Zach Lowe picked Irving as an all-star, but with heavy caveats and the admission that he was interchangeable with a few other deserving wild cards. Shaun Powell named him to his East reserves, but in the write up, seemed to disagree with himself and choose Kyle Lowry instead. Expert consensus puts him on the team begrudgingly, but it doesn't matter in an ontological sense. Kyrie is an all-star, and a deserving one. Whether or not he deserves to start is another matter, and one that requires parsing exactly what an all-star means in terms of popularity versus output. Kyrie's production is steady now after a wonky start, but there is something off about him. It's not a doldrum you can suss out from stats, but it's the type of malaise that is only apparent after having seen him play in previous seasons.
You'd be forgiven for thinking Kyrie had statistically declined over the last month and a half. He has held steady a shade below his career numbers, but the flair is missing. While he still manages to score at a rate analogous to his career averages, he is doing it differently. Irving contended with an entire Hippocratic Corpus of injuries the past two years, yet he managed efficient offensive numbers without compromising his style.
The logic of having a body dictates that an athlete hampered by physical drags will slow down and avoid violent clashes. That is not what Irving does. His on-court improvisation is more about tearing holes in the defense and evading post defenders than leveraging position for sane shot creation. Irving is a point guard, but he doesn't read the game before making the appropriate edits from an omnipotent vantage like Chris Paul or Rajon Rondo. He is a neo-Russell Westbrook, involved in the game at a visceral level. Shot creation is as much in his arsenal as layup artisanship is, but everything else spins radially outward from his insistence on bombing into the paint.
Or at least, it should. Kyrie Irving is healthy this year, but he's playing more like he is injured now than when he was injured. The ability to Vitamix entire defenses isn't gone, but it's not as constant as it used to be. He is still one of the best dribblers in the NBA but his characteristic immediacy doesn't shine as bright. Instead of churning through and around defenders, he is trying to work within an offense with more options. This is a good idea, but the execution is muddled. Kyrie isn't allowed to maverick around as much, and while spacing is vital in today's NBA, using Kyrie Irving as a complementary player is a misallocation of his talents. He is still performing at a near-all-star level, but his trajectory had a sharper angle than that. Year Three, as Kelly Dwyer points out, is when young stars tend to make the leap into the next tier. It's not enough for the presumptive franchise player to stall out around all-star level.
However, Irving is not as structurally advantaged as his peers on that list, and it would be a mistake to assign all the agency for his stagnant stretch to him. It's more complicated than that. It's the NBA's version of the Great Man Theory, where QB's/point guards get misrepresentative amounts of praise or blame because they are fulcrums. He hasn't lived up to his lofty standards or expectations, but it's dangerous to point at him and say "He doesn't win!" The Cavs are a bad team, and the arrivals of Andrew Bynum, Jarrett Jack, and Anthony Bennett have all fallen flat to varying degrees. To Irving's credit, he tried to adapt and compromise his style for team coherency. A strategy like this works only if it's coeval with improving teammates and an actual, NBA level offense. He has made that work about as well as he could be expected to given the circumstances.
The ennui that seems to swamp Irving is explicable through the very-recent history of the team. Mike Brown isn't the right coach for him and the team has some awkwardly conjoined parts. I am projecting, but it's logical for Irving to feel like his team is merely spinning their wheels. His job is still to play basketball, but expending the effort to push further as a player and improve his game only to see the Cavaliers unravelling at the edges must be frustrating. Fans expect a lot out of their athletes, but one can at least empathize with Kyrie Irving's frustration.
This is not to excuse his glum demeanor, occasional in-game sleepwalking, and relegation of team-centric priorities as trivial, but his reasons at least make sense. His aggression will come back and maybe a spot on USA Basketball will help him reprioritize. Lest Cavs fans forget, he is 21. Dude is far from a fixed quantity. There are all kinds of superstars, and holding Kyrie Irving to their narratives is unfair.