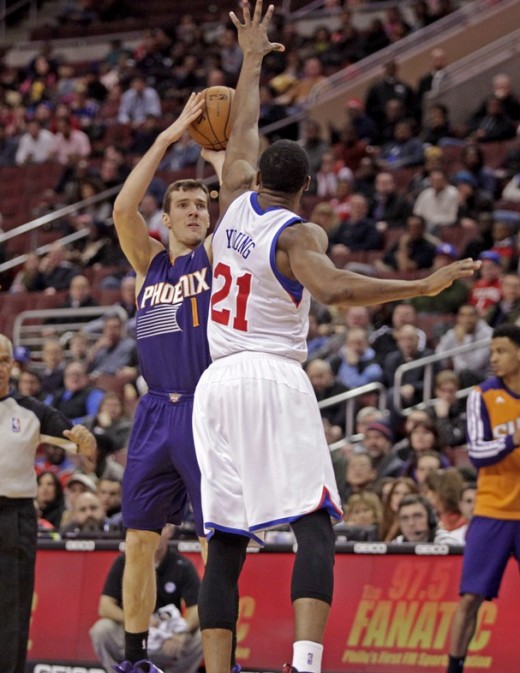 This started as a fun experiment.  It became progressively more painful.
Wednesday night, I emailed fellow TrueHoop bloggers, representing 18 NBA teams, explaining an article idea consisting of trading Kyrie, Dion, and Tristan.  Fire Chris Grant and Coach Brown, too.   The Cavs had just embarrassed themselves against Phoenix and New Orleans, and the Luol Deng trade, instead of a rescue boat, looked like a rearranging of chairs on the Titanic.  Instead of parsing out who was most to blame, who should stay and who should go, the team would start fresh, including shipping out their biggest trade chip, Mr. Irving, for a large return.  The goal was to see what new team could be put together, as well as gauging the trade value of the youngsters.
What ensued over the next few days in Cavalier-dom was farcical, resulting in my endeavor being almost perversely comical, and probably embarrassing for myself in the process.
First, I will note that there is probably an underselling for each trade; as individual trades, I wouldn't be extremely excited about any of them.  After the first offer came in though, I began envisioning how the remaining guys could be parlayed into a well assembled team.  Plus getting great trade value when attempting to blow up an entire team in one weekend, as that team completely unravels, is not ideal.  Let's assume that in each scenario, each Cavaliers players' value is not completely realized.
Things started reasonably well, as almost immediately an offer came in for 2-time All-Star Mr. Irving.  Michael Schwartz of Valley of the Suns offered Goran Dragic or Eric Bledsoe, either Morris twin, and two first round draft picks.
Honestly, I didn't hate it.  There's an immediate replacement for Kyrie, with a guy that today is definitely a better two-way performer than Irving, plus three other pieces, possibly to use in other trades.  The hard decision was Dragic or Bledsoe.  Bledsoe is out for four months following knee surgery, and considering the recent knee problems for dynamic young guards, and his impending restricted free agency, I settled on Dragic.   The Slovenian point guard met a lot of what I was seeking; a veteran, in his sixth year in the NBA, but not old, only at 27.  He is a high quality performer, nearly a Western Conference All-Star, averaging 20 points and 6 assists on 60% true shooting for the surprise Suns.  Also, he's durable, missing only eight games in the last three seasons.  And finally, he is under contract for next season at a very reasonable $7.5 million (with a player option for 2015 – 2016).  Of the Morrisi, I settled on Markieff, the bigger brother, who has converted 34% of his 300+ career three point attempts.  At age 24, his PER is 19 this season, if you're into that sort of thing.  Ultimately, I viewed him as lure in a three-team trade; more on that later though.  For the first rounders, the Wine & Gold snagged Washington and Indiana's 2014 picks.
Again, as a one-off trade, I wouldn't like it, but envisioning the lineup of Dragic, Deng & Andy, plus the wing shooter and stretch-four that I was surely going to find, I could imagine it working.  Onto the next one…
Initially, no offers came in for Tristan, so I began feeling out teams on my own, trying to turn Thompson into a solid two-guard, hopefully with a nice shooting touch.    I reached out to Brian Robb of Celtics Hub about Avery Bradley, a 35% career three point shooter and an elite defensive guard.  My offer was turned down.  My other target was Wayne Ellington, plus an additional young player.  Bobby Karalla of hickory-high and mavsoutsider obliged, eventually settling on a deal of Ellington plus Shane Larkin, the 18th pick in the 2013 draft.  Bobby may have been willing to throw in a draft pick, too, but haggling over future assets didn't seem worth it; I was working on a deadline.  Anyways, Ellington is 26, a 38% career three point bomber, and APM considers him a reasonably above average player over the last two-and-a-half seasons.  He had the best stint of his career in Cleveland last year, playing with the Herculoid-ian group of veterans, smart with their passing and cutting, and that was exactly what my little experiment was forming for Cleveland.  Larkin is only 21, a young, speedy point guard; a nice project behind Dragic to groom for the future.
I kind of liked it.  The backcourt shaped up as Dragic, Ellington, CJ Miles, Jarrett Jack, and Larkin.  The first three guys were veterans in their primes, all in their mid-twenties, while Larkin added a dash of exciting youth.  And Jarrett Jack, well, he's still Jarrett Jack, but hopefully he re-finds his niche by playing regularly next to off-ball players in Ellington and Miles. This group's combined salary this season is only $20 million, with all but Miles under contract next year, for a reasonable price of $18 million.
Now, all I needed to do was turn Waiters and Markieff Morris into a veteran stretch-four.  A Dragic – Ellington – Deng – Veteran Stretch Four – Varejao lineup sounds interesting; hopefully enticing enough for Deng to re-sign at a reasonable price.  The team still has plenty of youth in Larkin, Tyler Zeller, Sergey Karasev and Anthony Bennett.  The eight guys under contract for 2014 – 2015  (Dragic, Varejao, Ellington, Jack, Larkin, Zeller, Karasev and Bennett), plus Deng at $10 million, cost less than $47 million in salary.  So let's add a stretch four, or maybe a rim protecting big.
Like Thompson, none of my fellow bloggers made an offer for Waiters.  Then, as the weekend wore on, news became progressively worse.  First, on Thursday night, the Cavs lost by thirty on National Television to the Knicks.  Friday morning, Zach Lowe tweeted about Dion's poor transition defense.  I thought, "dammit, everyone of these guys follows Zach Lowe".  I sent an email explaining that Waiters was horrible last year, but has made progress this year.  Cleveland was even 2.7 points better per 100 possessions with him on the court; he's not necessarily allergic to defense, but definitely needs maturity, focus, and good coaching.  Anyways, the next day, Jonathan Givony of draft express, tweeted an article discussing the impact of Syracuse's zone on their players' pro prospects.  In one tweet, he mentioned that high steal rates led many people to overrate Dion Waiters' defense…I thought, "Why can't one day go by without a high profile basketball writer negatively name dropping Dion Waiters…I'm working on hypothetical trades here!!!".  I followed Mr. Givony's tweet with an email to my co-bloggers, noting this Sports Illustrated article, pointing out the positive impact Waiters had on the 'Cuse defense…two of the last three seasons, his team has performed better at bucket-stopping during his stints.  I certainly wasn't arguing for Dion as good, but he is not allergic to defense.
Still no movement on receiving an offer.  Then, Saturday came.  Oh, infamous, infamous Saturday.  First, the New York Daily News article on the franchise's dysfunctionality, featuring the fact that Dion was kicked out of Wednesday's practice. Then, a Jason Lloyd article about the team's dissension, including teammates growing tired of Waiters' act..  "Son of a biscuit", I thought, "Why can't you all wait another day.  I have a silly article concept to finish?!". Even my pseudo-Cavs team seemed cursed to failure.  I sent a final email to my cohorts, pointing out Dion's charity work in Cleveland and Philadephia last summer, as well as his apparent adoration of his young son.
My dream scenario involved turning Waiters and Markieff Morris into Thad Young of the 76ers.  Young, a solid two-way player, is another young, durable veteran.  He's only 25, but is a seven year veteran and has missed 10 total games in the last four seasons.  As a power forward, he converted one-third of his nearly 500 career three point attempts.  Both Dion and Markieff are from Philly, and are recent lottery picks.  If any team could bite on the increasingly devalued Dion, it had to be Philly, who is definitely #tankstrong.
First, I reached out to hoop76.  I have corresponded with them before, as their editor wrote the Thad Young article linked above.  He was non-responsive.  Perhaps he was on vacation.  Maybe he has a lot of email to catch up on.  Or possibly, he was insulted.  No one offered anything for Dion…and now I pissed someone off with a low-ball attempt featuring Mr. Trade Poison, aka Dion Waiters.
Seeking some level of confirmation or rejection, I reached out to Jake Pavorsky and Jake Fischer of libertyballers.  Mr. Pavorsky first responded to my offer, unfortunately saying, amongst other things "I want no part of Dion Waiters".  Flashing my poor reading comprehension skills, I upped the offer…still no dice.
A stark picture was being painted.  No one wanted Dion Waiters.  He was radioactive.  That was almost the hook of this article, but then, a miracle.  After some negotiating, Mr. Fischer decided to accept Dion Waiters.  The deal was Thad Young for Waiters, Markieff Morris, the 2015 Miami 1st rounder, and swapping Orlando's 2014 second round pick for Brooklyn's 2014 second round pick.  After contacting three different people, and upping the offer to my final and best, I fake-dealt the now radioactive Dion Waiters.  The three team trade looks like:
Cleveland gets: Goran Dragic, Thad Young, Washington and Indiana's 2014 first round picks, Brooklyn's 2014 second round pick
Phoenix gets: Kyrie Irving, Earl Clark
Philadelphia gets: Dion Waiters, Markieff Morris, Miami's 2015 first round pick, Orlando's 2014 second round pick
Blowing up the team was painful.  I didn't like it.  I sold low on everyone.  But I'll take it.  Something major was going to change, and quickly.  This article was on the calendar for Monday.
Young is also under contract for next season, raising the potential ten man payroll to $56 million.  Those ten are:
PG: Goran Dragic, Jarrett Jack, Shane Larkin
SG: Wayne Ellington
SF: Luol Deng, Sergey Karasev
PF: Thad Young, Anthony Bennett
C: Anderson Varejao, Tyler Zeller
With CJ Miles and a relatively minor deal to improve frontcourt depth, after some adjustment, that may form the third best team in the East right now.  Other than Varejao, they are all 27 and under.  There are four rookie or second year first-round picks, all hopefully learning and improving from bench roles.  The entire contingent is about $5 million under the salary cap, and the team has six 2014 draft picks; three in the first round, and three in the second, plus the full allotment of draft picks in future years, as well as keeping Memphis' future first rounder.  Ideally, those 2014 assets (salary cap and draft picks) are converted into bringing CJ Miles back, plus trading for a veteran basket defending center, while also bringing aboard two more rookies.  The rookies could take a place in a mature team culture, learning on the job from the bevy of savvy veterans.
Oh, and Matt Dellavedova would still be around.  Call me, Dan Gilbert.  This franchise will be fixed fast. I work for cheap.