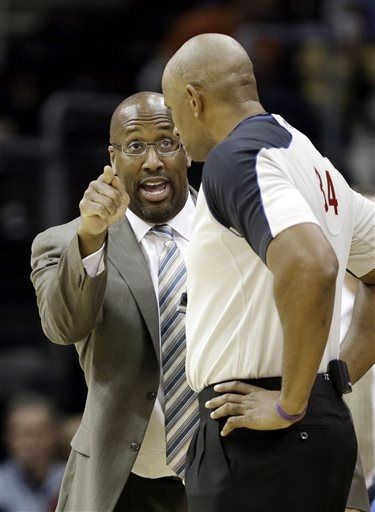 By the end of a game like this, it is hard to form a coherent story line, or put much effort into a recap.  The first half was exhilarating, the other, frustrating.  Deflating.  Disheartening.
The evening began well enough.  Kyrie dished six assists in first six minutes, including a CJ Miles three and layups by Tristan and Andy; the Cavs lead 15 to 11 midway through the 1st.  Things got progressively better, as Luol Deng and TT  completed an awesome fast break with a thunderous alley-oop!  A Kyrie dish to Andy, followed immediately by Varejao going behind the back to Tristan…20 to 16 Cavs with 3 minutes left in the first.  Kyrie and Dion each scored a couple buckets, and going to the break, Cleveland led 29 to 22.  Irving tallied seven points, six assists and two steals, while Tristan rolled up seven points and four boards  The team registered 10 assists on 13 baskets, against only one turnover.
For the Cavs, the second quarter was blistering.  First, a Tyler Zeller offensive rebound and baby hook, then a Miles three, and eventually two Jarrett Jack pull-ups bolstered the lead to 39 – 26 after a few minutes in the second. Next, the Luol Deng school for young post players started.  He beat Marcus Morris in the post for a layup and two freebies on consecutive possessions.  Later, he backed down PJ Tucker, and when a double arrived, the ball swung to Jack for a three.   Again, the Wine & Gold went to Deng on the block…and-one against Tucker!  What?  Gerald Green wants some, too?  Fine, Deng hit a hook shot over him next time down.  The Suns had no answer for Luol down low, as the Cavs ran off to a 61 to 41 margin, eventually ending with an 18-point halftime lead.  The Kyrie-Jack-Deng-Thompson-Varejao crew killed it.  Kyrie posted 13 points on 63% true shooting, with a lovely 7 assists and 1 turnover; he was +17.  Tristan pitched in 10 & 7, and was also +17.  Deng offered up a box-score stuffing 12 points, 6 rebounds & 4 assists for a +15.  Andy and Jack, respectively, finished +14 and +13 for good measure.  As a whole, Cleveland threaded 15 assists compared to 5 turnovers, shooting 55% from the field.  The defense was solid, holding the Suns, who lead the league in fast break scoring, to zero points in transition, as part of a 40% shooting half.
The second half started slowly, as for two and a half minutes, the score remained knotted at 61 to 43.  Soon, that ended for one of the squads.  Channing Frye nailed back-to-back-to-back threes, then Gerald Green, then Goran Dragic; the Suns rallied for fifteen points in 2 minutes and 15 seconds.  The lead narrowed to eight, as a sense of dread began to creep up on Cavs fans the world wide.  The feeling progressed, as Cleveland could not get a shot to fall; they converted zero field goals in the quarter's final 7.5 minutes.  The quarter ended with the Suns taking a one point lead, 67 to 68.  The Cavs scored six points for the quarter.  Phoenix wasn't even particularly outstanding, also missing quite a few makable shots, but the Cavalier offense was about as disastrous as offense gets.
And then it got worse.  At one point, Cleveland had scored just nine points in over 15 minutes.  In an 11 minute stretch, their only field goal was an Earl Clark heave from a broken play with 0.1 second left on the shot clock.  Phoenix lead 81 to 70, amidst a 40 to 9 run, finding themselves in the bonus with nearly seven minutes remaining in the final quarter.  Midway through fourth, the Suns were shooting a respectable 47% from the field in the second half, while the Cavs converted an embarrassing 17%.
Things began mildly looking up…a TT dunk off a Jack dime, a Kyrie layup, then he drew a foul taking a three.  Suddenly the score was 84 to 81, with five minutes to go, and Cleveland with the ball.  Whatever slight momentum was developing quickly dissipated though, as after going up for an offensive board, a Phoenix played rolled into Andy's knee.  Varejao went down, in what was a very scary moment for everyone.  Fortunately, he got up and kept playing.  He found Deng for layup, then Kyrie drove for freebies before canning a 12-footer.  The teams traded buckets, as the score sat at 90 to 87 with a little over a minute left.  But of course, Channing Frye drained another from deep, Kyrie missed a driving layup, Tristan was called for an over the back foul…and, ball game.  Phoenix wins 99 to 90 in this week's installment of "the season's low point".
What can be said?  This is a team that allows 40 to 9 runs.  A squad that loses by 44 points to the Sacramento Kings.  The low points are consistently usurped by new low points. The troubling spells of complete ineptitude from the early part of the season are becoming less baffling.   The explanation is looking simple.  The team just stinks.  With every extraordinary loss, it seems more probable that the Deng trade was three draft picks for a three month rental, that may not even make the team that much fun for those three months.  Tonight was game 44.  There is not much time for this to get significantly better.  Going into the offseason in this shape?  Ouch.
I'll move on now.  The Canton Charge are 16 and 9.  Maybe I will turn my attention to those guys.  Of course, it won't be to see Anthony Bennett play.
A few bullets.
Kyrie looked great in the first half.  Active on defense, distributing the ball well.  In the second half, like everyone else, he stunk.  He finished with 24 points on 8 of 23 shooting with 9 assists.  Of course, the second half was 3 of 14 with 2 assists.
Tristan scored an efficient 17 points on 70% true shooting and grabbed 13 rebounds.  Let's call him the MVP tonight.
Andy shot 1 of 9 but lead the team in plus/minus…if "zero" qualifies. At least he got up from the scary knee roll.
Dion Waiters extends his recent horrible stretch.  Tonight it was 2 of 5 shooting, for 4 points, with 2 assists and 3 turnovers in 17 minutes.  In his last 16 games, he is shooting 35% from the field, while averaging an assist every ten minutes.  This is pretty much the opposite of what was hoped for from Dion heading into the second half of his second season.
The Suns only shot 42% from the field.  Markieff Morris paced them with 27 points and 15 rebounds.