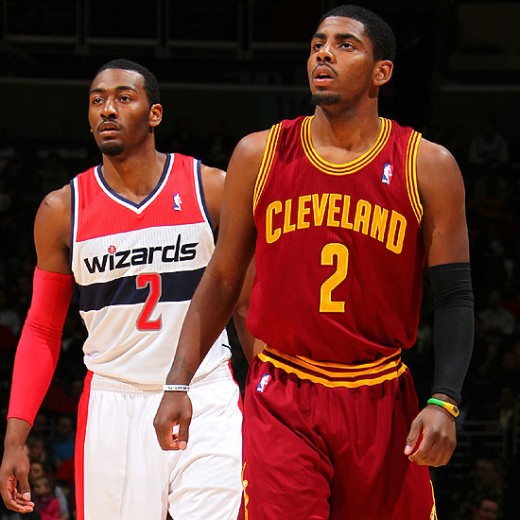 It's fair to say that this Cavaliers season is not going the way anyone planned or hoped it would. Even the Master of Measured Expectations, Mike Brown, who warned everyone that things might get shakier before they started to get better, couldn't have planned for the overall lack of mental and physical toughness displayed by his young team time and time again this year.
"You'd have thought we were down 20 points by our body language," Kyrie Irving said following the team's latest deflation at the hands of the Chicago Bulls. "We were only down six points."
It's somewhat encouraging to hear Irving, at least, admit to his team's lack of cohesion and belief in each other. It shows that he's watching the same games as the rest of us. Still, after the fact, it's very easy to cop to what went wrong out on the court. What would be really encouraging is if Irving and some other Cavs were able to translate an understanding of why they're failing into correction of said behavior. Until then it's just more losing.
And losing is like a ticking clock on this team. Losing is the reason that Chris Grant traded for Luol Deng, not because he was "panicked," as those who disagreed with the trade as potentially only a half-season rental argued, but because losing, we all know, begets a losing culture and makes additional losing easier to swallow for young players who come into the league used to losing, at the most, rarely.
But is that really the case?
Do young players have to experience winning for winning to continue? You can just as easily argue that eventually players who are meant to lead franchises get tired of losing — get sick of it — and start to buy in to the rigorous mental and physical commitment it takes to succeed on a winning level as a professional basketball player. There need to be examples laid in front of them, sure but, at the end of the day, it's on the player to choose in which direction he will go.
That's potentially the type of transformation we're seeing in John Wall this year. It's not just that Wall's numbers are up across the board (pretty much) in his fourth pro season. It's also not just that Wall talks about how he has to focus on the defensive end of the floor first in order for the team to be successful. Both of these things are true. But Wall, this year, is showing stronger and more mature leadership on the floor. He doesn't just say the things he should do, he's starting to actually do them. The Wizards, while not exactly giant slayers this season, are at least nudging themselves in the right direction — and it's that nudging that the Cavs are missing from their young players who, more and more, are coming under fire for not playing as a team.
Grant and Brown hoped Deng would be that nudge and, to his credit, Deng has tried. He's said all the right things. He's pointed out what needs to be corrected. By all accounts, the young players really look up to Deng and respect him. He's trying to nudge by resume and example. But the future of this franchise is tied up in four high draft picks all of whom are 22 years old or younger (and, yes, I'm throwing Anthony Bennet into that mix … stop laughing). None of them want to lose but, right now, none of them is secure enough with their long-term role in the league to really dig in and start nudging.
Cavs fans hoped this would be the year Irving would be able to start leading that way. His long-term role in the league appeared clear: a max-level scorer and shooter. But going from "max-level scorer and shooter" to "sublimates his game for both individual and team success" could be a long turn of the screw and the NBA futures of Dion Waiters, Tristan Thompson and Bennet are still, to varying degrees, undecided.
None of this is to pick overly hard at Irving. It's just to further point out the problems teams face when their point guard is also their best scorer. It's also to point out the problems teams face when their best players are not their best leaders.
So, what is the equation? How many veteran leaders and good locker room guys does it take to nudge a core of young, talented, still-developing players in the right direction? It's not Jarrett Jack, Andrew Bynum and Earl Clark plus last year's roster. It's not even Jack, Clark and Deng plus last year's roster.
As frustrating as it is to consider, it might still just be too soon for this group. Or they might be the wrong group. Or a combination of both.
Are we asking too much from a group of 22-and-unders to figure it out, play a mature game and win? Yeah, probably. Maybe, down the line, the Deng move will be credited for giving Irving, Waiters or Thompson his Obi-Wan. Maybe it's another coaching change. Maybe, like with Wall, it's just more losing — and one or two of these guys, one or two years down the line, do what Wall did in his post-extension-signing year: start nudging.