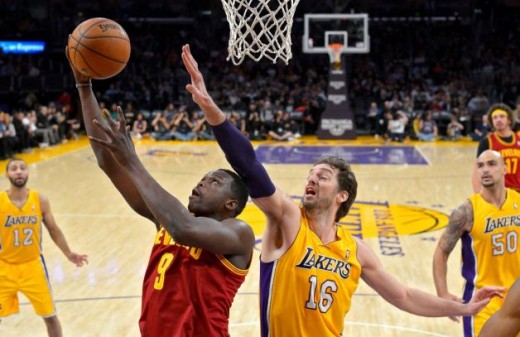 Tristan Thompson splits a pair of free throws with 9.3 seconds left. The Lakers charge down the court, miss a three, but it's straight into the waiting hands of Pau Gasol! Gasol only has to dunk to beat the buzzer, which he does! What an ending!
Fortunately for Cavs fans, the buzzer beater was inconsequential and only served to make the win look tighter than it was. Despite playing silly basketball on the defensive end for much of the night, the Cavaliers were just good enough down the stretch to beat the Lakers to move to 2-1 on this road trip. Anderson Varejao was the player of the game for the Cavs, grabbing 18 rebounds to go along with 18 points and six assists. He also kept the Cavs in the game during a horrible second quarter with facilitation and timely thumps on a few Lakers big men. Luol Deng shot 5-5 from three to punctuate his efficient 27 points, by far his best game as a Cavalier thus far. The team shot 13-17 overall, good for 77%.
The game started really well for the Cavs. Deng and C.J. Miles stole the Lakers first two possessions and turned them into Cavs possessions. The team looked for Deng more and used him in pick-and-roll situations as well as isos. His ball skills are much better than any other Cavs small forward, which helps with spacing because he is another threat who can find the open man. Unfortunately, LA's D'Antoni offense troubled the Cavs and forced them to play uptempo ball. There was a stretch in the first quarter where the ball moved faster than all the humans and four straight possessions were bang-bang fast break plays. At one point, Deng stopped the action and simply locked up Jodie Meeks intentionally to get a respite from a frenzied first half.
LA's floor spreading was a problem for the Cavs, and they looked slow trying to recover after showing, a tendency D'Antoni's team exploited well. Kendall Marshall is a very fast passer, and he punished the Cavs lax rotations for 16 assists. Cleveland's current second unit is undersized, a consequence of having only three true big men on the roster after the Bynum trade and the Bennett, uh, stuff. Nick Young had his way with Dellavedova, Jack, or Waiters on him and Marshall could easily see over his man.
The Lakers had first lead that felt consequential, after an 9-2 run put them up by 11 late in the second quarter. Kyrie Irving was active in the latter part of that quarter, but LA responded to his baskets immediately and found open layups waiting for them at the other end. The defense was so bad it made any offensive life look unsustainable.
Thankfully, Cleveland responded with a bang to open the second half, in the form of a Luol Deng-led 11-2 run to seize the lead back in two minutes. The Cavs ran their offense through Varejao in the high post, which liberated Kyrie and Deng to run around and act as spacers/secondary creators. Andy checked out and the Cavs missed seven straight field goals in the third quarter, a drought which only ended when he came back in. The bench was moderately effective, with Dellavedova providing keen spacing (made three threes) and Dion getting to the line. However, Earl Clark playing at the four was muscled around a lot and Jarrett Jack performed his now gamely disappearing act. Tyler Zeller tried hard and was okay.
Kyrie re-entered the game early in the fourth, but immediately charged into Ryan Kelly and had to sit down with five fouls. The game was back-and-forth until the Cavs popped off a 12-0 run capped by Luol Deng's driving layup to take an eight point lead with 6:01 to play. In a strange and maybe pivotal play, Pau Gasol gobbled up an easy rebound off a bad Dion Waiters miss, only to pass it right to Dion for an easy lay in. Nick Young then hit a massive three from three feet behind the line to tighten it up.
With the Lakers down six late, good defense from Kyrie forced an airball. The teams traded misses to keep it there, but then Andy went for a steal on Gasol, who turned him and got an easy dunk with 43 seconds left. Kyrie split a pair of free throws, then Deng was whistled for a phantom foul on Nick Young, who hit all three free throws. Thompson split two free throws with 16 seconds left, then grabbed a rebounded Nick Young near-miss and split another two free throws to seal it. Pau hit a buzzer beater but it was only half of what they needed.
ETC.
– Mike Brown said pregame he wasn't focused on revenge or anything, but it probably felt great to beat the Lakers, even if they're vastly different from last year.
– Speaking of bald people with ties to the Cavs and Lakers, Byron Scott is doing studio work for the Lakers cable channel.
– Tonight I did not hear one reference to Tristan Thompson's shooting hand switch. It took the Sacramento crew a solid 25 seconds.
– I don't remember Nick Young passing tonight. I'm sure he did once or twice, but man, he is a true blue gunner.